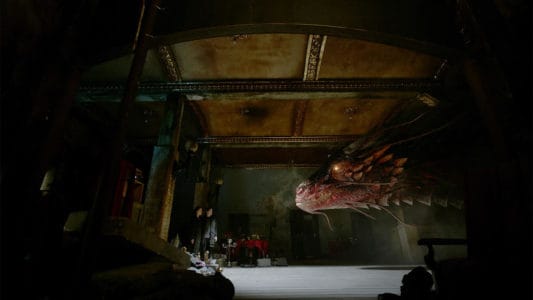 How does a show like The Magicians get better each week? Turn a kingdom into rats, spoil the fans with cute moments, and of course a really sweet dragon.
"The Rattening" was such a fun episode. My favorite plotline was Julia and Quentin's trip to the Underworld. The writers did a nice job of combining several mythologies to create an interesting afterlife. The dragon was cool, too.
This plot gave me a lot of feelings for Julia and Quentin, too. Julia finally meets up with her goddess summoning crew, and it was really nice to see Richard again. Just a nice series of events. Then when Q met Alice's shade I was so overwhelmed with how cute it was. I'm excited and sad that Julia brought Alice's shade back to Earth. I want Julia to be happy again!
Penny and Katie make some progress on the Poison Room, but it was just filler for next week. I bet the dragon blew the budget out so they had to save more cool stuff for next week.
In Fillory Eliot has to sniff out a rat, pun intended. It wasn't very clear to me but I think all of the magic in Fillory was a mess because Margo lied to Eliot. He "truthied" her and his staff to find out the truth. Margo had this coming, so it doesn't surprise me that he put her in jail. Who stays in jail in The Magicians?
In an interesting turn of events, Eliot accidentally invents democracy in Fillory. As a result, he kicks himself out of his own kingdom. I guess he forgot he was king for a second. I'm sure the high king will get everything settled just in time for the season finale.
Season one of The Magicians was great, but season two is my favorite now. What do you think? Has the show improved? Let me know what you think!
[Photo credit: Syfy]