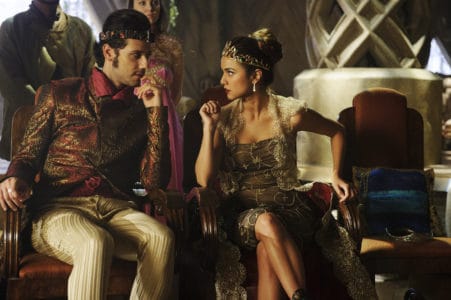 This week's episode of The Magicians was solid. Every scene with Alice gave me chills, and the issue of the teleporting castle was hilarious.
The makeup artists on The Magicians are one of a kind. Every time Alice looked at Quentin I wanted to change the channel. She was so creepy! One of my favorite parts of this show is Quentin's reactions to everything, and his reaction to ghost-Alice was perfect. Alice's plans to include her parents in a summoning spell was cruel and somehow funny.
Both her mother and father must confront how they failed Alice when she was alive. Her father was incapable of helping her in some traditional fatherly duties. Her mother was much worse. The spell requires her mother to look at a mirror and describe Alice truthfully. Her self-centered mother fails at this. I loved the part where Q tells her how wrong she was about her daughter. "I never understood her and I never really tried. I didn't know having a daughter would be this hard," she says. In the end, Alice finally talks and reveals she has much more in store for Q next week.
Meanwhile, because the writers hate her, Julia gets into a world of trouble. She's searching for the original woman who banished the demon, Raynard, and it totally backfires. I don't know why Julia hasn't seen this coming, considering how many bad things happen to her on the regular. The woman traps her in a basement with a plan to force Julia to have the baby to banish Raynard again.
Luckily, Julia's pain doesn't last long and Katie saves the day. I'm glad the writers have given Julia some backup, but it would be nice if they just gave her a break overall. Unfortunately for the woman who trapped Julia, Raynard finds her and I'm sure nothing good happens to her.
The antics in Fillory were my favorite part of this episode. A punny Prince S of Loria comes to town and threatens Eliot and Margo with an ultimatum: access to the wellspring and marriage to Margo or the castle goes to Loria. Obviously, Margo refuses on excellent grounds but later seduces Prince S on her own time.
The best part of this scheme was when Penny shows up in Margo's dream asking for her location. Later, he discovers the castle hasn't moved at all, and it was all just an illusion. Margo uses this to her advantage and reveals Prince S's plan to everyone, and gets everything right again.
Even though the writers can be really cruel to Julia, Margo got a chance to take back some agency, and I really loved that. The episode was solid for a filler episode. I had a lot of fun with this one, and I'm looking forward to next week.
(Photo by: Eric Milner/Syfy)