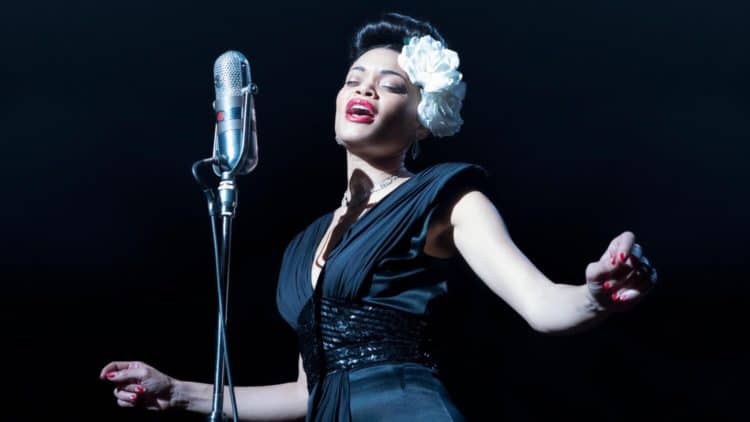 Some people watch the Golden Globes for the fashion. Some watch the see the fashion and see who wears it on the red carpet. Some watch it to see things like awards that are handed out in between gorgeous gowns and fabulous designer shoes. "The United States vs. Billie Holiday," was one of the movies that made such a splash at the 2021 Golden Globes, and not just because it was a phenomenal depiction of the real life story of the glamorous singer. It's because singer Andra Day took home the award for Best Actress in a Motion Picture for her role portraying the lovely, talented, and legendary jazz singer.
She's not even an actress by trade; she's a singer. She took home the Golden Globe for best actress while famed actresses Viola Davis, Carey Mulligan, and Frances McDormand did not. It was a huge night for the star, and no one could be more excited for her than those who loved Billie Holiday. It makes us ask, however, if it was really Andra Day singing when she took on the role? It is Andra Day singing, and we cannot even imagine the pressure she felt portraying such a dynamic talent, but we will try.
Prep Work Was Hard
Anyone who is a fan of Andra Day's singing knows she's powerful, and that her voice is among the loveliest (take this from someone whose kids have "Rise Up," requests almost every morning on the way to school). However, she had to work hard to make sure she could sound like the jazz legend herself, and the effort she put into it was more than a little.
For one, she began doing what Holiday did in her own life. She started smoking. Back then, no one thought twice about it. People smoked inside, outside, at home, in restaurants, in their cars, everywhere; and no one batted an eye. Now, the effects of smoking are so widely discussed that fewer and fewer people take part in the nasty habit, and making the concerted effort to start smoking when you're not a smoker – and don't want to be a smoker – is dedication. It's also dangerous. Smoking can kill you, and we have little doubt it can forever change your voice. However, Day, famed singer extraordinaire, decided it was the best way to do this.
She took up smoking as Holiday did. She took up drinking nothing but gin and cold water. She spent her days screaming and yelling everything she had to say so that her vocal cords would not rest and have time to heal. She damaged her own voice to be sure she could sound more like Holiday, and she did so at the potential detriment to her own musical career.
"Anything I'd do to take care of my voice as a singer, I did the opposite," is what Day said about her desire to get this part so right. "It's one thing to commit to such a regimen as a seasoned actor; it's another entirely if you're a Grammy-nominated artist stepping into her first acting role," and she feels that there's a little bit of Holiday left within her after such preparation.
In addition to taking up the bad habit of smoking, drinking gin, and not taking care of her own voice, she also had to lose weight to take on the role. She lost a total of 39 pounds. She did everything she could to learn as much as she could about Holiday, and she lived, drank, smoked, and breathed like the star since 2018.
She Nailed It
Andra Day nailed this role. The sound, the personalized portrayal, the habits. The little details are all there, and she killed it. However, did you know she also turned down the role more than once? She did; and yet now she's a Golden Globe-winning artist who just changed the course of her own career. She was hesitant to take on the role, but she eventually changed her mind and decided to just go for it. We might call it the best decision she's made for herself. She is a star, and everyone will forever be mesmerized by this performance.
Day's dedication to taking on this role and making it something spectacular clearly shows, and she's glad that she did it. Keep in mind, though, that as someone who was not a smoker or a drinker, she does not recommend anyone take up any type of bad habits to change their voice or be more like anyone else. She wants her fans to take care of themselves.
Tell us what's wrong with this post? How could we improve it? :)
Let us improve this post!