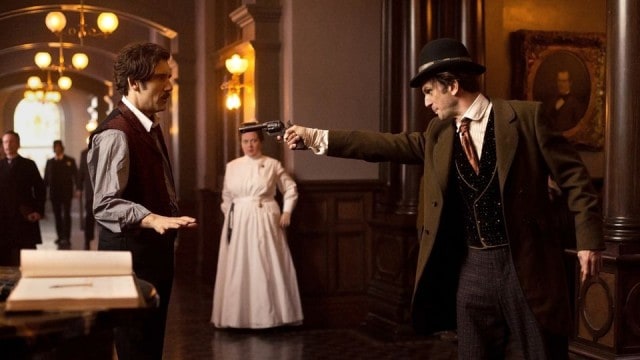 It happened again. Another young woman on the table, during this week's The Knick. She passed, right in front of his very eyes, as he frantically tried to save her. Instead of pouring blood it was a tourniquet on the leg, a rope spun desperately around and around the calf, just below the knee, to give the heart less work to do.
But she died just the same. It happened again, just the same.
"Take the tube out her mouth," Thackery said, staring into empty pews of the surgery theater. He must've flashed back to Bertie, and Zinburg, and "immovability." He denounced "incremental progress" as such, and yet his methods have killed another. His recklessness and overwhelming desire to atone for his failures leads to great successes; the conjoined twins and the curing of syphilis speak to that. But they also lead to the darkest failures. No more Abby. No more lifeline. No more cheerleader, and savior, for Thackery to lean on.
Perhaps Zinburg won't even hit the brilliant highs of a Thackery experiment. After all, he does move painfully slow, as to reduce the harm done. A lot of people will die as he experiments. But while Thackery will make the history books, Zinburg will ultimately do the most good in his time. Many more lives will be saved by Zinburg's methodical caution than Thackery's soaring recklessness. If Zinburg is a set of stairs, always reaching carefully upwards, then Thackery is the rope ladder that jumps them decades ahead. Thackery saves the world and leaves a mess, and Zinburg cleans it up.
But what about now? What good is a Thackery that is too afraid to go after the rope ladder? He's a talented researcher, sure; but his whole persona and identity are built on the genius of his unconventional tactics. If he's just another smart doctor with a lab, they can always replace him. But a smart doctor with a lab and a bulletproof chest? That's much rarer, and much harder to replace.
I wonder, then, if there is some sort of middle ground. Or, to be more specific, if Bertie is that middle ground. He is neither as reckless as Thackery or as methodical as Zinburg; Thackery chastised Bertie for going to slow on his research, while Zinburg would've chastised him for such uncontrolled experimental conditions. But, perhaps Bertie recognizes when to pull back and when to push forward; perhaps Bertie works on a case-by-case basis, instead of off a guiding set of principles. Perhaps his future is the future of medicine.
* * * * *
The Robertson ships are allowing sick immigrants into the city to make more money. They are, at the moment, the most dangerous health threat in three major American seaports. Cornelia thinks that her father is responsible, and she tells Henry; what if dad found out that Speight knew, and had him killed?
The camera focuses in Henry, and he just can't believe it. But it lingers there, too. He goes through a whole, awkward segment; the lady doth protest too much, perhaps? He just can't believe his father would do that. He lays out that his father was probably desperate, and just trying to right the ship.
And the camera lingers.
Perhaps it is more obvious that I am making it. Perhaps it is obvious to everyone that it wasn't Captain Robertson that let in those sick immigrants but Henry. Henry, after all, is in charge of large swaths of the Robertson Shipping Company. What if Henry, in a desire to make money to invest in the subway (and as a result further the Robertson family name), let those sick people in?
The camera lingers on Cornelia's hands as she grips Henry's. He doesn't squeeze back, at first. But the camera lingers, and he does.
Will Henry, if he is the man who released the bubonic plague upon New York, kill his sister for finding out the same thing that Speight did?
* * * * *
Algernon, for reasons unknown, breaks into Gallinger's office. Gallinger, for reason's unknown, kept a record of his sterilization of those boys down at the Idiot House. You cannot spell plot contrivance without 'what hell just happened here, guys?'
But Thackery doesn't care, because of course he doesn't. The great Thackery was saved by the Great Gallinger. He doesn't approve of the violation and mutilation of 52 young boys, but, tsk, it's not illegal, and tsk, what is he supposed to do about it?
The answer is, of course, to distract him while Cleary sneaks up behind him and beats him to death with a baseball bat. That is what he should do. That is, truly, the only moral thing to do. It is ironic that a world so concerned with women's bodies and with abortions is unconcerned about the million of potential children snuffed out by the twist of a scalpel. The lesson here, kids, is that it's not about the kids, but the object that they came out of.
Thackery, more and more, is revealed as the least heroic, least likable man in the room. Gallinger has that title for now, but Gallinger is a selfish, evil bastard, who isn't even a great doctor. Gallinger is an impotent nobody, taking out that impotent rage on those weaker than he. But Thackery? Thackery is a magician. Thackery is a genius. Thackery is Albert Einstein with better hair and slightly less sex appeal. What the hell is he doing?
* * * * *
Harry is right about one thing: Cleary is the same man that he was all along. He is not interested in her friendship, or mutual respect; this has always been about him falling in love with her. This is the early 1900s. No man really knows how to have a friendship with a woman. He's too busy running his hand up her thigh, pushing past her pushing hands, and getting what he wants. She's too busy running from the worst, so that she can settle for a man who won't rape and beat her as much as the last.
Harry rejects Cleary because Cleary cannot (or cannot yet be) the man who he should be. There are no tools, or words, or thoughts at this time, for men to learn how to treat women as equals. This is not an excuse for their behavior, of course. They are still rapists, and abusers, and colossally weak human beings. But they are so far away from being good, and as this is written in the year 2015, we are still far behind.
Perhaps I am hoping for too much from The Knick. I am hoping for a mutual friendship that ends a day not in passion but in something different. Is Harry in love with Cleary, and just denying her feelings? It depends on how conventional a television show is and how interesting the writers find the friendship. I truly don't know. Harry could love him, platonically or romantically, or she could just enjoy his company, and that's enough for her.
But I imagine that all she can see is that another man wants something from her that she is unwilling to give, and that there is truly no one she can trust, and no place she can be safe. I imagine that Cleary doesn't understand, and I hope and pray that the gears are turning and they lead him to beg for forgiveness.
I am hopeful. But I am not optimistic.
[Photo via Cinemax]