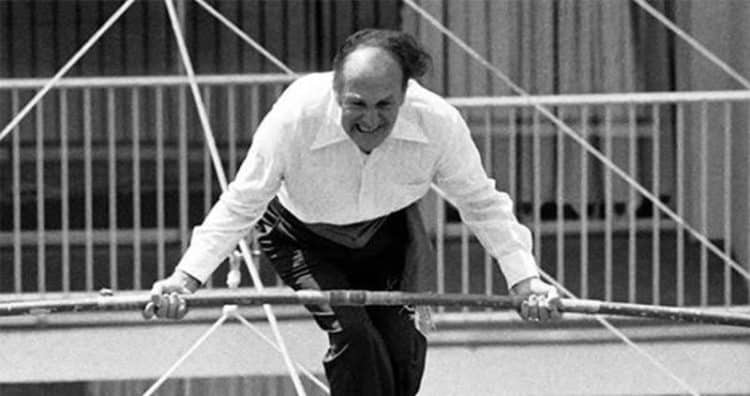 Circus families are a dying breed in this country it would seem since the same thrills and chills that said performers used to be able to deliver have been all but replaced by technological wonders and the desire to see stunts and miracles on the big screen instead of real life. But thankfully that hasn't slowed down the Flying Wallendas since they've continued with the family tradition, or at least some of them have as the rest have gone on their way to other things. But throughout their long history that has been a family affair for a while the Wallendas have been nothing short of amazing as their stunts and their acts have involved some of the most death-defying images that might make you lose your cool once you think about how skilled and how poised they had to be in order to perform even half of them. Accidents did happen in the past of course, as you can only buck danger so often before it finally catches up to you. But while they were big, the Wallendas were one of the most well-known circus families around.
Here are a few thing the family you might not have known.
10. Karl Wallenda started performing at the age of 6.
The patriarch of the Wallenda clan didn't waste any time as he was put into the act early on and learned how to perform for the crowd. One would think that this might be a little too young, but obviously some kids are able to handle the pressure and do as they're asked when it comes to upholding the family legacy.
9. They debuted in 1928 at Madison Square Garden.
This was when the world finally got to see what the family was all about and what they could do. And being that it was at MSG you can imagine that it was something quite special since this site has been home to many wondrous happenings since it was created.
8. The group had to abandon the 7-chair pyramid act.
Unfortunately this very impressive act was the downfall of the family, or nearly, since it ended up killing two of the group and injured several others. It had to be abandoned for a time considering that it was deemed too dangerous at the time. Doree Lewak and Annie Wermiel of the New York Post covered this a while back, stating that not even this accident could stop the Wallenda's comeback.
7. In 1970 Karl crossed the Tallulah Gorge on a high wire.
Look up the Tallulah Gorge and you'll see that this is no nice, easy span to cross and that the winds at the height that Karl was walking had to be horrendous walking along a wire suspended over the gorge. The likelihood of falling seems far too great for many people, and yet these folks made it look so easy.
6. Karl actually passed away while walking on a wire in his 70s.
A lot of people are simply trying to walk in a straight line in their 70s without falling down or needing to sit down. Karl was walking a high wire when he fell and passed away. This says something pretty special and telling about the man that is hard to deny. He went out doing what he loved obviously, as tragic as it was.
5. In 2012 Nik Wallenda crossed over Niagra Falls wearing a safety harness.
The safety harness was mandated by the network that was hosting the stunt, as it was finally deemed necessary for something this risky. Back in the old days this wasn't even thought of, but nowadays people don't want to see another person die in the attempt.
4. Today there are many branches of the Flying Wallendas, and most groups include grandchildren of Karl's.
It seems as though the family legacy has been passed on and embraced by many of them, and while the groups are obviously not comprised of all relatives a lot of Karl's kin do have something to do with the offshoots, as it seems only right that this should be the case.
3. The Wallenda's had a very big family.
There was no shortage of people in the Wallenda family as Karl and his siblings had several children between them and those kids had their own kids and so on and so forth. Oh yes, the family got pretty big eventually.
2. Their family has influenced a great deal of modern culture.
While the family name might not be something that a lot of people know their various acts are the kind legends that people still remember and associate with circus acts and various other facets of modern culture.
1. Two of them crossed over Time Square most recently.
Nik Wallenda and his sister crossed over Times Square on the same wire, going in opposite directions. Frank Miles of Fox News was just one of many reporters to cover this but it's fair to state that he was just as impressed as anyone.
That style of showmanship is rare these days.