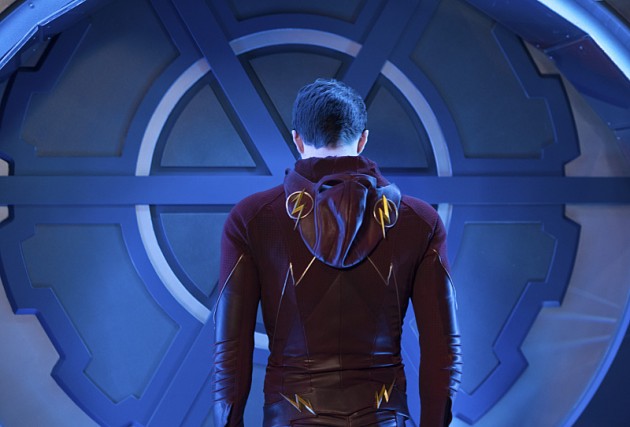 After what has already been a strong first season, The CW's The Flash delivered an extraordinary season finale last night, setting the second phase of the series into motion and furthering the Flash mythology on the television show.
I will say right out of the gate that if I had any issues with the finale, it would simply be that it wasn't long enough and that a two-hour season finale would have been the best thing ever. However, "Fast Enough" worked well, as it had everything you wanted from a first year finale: phenomenal action, excellent performances, heartbreaking moments and, for the comic book fans like me, tons of Easter Eggs.
As Barry agrees to try and help Harrison get back to his time while also going back in time to save his mother, we see the incredibly strong performances from all of the show's actors. Just seeing Grant Gustin's Barry having to say goodbye to everyone, because a new timeline may not feature some of them in his life, was one of the most brilliant and emotional scenes of the finale. It's a tie between the scene he had with Iris and the one with Joe, where we finally get that moment where Barry acknowledges Joe as not just a surrogate/stepfather, but as second real father.
Tom Cavanagh's Eobard was just insanely fun to watch because he got to go full-on evil with Barry. That "because I hate you" moment was just so similar to how Eobard is depicted in the comics with Barry Allen. However, in a later scene, Eobard shows some of Harrison's kindness to Cisco as he reacts to him being able to see things from other dimensions, including his own death from "Out of Time." We learn that Cisco is in fact a meta-human, as he was also affected by the particle accelerator too, so it looks like that Season 2 will definitely be exploring the birth of Vibe.
If you needed another reason to be excited for DC's Legends of Tomorrow, then Victor Garber is one of them, as we got to see a lot of Dr. Martin Stein in this episode. Let's not forget that during all the craziness of this hour, Ronnie and Caitlin got married by Martin because what is a finale without a great wedding? On a serious note, it was great seeing them getting married at last. What did bug me here a bit was that we got zero hints about Ronnie's future as the other half of Firestorm, because as of this moment, Amell isn't going to be part of Legends. Maybe that will change.
As Barry began to create the wormhole, we got some major Easter Eggs and the introduction of Multiverse, including the brief appearances of the Flash Museum, Caitlin as Killer Frost, Barry in jail, and much more. We were then taken back to the night Nora Allen was murdered, and Barry got to be there before she passed away. A part of me really thought that he would save her and set up the Flashpoint storyline, but it was heartbreaking yet beautiful that he got to say goodbye this time and be there before she died. Barry then traveled back to stop Eobard from taking off to his own time, and an epic battle took place until the saddest part of the whole finale happened.
Eddie, who was having more than just an identity crisis in this episode, sacrificed himself. Since he is Harrison's ancestor, killing himself would ensure that Eobard would never have been born. Did anyone else get a flashback of when Tommy sacrificed himself in the Arrow Season 1 finale two years ago? Because I sure did, and it was emotionally gut-wrenching to see Eddie do the same thing in a bigger way. As tragic and beautifully devastating as his death was, I'm not sure if we may have been seen the last of Rick Cosnett on this show because look where Eddie's body got sucked into: that time-hole.
We have talked about the stunning visuals that this series has, but the final scene took it all as Barry has to try and stop a sucking black hole from destroying Central City. Once again, why aren't we already hearing about nominations for Armen and his VFX team because this is on a movie quality level and it deserves to be recognized. We here at TVOvermind will soon dissect the first season as well as this finale, but to wrap up this review, having looked at this finale two more times since last night, it's hard to find anything to nitpick on other than the fact that it wasn't long enough. You couldn't ask for a better first season finale than this, and now we just have to wait, oh only about five months or so, for Season 2. Hopefully the wait will be over in a flash (pun intended).
"The Flash" has been picked for a second season and will return sometime in October at its regular timeslot, Tuesdays, 8/7c, on The CW.
[Photo via The CW]
Tell us what's wrong with this post? How could we improve it? :)
Let us improve this post!