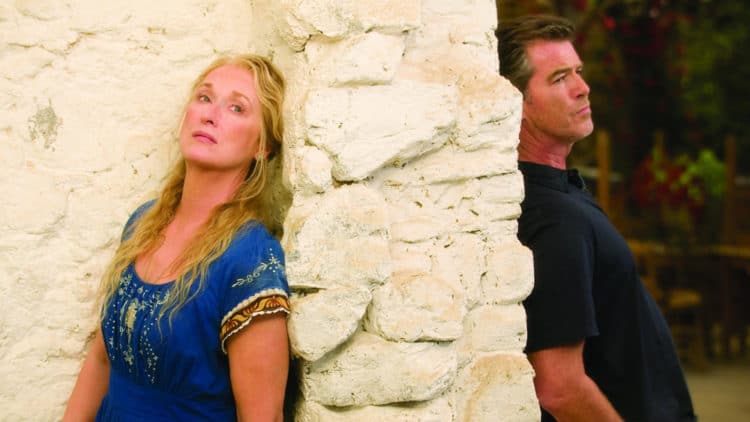 Mamma Mia! is a favorite movie of so many primarily for its soundtrack that the whole gist of the movie sometimes gets forgotten in the wake of it. But overall the movie is about a woman and her daughter and the love they have for three men that the daughter tracks down thinking that one of them might be her father. Sophie wants her father to give her away at her upcoming wedding, and unbeknownst to her mother she invites the three men to the villa her mother operates in an attempt to find out just who is her father. Unfortunately the reunion is, for Donna, and unwanted step into the past that she wasn't ready for, though it does eventually reunite her with the love of her life, who eventually proposes to her. When it's decided however that Sophie doesn't really want to know who her father is the three men decide to take on the responsibility of being her three co-fathers, which might seem odd to some but is a way to salvage feelings and sensibilities.
Here are five of the best songs from the movie.
5. Our Last Summer
Someone, well, a lot of people, might question how anyone could possibly have a child and not be able to guess just who the father was after being with just three men that they really cared about. But these things do actually happen in real life, usually with less than friendly outcomes though since some men would actually be glad to know that they're not on the hook for a child they didn't know about. But despite the ability to have a paternity test the three men do manage to come up with a very honorable route and decide that they care enough about Sophie and Donna to share the duties of a father three ways. That's an interesting compromise to be certain.
4. Dancing Queen
This kind of goes to show that everyone grows up but it doesn't mean that you have to grow old so quickly. Life kind of beats people down after a while and seems to indicate that we have to grow up in a way that makes it almost impossible to have fun. But if your'e lucky then you might have friends that refuse to really let that happen, especially when they know that there's still a lot of life left in you and that you just need the right opportunity to prove that you're still a fun person. Then it becomes a chance to show that you do in fact have what it takes to really have a good time and just cut loose.
3. Mamma Mia
It's safe to say that it was a bit of shock when Donna saw the three men that she'd been involved with back in the day and that she hadn't been expecting it. But to think that she still had feelings for them was also kind of obvious since it seemed to make her feel young once again. There are moments in life that make you remember what it was like to be young and can bring back the old emotions that felt so important back in the day but faded with age. The sudden shift from being the aged and wizened adult to the young and carefree youngster is something that a temptation that many people can't resist.
2. Money Money Money
Someone once wrote that love was the one thing there was just never enough of, but money seems to be one of the other things in this world that some people just can't get enough of at times. Of course the ways that people go about getting it at times is less than adequate and therefore is either increasingly difficult or almost impossible. The villa that Donna is falling apart each time she looks around, but finding the funds to keep up appearances and the upkeep on a place like her villa is not exactly an easy prospect. Finding a rich man might be the answer, but finding someone like that isn't the easiest thing to do.
1. Honey Honey
It's funny, but some young women might not want to really understand just what their mothers were doing when they were their age. Sophie however has a pretty natural curiosity to know who her father is, and the best way to discover this is her mother's diary, so it would be necessary to go through whatever was written down just to get to a proclamation of sorts. Of course it doesn't go that easily since she's still up in the air about who her father really is. Three men, no clue as to who fathered her, and a desire to know just who was the one that was responsible for her coming into being. You can imagine the confusion.
It's a movie that you could get into if you're really a fan of musicals, without a doubt.