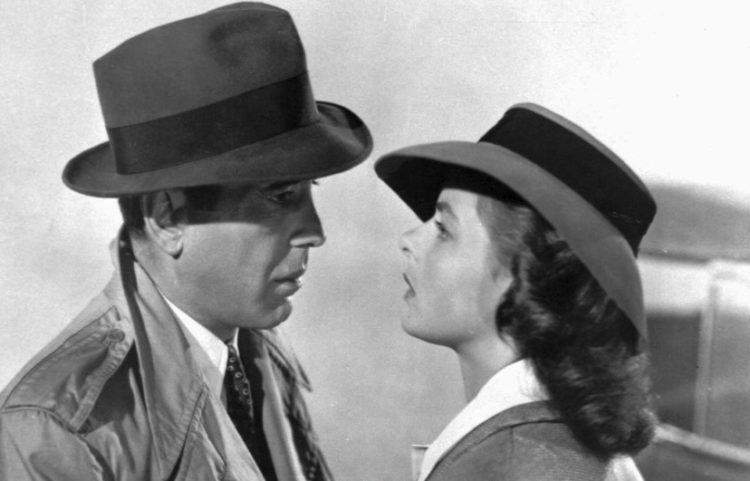 Sometimes love can come out of the most dreadful of circumstances. This can be found in a variety of World War II movies, where the love of another person is the only thing that really keeps people going. Especially for those who have served in combat, being able to hold onto something sweet and tangible momentarily alleviates the horrors of war while also reminding them of what's really worth fighting for.
As recent films such as Allied and Suite Française show, there is still an enormous fascination in Hollywood with these types of stories, especially because they stress how transient a relationship can be, especially in the face of such evil as the Nazi regime. To celebrate romance in World War II movies, we have compiled a list for you to read below. Spanning from love in the desert, to love in rubble-filled towns, to military base romances, we have the essential list for you here. Read on below to see what we picked. Don't agree with our choices? Please feel free to sound off in the comments below.
Casablanca
Perhaps the quintessential WWII romance, Casablanca was never intended to be anything special. Yet every moment clicked, making it a true masterpiece. Whether it's the warmth and wit of Julius J. Epstein, Philip G. Epstein and Howard Koch's screenplay, the workmanlike precision of Michael Curtiz' direction and Ingrid Bergman and Humphrey Bogart's iconic performances, Casablanca simply gets better every single time you watch it.
Created during World War II itself and intended to be a simple war picture to take advantage of the events of the time, Casablanca tells the story of Rick, who runs a cafe that doubles up as a hotspot for nefarious activities such as gambling and political scheming. Having been unlucky in love before, he has written off any sense of heroics. Yet when his ex turns up at his bar, he is forced to suddenly embrace heroism, showing how love can inspire men to do extraordinary things. Filled with tens of quotable lines and various moments of sheer heartwarming camaraderie, as well as an iconic soundtrack in the form of "As Time Goes By", it rarely gets better than this.
The English Patient
With some of the best desert panoramas since Lawrence of Arabia, Anthony Minghella's The English Patient – based on the novel by Michael Ondaatje – is a gorgeous, sweeping, all-encompassing romance. Starring Ralph Fiennes as the man in question opposite a career-best Kristen Scott Thomas as the woman he falls in love with, it was a major sensation upon its 1996 release, winning nine Oscars, including Best Picture.
This is the rare case that the Academy got it absolutely right as The English Patient deserved to win every single one of those awards. Set in Northern Italy during the last months of the war, Fiennes plays a bandaged man reminiscing about his romance back in North Africa. A Hungarian cartographer, he is mapping the Sahara as part of an expedition, where he meets Katharine Clifton. Initially critical of each other, they begin a passionate affair which threatens to destroy them both. Heartbreaking and jaw-dropping in equal measure, it exploits the precarious world of WW2 in an incredibly affecting fashion.
From Here To Eternity
Based on the novel by James Jones, From Here to Eternity is set on a Hawaiian military base in the months leading up to the Pearl Harbor attack. Starring Burt Lancaster, Montgomery Clift and Frank Sinatra as three soldiers opposite Deborah Kerr and Donna Reed as romantic love interests, From Here to Eternity is a particularly adult exploration of adultery and the difficulty of military service that was both a rare critical and commercial success.
Their bickering and internal fights can be read as something for a metaphor for the USA before the deadly attack by the Japanese. This was a nation that simply wasn't ready, its preoccupation with its own internal issues blinding them to what really matters. It also contains one of the most iconic representations of love ever committed to celluloid: Burt Lancaster and Deborah Kerr rollicking in the beach together as the waves crash over them.
A Year of the Quiet Sun
A Year of the Quiet Sun is a little different to the other movies on this list as it occurs after the war has ended, yet we can include it here as it is fully concerned with the ramifications of that time. It tells the story of an American soldier in Poland who falls in love with a native woman whose life has been turned upside down by the war.
This Polish-made film, directed by Krzysztof Zanussi, is a remarkably tender story, their experiences portrayed with great sensitivity by Maja Komorowska and Scott Wilson. It honestly portrays how people's lives were crushed by the war and asks if it is possible for the two of them – despite cultural and linguistic differences – to try and carve out a life together. The result is a deeply moving portrayal of life just after the war.
The End of the Affair
The second film on this list to feature Ralph Fiennes, The End of The Affair takes place in London during the Blitz; the fear of bombs dropping overhead threatening to destroy every precious movement. Based on the famous novel by Graham Greene, Fiennes plays opposite Julianne Moore as his lover Sarah.
Directed by Neil Jordan, the film tracks their tumultuous affair together; from initial attraction to bitter hatred. It takes place during a cold and dark time, with endless air raids and a scarcity of food; where clinging to another human for warmth feels like the only possible reaction to such a grim life. Like in From Here To Eternity, the emotions here run raw, as if buildings being ripped open daily by bombs also manifests itself in unfiltered expressions. Additionally, as this is based on a Graham Greene novel, the theme of Catholicism runs throughout, a bargain with God shaping the foundational centre of the film which shows the importance of religious faith during this time.
Tell us what's wrong with this post? How could we improve it? :)
Let us improve this post!