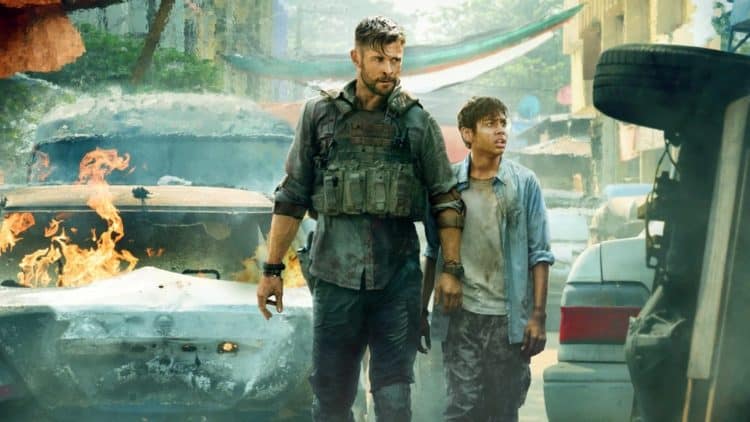 Realistically this list should've been a lot harder to pull together not because there's a shortage of action movies, but because there's simply too many to pick from. But with the year we're having it's thankful that we have this many to put up and there are some real winners in the bunch here. As far as Bollywood goes, there are a lot of action scenes to pick from, but that would definitely deserve its own list, so I'll be sticking to titles that were dropped in America and have featured some great fight scenes in the process. 2020 hasn't exactly been a bang-up year for action movies since there are a few we were hoping to see make their way to the theaters, but the coronavirus kind of put the kibosh on that so we've had to make do with what's come out and what's available. Again, it's thankful that we have these titles to look at since there are some impressive fight scenes even if the overall movie wasn't all that great.
Here are some of the best fight scenes from 2020, so far.
5. Bad Boys for Life
This movie was hard for a lot of people to get into but this particular scene was great simply because you don't see a karambit (it has a few other names) used all that often in combat when it comes to the movies. The hooked, claw-like blade is great for getting in doing some serious damage if a person knows how to use it, and obviously this guy was well trained and knew how to maximize the damage with each cut before wisely moving to a firearm to finish things off. This is taking the term 'hostile takeover' to a new level that a lot of people would back away from or fold to quickly. But hey, it's effective.
4. The Hunt
There's really nothing else to say but that they're getting down and dirty in this fight with only a few technical moves that are thrown in to make it look good. Otherwise it's what JR from the WWE might call a 'slobberknocker' since Crystal is just wanting to kick the tar out of Athena and funnily enough, Athena, with her months of training, honestly thinks she's that good of a match for someone that was trained to kill in a combat situation. To be fair, Athena does mess her up a bit, but she's also the first to resort to using a firearm in a fist fight, which some might say is a clear sign that she's not THAT confident.
3. Extraction
There's nothing really fancy about this fight, as it's about a down and dirty as it can get with only a few really obvious embellishments thrown in that can still be called fairly practical. Plus, the protagonist is getting tired throughout the fight and doesn't act like he has unlimited stamina, which is also nice to see. Plus, his reaction time is on point, he does get roughed up a bit, and in essence it looks like a fight that's been stretched out and made for Hollywood, but it's still impressive all the same since spatial awareness and his ability to react to one threat after another is pretty well done.
2. Spenser Confidential
Apart from the car being ran through the front window and the guy acting so nonchalant about it, this was pretty good. While it does show a couple of fight scenes the initial one was great since it shows a couple of things that were kind of nice. One is that Mark Wahlberg is keeping his distance and not just charging foolishly at a guy with a blade, as he throws everything he possibly can at him before having to engage. The other is that he's not trying to take on multiple opponents as he's doing what he can to impede the other enemies while still trying to get away. That's a little more realistic to be certain.
1. Becky
Don't underestimate kids, especially those that are smart, resourceful, and have serious behavioral issues. While some people might want to call bs and say that this would never happen I'd agree, she might not be able to stand toe to toe with four grown men and hope to survive. But has anyone ever been kicked or hit by a kid? It might not hurt as bad, but there's still enough force in those limbs to swing a nail-studded board or drive home a sharpened implement into a vital spot if you don't see it coming. It's not entirely realistic, but for a kid that has no problem finding new and inventive ways to kill, a squirt gun filled with lighter fluid really isn't that far out of bound, and running over someone's head is probably an a-okay measure to take when your life is in danger.
That's what we have so far, hopefully the rest of the year will give us a little more.