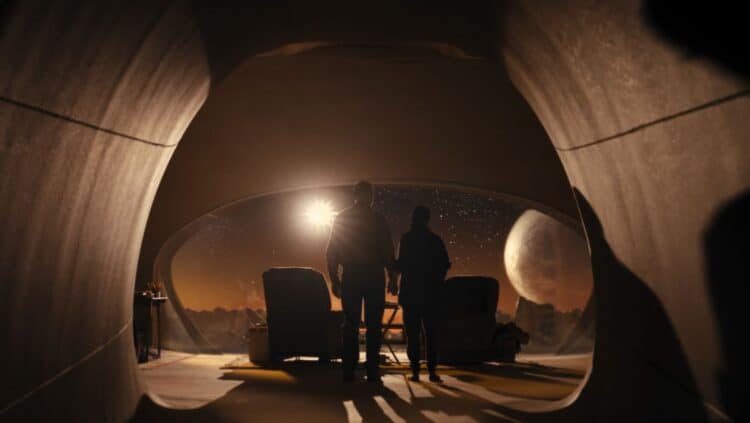 A Veteran duo teams up for the first time on the small screen as Sissy Spacek (Carrie, The Help) and J.K. Simmons (Spider-Man, Whiplash) play married couple Irene and Franklin York. The two lovebirds have found a chamber that leads them to a deserted planet, but the arrival of another being brings more questions to light, challenging the perception of time and space, along with the mystery surrounding it. Night Sky is a mini-series that's set to debut for Amazon on May 20th. Here are the top five moments in the recently released trailer.
Irene and Franklin York Teleport To A Deserted Planet
The dabbling of space and time is nothing in the world of film and television, but Night Sky seems to be taking a fresh approach to the genre. There aren't any crazy alien wars or it doesn't appear that a mysterious creature is looking to concur Earth. The trailer immediately thrusts us into the story by focusing on the leads, Academy Award winners J.K. Simmons and Sissy Spacek, and the pair go into a mysterious chamber that teleports them into a deserted planet. First, the special effects are top notch here. More importantly, millions of questions are buzzing once Irene and Franklin get to their destination: How did they find this planet? What is this planet? Are there any strange creatures on it? There seems to be a fun mix of sci-fi, drama, and romance in this upcoming series, and with Simmons and Spacek as leads, this could be a sleeper hit of the year.
A Mysterious Boy Is Found On The Planet
Just when you thought the situation couldn't get any weirder. A mysterious kid is found on a deserted planet; however, he's clearly human, or is he? How did he even get on this planet? Was he the first to discover this deserted place before Franklin and Irene? Night Sky seems like E.T. in reverse. The trailer does an excellent job of highlighting the central mystery without giving too much away. We understand that Franklin and Irene are the central protagonists who have found this strange paradise, but why them? And what connection does Chai Hansen's Jude's have with them?
Coffee Table Magically Disappears
The world of Franklin and Irene has seemingly gone topsy turvy following the discovery of Jude. Not surprisingly, an investigation has been sparked by the couple's strange behavior and now everything they know is different. In one scene, Irene drops a mystical ball on the coffee table and it poofs into thin air. This moment only adds more layers into the already complex narrative of Night Sky. It's not just about the strange deserted planet anymore, but the entire existence of Earth at this point. Does the deserted planet present a danger to the real world that Irene and Franklin live in? And just who are the investigators that are trying to get to the bottom of these weird occurrences? Once again, the special effects for this moment is strong, but Sissy Spacek's reaction to her coffee table disappearing really highlights the suspense of Night Sky.
A Wildfire Occurs
Of course, a giant scientific secret of a deserted planet is bound to be exposed and all hell breaks loose once the trailer gets deeper. Night Sky doesn't seem to just focus on the sci-fi elements as it's a character-driven story that documents a wild adventure between a married couple. Irene is searching for the truth behind this wild mystery and Franklin is happy to be along for the ride. Night Sky isn't an effects driven spectacle which makes it more endearing. It seems to focus on love, relationships, and the importance of life and the strange set of circumstances that it brings us. There's no telling the direction that Night Sky will go, but hopefully the series is as good as it's very promising trailer.
Irene and Franklin Hold Hands
As previously stated, Night Sky isn't just a sci-fi story. At the central of this strange world is Irene and Franklin, which is a refreshing focus on an older couple. It brings an interesting dynamic on an married couple of this nature, which isn't often explored in media. J.K. Simmons and Sissy Spacek seem to be a great match in this upcoming series, and it's nice to see how much their love is highlighted throughout the trailer. In the midst of the sci-fi elements is a romantic arc that documents the bond between two people who are deeply in love with one another.