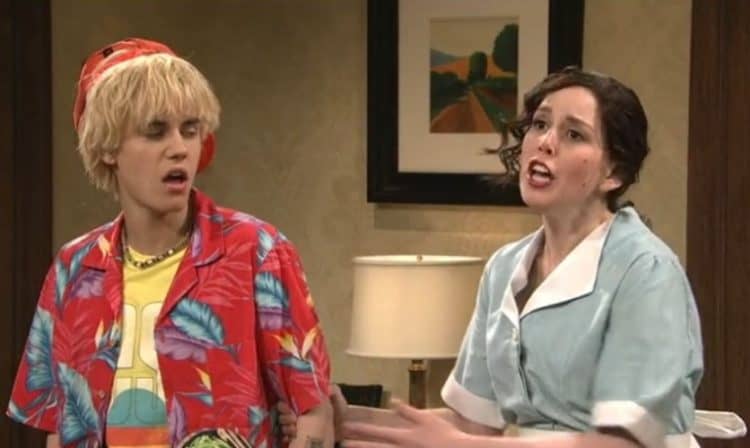 Justin Bieber is another person in a long line of people that have come to be famous and hated for it in the same breath. To be fair he showed a lot of promise as a boy as he was a 4.0 student and was very musically gifted, but once he got to be famous that talent just blew up and his career grew in leaps and bounds. Whatever you say about him, and many people will say a lot, he's been one of the top-selling artists since he emerged on the scene and has amassed a legion of loyal fans. As he's gotten a bit older he's done a few questionable things and acted a bit out of sorts, but that still hasn't stopped him from being one of the most popular singers in history. Yes it's irritating to some people but it's kind of impossible to deny his popularity since so many people are willing to come to his defense, and his sales kind of speak for him.
Here are some of Bieber's best performances to date.
5. Zoolander 2
So let's get this straight, no one buys Bieber as an action hero of any sort. He's the kind of guy that's suited to being a singer and not much else since there's not much to him when it comes to bulk or acting talent. His brief cameo in this film was enough to make a lot of people roll their eyes as he was killed shortly after he appeared, another casualty that led to the main premise of the story, the murder of many different models that were killed while using one Zoolander's signature poses. When it's said that Bieber has great acting a performances take it with a big grain of salt since in movies he's best when seen for short periods of time.
4. All Around the World
This is where Bieber shines since it's his stage and his one place where he can actually keep the fans on his side 100 percent of the time. The guy's got a nice voice and obviously knows how to put on a show, so there's no real way to state that he's anything but spectacular when he's in his element. So many people actually want to know what's going on in his life from one moment to the next that it's kind of unnerving since you would think that he'd get tired of having his life put on blast so often. But in past years he seems to have thrived and made a joke of it at times. In any case, the stage is where he's the best.
3. Saturday Night Live
You can say this for Biebs, he can at least allude to having a good sense of humor since if you can't blast yourself on this show then you probably don't belong there. SNL isn't known for being PC all the time and it's definitely not known for letting people just skate by when it comes to their reputation. Bieber is kind of an oddity on the show that you would think would only be on there once, but he's been in a few sketches and hasn't seemed to really care when he's been parodied over and over. After all it's a gag and the show pulls in so many viewers that you can't really be mad if someone emulates you.
2. Comedy Central Roast of Justin Bieber
Among celebrities you might think that Justin Bieber would be less of a target, but some people are absolutely vicious and there's no doubt that Bieber felt a few of these and even had to grin and bear it. Of course if he has any sense of humor at all he would laugh it off and remind himself that what people say isn't quite as important as what they really think. Roasts after all are meant to be brutal as they're one of the few times that people can say anything that comes to mind and pass it off as a joke. Of course it would be interesting to know just who's joking and who's really letting their inner monologue take a walk in the spotlight for a moment.
1. Never Say Never
This is probably when is career was at its peak and he had everything he wanted, as in a legion of fans that wouldn't berate him in any way and no need to think about legal issues or anything stupid that he'd done recently. When he was still a kid his career was absolutely solid and held no controversies whatsoever that anyone could dig on. Now there's a few things that are out there and people just won't stop when it comes to reminding others what he's done. It's pretty obvious he's not the favorite of some folks, but once again, his career speaks for itself.
You might not like him, or you might love him, but Justin Bieber is a worldwide sensation.
Tell us what's wrong with this post? How could we improve it? :)
Let us improve this post!