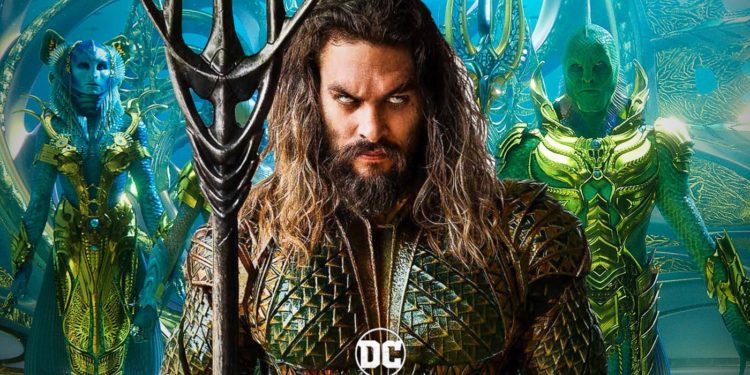 Jason Momoa's career is on a high note and it's a sincere hope that it will stay there since right now he's one of the leading action stars that people are really looking to in order to take the reins and usher a new era in when it comes to action movies. At this point he's been best on TV since many still remember him as Khal Drogo from Game of Thrones despite the fact that he hasn't been on the show for quite some time. But his presence, his look, and his intensity are all elements that have helped to make him the star he is right now, and it's on his shoulders to make it work. So far he's had a couple of false starts that weren't huge setbacks but were gaffes that could have ruined him if he wasn't determined enough to keep going. As it stands now he's a highly desired star that simply needs to come up with one great role that will continue his budding legacy and allow him to remain as one of the top names in the business.
Here are five of his best films to date.
5. Justice League
People might arch their brows at a couple of these selections since they didn't perform nearly as well as they should have, but in Justice League, as Arthur Curry/Aquaman, Momoa at least had fun with the character and was, in my estimation, the only one that really allowed his natural persona to come through in his character. The others were either too stiff or were going for an effect that kind of left them wanting in the eyes of a lot of audience members. But even here Momoa was criticized since he seemed a little too animated for his character. Honestly he was the only really lively one in the bunch.
4. Conan the Barbarian
You might really be scratching your head now since the latest Conan move was considered to be downright terrible. But in all honesty it wasn't Momoa's fault since he looks the part, has the build, and could have made this into something great. But parting from most of the source material and trying to revamp the idea of Conan was one of the biggest faults of this movie. Plus, if any of you that remember old school Conan can recall, he wasn't a badass as a child. He was a kid that had to learn the hard way how to survive, and even as a man had to learn how to fight. He wasn't born with the knowledge of how to kill grown men in brutal fashion. It's an interesting development but it's just one more thing that was just too over the top.
3. Bullet to the Head
This movie is great because it wasn't meant to be great. Anyone else saying 'huh?' just about now? The movie was meant to be a shoot 'em up action flick that was out there for people to watch if they wanted to and as the main antagonist Momoa was great. He was smart, tough, quick, and lethal, just what a bad guy needs to be. Sure, he was bound to lose once he went up against Sly because that's usually the endgame in these types of movies. But Momoa played his part extremely well since he was the bad guy that you loved to hate and the kind of person that was so confident in his abilities that it was a genuine surprise to him when he lost.
2. Aquaman
Yes, the critics have said that this is a worthy movie, but when was the last time that you really listened to them and weren't disappointed somehow in their ability to judge movies? A lot of critics aren't looking at the same things that moviegoers will and therefore aren't always the most reliable voices when it comes to enjoying a film on the big screen. No offense to them, well, at least not a great deal, but it's their job to say 'yea' or 'nay' on whether they think a film is that great, and it's a lot easier for a moviegoer to make up their own mind about a film they've just seen than to allow someone else to influence their thinking. Hopefully this film is just as good as it looks.
1. Braven
Why did I rank this film number one? Well that's simple, it allows Momoa to stretch out a bit, to show that he's still a tough guy, but that he's also a family man and that he's mortal. In a lot of his other movies he gets damaged too, but only after it's established that he's inordinately tough and that it takes a lot to bring him down. In this one he's just as vulnerable as the next person, but given that he's trying to protect his daughter and father he's more determined and therefore just as deadly, but also just as susceptible to being beaten by a well-trained opponent.
Right now Jason Momoa's career is in his hands. Hopefully things will continue to look up, since honestly he's a lot of fun to watch.