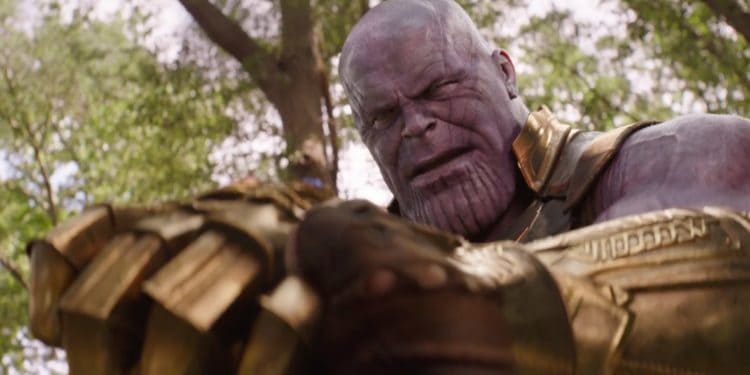 The very best fictional deities in the movies can be utterly ruthless or undoubtedly heroic, even if the idea of being a god means that the actions and lives of mortals are so far beneath them that it might feel as if they don't need to concern themselves. There are several reasons that Thanos of the MCU wouldn't be considered to be a god, since without the Infinity Gauntlet he's still quite powerful, but he's still the kind of being that can be beaten since there are those in the Marvel universe that have bested him. A god is essentially someone that can be beaten, but typically only by those that have an upper limit that's beyond pretty much anyone else. Obviously, there are those on this list that have been bested, but it's typically been by people much more powerful than they are, which isn't too hard to think about when it comes to the number of gods that exist in the movies, and how they'll be written into the story. Traditionally, gods are extremely tough, resilient, and far beyond anything that many characters should be able to throw at them, but as the movies have shown us, even the gods can be fallible. Still, they're fun to watch since they tend to be given quite an impressive array of feats and an appearance that is on par with what some people might be thinking when bringing them to mind.
Here are a few of the best fictional deities from movie history.
5. Hades
People will likely want to argue but that's okay since Ralph Fiennes actually did a pretty good job with this character by making him menacing and kind of weak in the beginning, compared to his fellow gods anyway. Hades has for a long time been considered to be one of the most reviled of all gods since being the ruler of the underworld has made him appear less than appealing to many people. But the fact is that as one of the top Olympians he's also been one of the most powerful for quite some time and his ability to rule over the nether realm is a quality that makes him dangerous as well as creepy.
4. Horus
I couldn't really stick to one pantheon since there are plenty of gods that are fictionalized in the movies and Horus is one of the more interesting since the way he was set up in this movie didn't really work, but the overall idea of this character is pretty cool. If one has ever read up on Horus in actual mythology they might see that the movie did manage to get a couple of things right, even if they were buried under a whole lot of bad since the movie was definitely whitewashed and the script turned out to be a whole lot of awful. But the look of the character in full armor was pretty cool and the underlying idea was definitely good enough.
3. Maui
People had an issue with Maui as well since a lot of folks thought he was simply too big to fit the legend while a few other aspects weren't that great. But one thing is clear, the audience still loved him since he turned out to be a rather complex character that wasn't just about his size, arrogance, and tattooed. If anything, Maui was a people-pleaser that didn't always think about the things he did before he did them. A lot of what he did in his life turned out right, but there were times when he probably should have taken a moment to think before just going ahead with whatever thought was in his head.
2. Thor
The MCU definitely kept with the approach of making Thor into a blond-haired and blue-eyed muscular figure since the Thor from Norse mythology was redhaired, had to have a special glove and belt to lift his hammer, and was far more aggressive than even Hemsworth's character tended to be at times. But the MCU god was still someone that many enemies didn't want to upset since apart from other gods he didn't have a lot of equals, especially in the comics when he reached the true peak of his power, which is unknown in some versions but is definitely upper-level in comparison to some.
1. Poseidon
Strangely enough, in a world that's dominated by water, since it covers three-quarters of the earth's surface, Poseidon is still not spoken of nearly as much as other gods when it comes to mythology. Perhaps Zeus and Thor and the others are simply more interesting because their representation has been a little more impressive, but the fact that Poseidon holds dominion over the entirety of the earth's oceans is still kind of impressive to think about. Plus, the fact that he could turn the oceans against anyone he pleases is something to think about.
Stories about the gods have been interesting for ages, and will probably continue to be in the years to come.