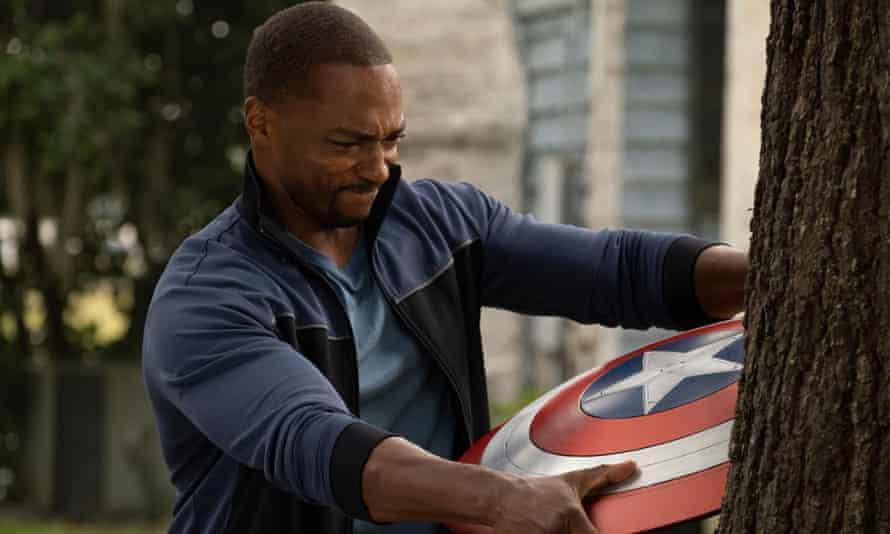 There wasn't much else that could be done after John Walker decided to take the law into his own hand as serve as executioner as well as judge and jury. The bloodstains on the famed shield he held were pretty vivid for as long as they were allowed to stain the metal, but the fight that ensued between Walker, Sam, and Bucky as they attempted to get Walker to stand down was nothing short of amazing since after taking the super-soldier serum, Walker was able to keep up with both fighters just fine and was even fending them with only a moderate amount of effort, at least until they started working together. Once that left arm broke it was all over, and it was just a matter of putting him down and catching their breath. The shield is now back where it probably should have been the whole time, despite Sam's efforts to slough off the responsibility for what he believed was a good reason. He wasn't ready, he didn't think he could live up to the legacy, there are a lot of reasons why anyone come up with an excuse for not wanting the kind of responsibility that Captain America's shield came with. As a symbol it's too easy to let it stand for one thing or another since trying to reconcile what happened with Isaiah Bradley only left Sam more torn since Isaiah lost too much, had too much taken, and was too bitter to ever be convinced that things could be turned around again. The saddest part is that his ability to believe in the country that spurned him was taken forcibly and without any good explanation.
Giving it to Bucky wasn't an option since he didn't want it, he wanted Sam to take it up and make it a part of who he was. But the upside of Bucky still being around is that he's grown as an individual and despite anything and everything they've said, there's a friendship between the two men that's impossible to deny, a bond that exists between two veteran fighters that have seen and done some of the same things, and know the scars that such things leave on those that have lived through one battle after another. While they might differ in their ideologies at times, they're still of like mind in many ways, even if they don't want to admit it. Being able to tell if Bucky has a future in the MCU to come is hard to say, but at the moment it does feel that he's become a very different character than he was when Captain America: The Winter Soldier was released, as events have conspired to turn him back into the man he might have been had HYDRA never taken hold of him. There's a long road ahead of Bucky, but it feels more positive than ever, and might even indicate that he does in fact have a future to look forward to. As far as Zemo is concerned, being taken to the Raft by the Dora Milaje is a mercy, one that might come with captivity of the sort that will be closely monitored, but will also be far more than many would wish to give him.
In the meantime, the Flag Smashers have done what people might have expected by infiltrating the highest reaches of government, where it would appear that they're going to make certain that people know what they're about, and what they mean to do. It feels as though Karli Morgenthau only needed that one little push to become the type of character she despises, and yet in her line of thinking she is seeking to liberate the world, while at the same time terrorizing those that are trying to divide it yet again. She claims that since their enemies won't, then neither will she, when in truth a rational mind might find neutral ground, if such a thing exists, and seek to discuss what each side wants, and how it can be obtained. It's not a perfect solution, and it's definitely not one that's going to be used in the comics or the MCU since it offers less drama and more sensible solutions than the characters in the story are going to be allowed to employ. But the alternative is to spread terror, to create hysteria and chaos on such a level that eventually the only response will be for the heroes of the MCU to crack down as hard as they can on the Flag Smashers, seeking to root them out somehow in an effort to either rid the world of their influence or seek to understand and possibly compromise with them.
In the meantime, John Walker, formerly Captain America, quite possibly might become US Agent very soon, and if his comic book adventures are any indication, he won't be playing as nice, or under the same rules that Captain America followed.