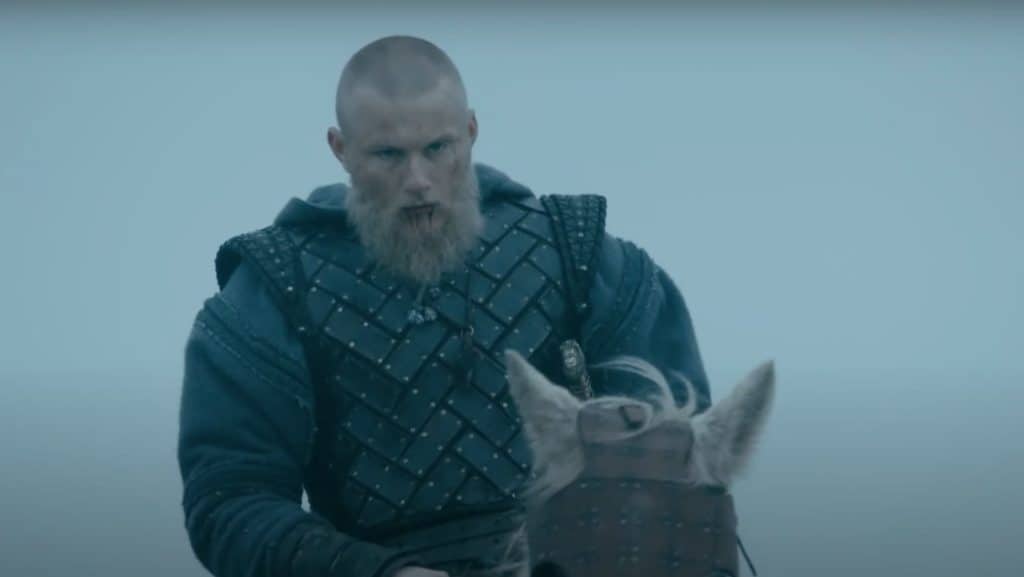 We were given quite the view of Bjorn Ironside's defeat in the first half of season 6 when Ivar the Boneless ran him through, his own brother. The fact that Bjorn deposed Ivar as the king of Kattegat was a big factor in this, and after joining forces with Prince Oleg to allow the Kievan Rus to win the day. But sadly, while we do see Bjorn being taken to convalesce in part 2 of season 6, and yes this is a huge spoiler, the happy idea that Bjorn will be able to cheat death is taken away as his wound is too great and begins to rot at one point, robbing him of his strength and, at one point, his life. Credit can be given to Bjorn for the way he goes out however since with Gunnhild's help he does manage to seat his horse once more, don his armor, and raise his sword in defiance of his brother Ivar and Prince Oleg as the summons goes out to the other clans that come to help push the Kievan Rus back. Unfortunately, while this is the end of Bjorn, it is not the end of the conflict entirely, as the Kievan Rus do retreat, and Prince Oleg begins to unravel in a very dangerous manner, making it clear that he's not balanced and is willing to pit Ivar and Hvitserk against one another.
But if one thinks that things are going to end quietly and peacefully then they haven't been keeping up with the previous five seasons, as back in Kattegat, King Harald has returned to claim the throne once again, stymieing the efforts of Gunnhild and Ingrid to become the next ruler of the city. The one big problem is that previously, Harald had raped Ingrid, and before Bjorn's death Gunnhild had sworn to cut Harald's throat for the offense. Now though, as Harald has backing from another ruler and is known to be a fairly unstable and duplicitous individual, it's a wonder as to what will happen to both women since neither one wants anything to do with him. In the meantime, Ubbe and Torvi, who are currently traveling with Othere and Kjetill Flatnose, have recently lost a child to the sea during the long voyage to the 'golden land', a tragedy that came not long after the child in question saw the dread Jorgmandur, the legend that Torvi told her of, during the storm. Such a loss is bound to haunt Torvi in a big way, and no doubt taints her relationship with Ubbe, but it will remain to be seen just what will happen. From the moment this series began it was apparent that things would never be completely calm, as this is not the life of the Vikings and despite what history tells us, many people are more interested in seeing them as conquerors than farmers thanks to the many different legends that have been told of these people.
The truth about the Viking culture is that is in truth a very violent tale that has been told by those that have seen them as raiders, conquerors, and savages that did nothing but raid, pillage, and murder. But as it goes with every story, one perspective will tend to taint all others a lot of the time, and this is part of why Vikings has been such a popular show for so long. But while the end is near it does sound as though another idea might be in the works. It doesn't sound as though it will connect to this story, but it could possibly satisfy a lot of those that have been waiting patiently for the second part of season 6 to arrive. Things certainly haven't turned out the way that people thought they would, but in the course of history things don't turn out as they do in the entertainment industry, as the story of Ivar the Boneless is still quite a bit different from the story that's been told in this series. But despite being a bit of revisionist history it's been entertaining thus far since much of what has been shown has been able to impress the fans and at least show some accuracy in terms of how the Vikings lived and how they thrived as a people for so long. True, quite a bit might be taken as fantasy and isn't exactly wise to take as gospel, but the story has still been quite impressive over the course of six seasons.
Watching part 2 of season 6 is a little tough since most of the fan favorites are gone, though Ragnar, Lagertha, and Bjorn all make a brief appearance at one point. But despite this fact, the story is still one that carries a great deal of interest for the fans since it's a transition, not necessarily an end, to a saga that been utterly gripping the entire way through.
Tell us what's wrong with this post? How could we improve it? :)
Let us improve this post!