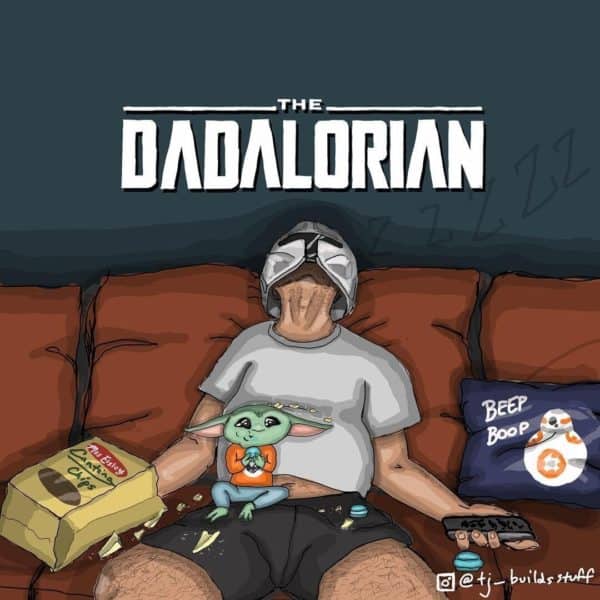 It's probably going to be a while before anyone lets go of this idea since Din Djarin and Grogu from The Mandalorian are going to be seen together in a lot of fan art since they were so great on Disney+ for the last couple of seasons. But it's to be expected since the two of them have been such a great duo for the past couple of years. Now that Grogu has gone off with Luke Skywalker though it's fair to say that a lot of people are already wondering just what's going to happen when it comes to the overall story. But at least one person has made it clear that they didn't want the adventure to end there as they came up with The Dadalorian, an art series that depicts Din and Grogu as a son and single father duo that get to experience a life together that might be a little more difficult than the average child and parent relationship, but still feels as though it would be fulfilling in a way. It's very easy to say that Din grew used to Grogu after a while, despite the idea that the life of a bounty hunter is solitary and is best kept that way. One can only imagine how he's going to cope heading into season 3.
Here are a few examples of how The Dadalorian and why it's a rather fun idea.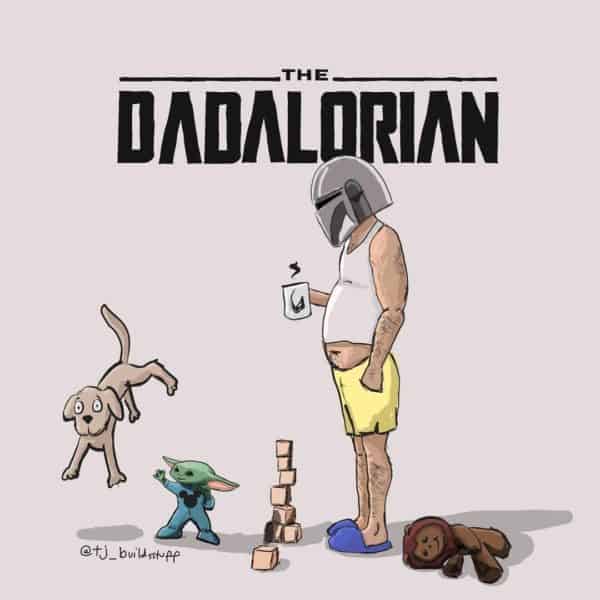 The thought 'poor dog' comes to mind since it's easy to think that any pet that would be patient enough to be around Grogu might need to accept that the little tyke would practice his Force powers every now and then. So long as the little guy was taught to use them in a beneficial and not antagonistic manner though it might not be too bad. Imagine playing tug of war with a dog without having to actually hold onto the rope or item, that might be kind of fun.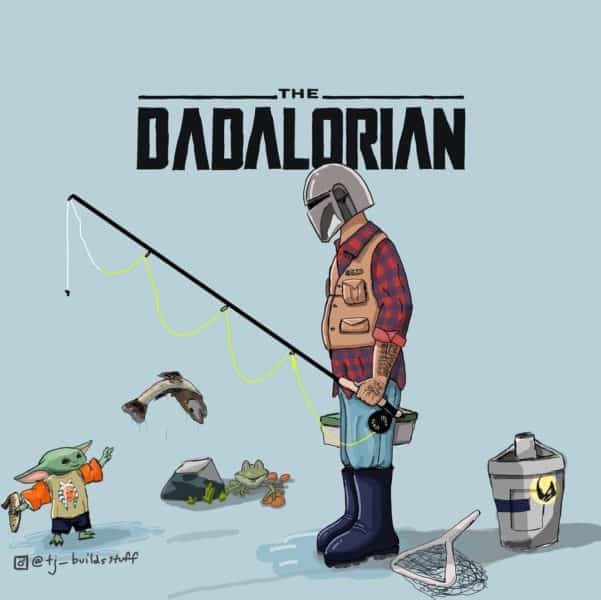 This feels like it would kind of take the whole point out of fishing, but it would definitely speed things up, so long as Grogu learns to share and doesn't consume the whole fish right then and there. Hey, we've seen this kid consume a live frog as it was still kicking. His innards must be extremely caustic if he was able to take in that creature and not blow up like a miniature blimp. Does anyone wonder if he could possibly pull up something even bigger?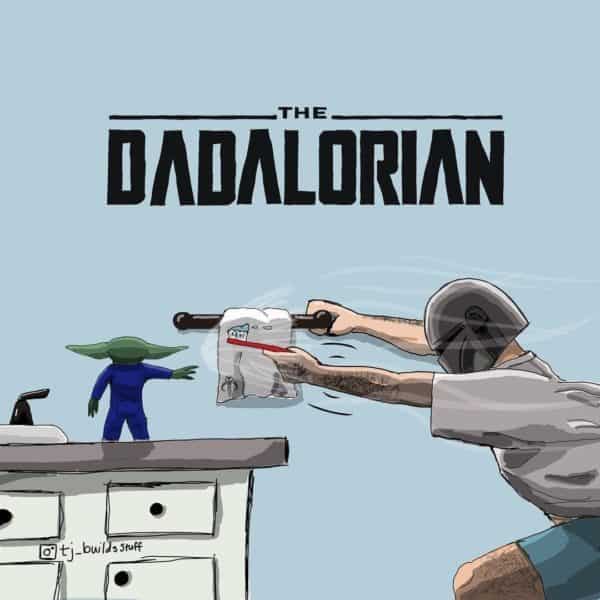 Getting this kid to take a bath or brush his teeth might be kind of difficult if he's not in the mood, meaning that Din might need to find a way to catch him by surprise. Of course, the fact that he can use the Force might make it kind of difficult to sneak up on him, so Din would have to come up with another method that might work. But this might be one of the toughest parts of being a parent, getting your kid to practice good hygiene.
How one would meditate on top of a lawnmower is an interesting question that a lot of people probably wouldn't think of asking, but it's interesting all the same since obviously, Grogu's sense of calm is about as strong as one can imagine. Of course, bound up in a Force bubble like this it's easy to see why, nothing can touch him.
It might be seen as cheating, but one could easily imagine Grogu 'catching' the ball with the Force in midair and then manipulating it towards the hole. Of course, if someone knew what to look for then it's easy to think that Din might not be allowed to compete and a lot of people might not want to even play with him. But playing with someone like Boba Fett it might be better to play as fair of a game as possible since he knows a little too well what Force-sensitives can do.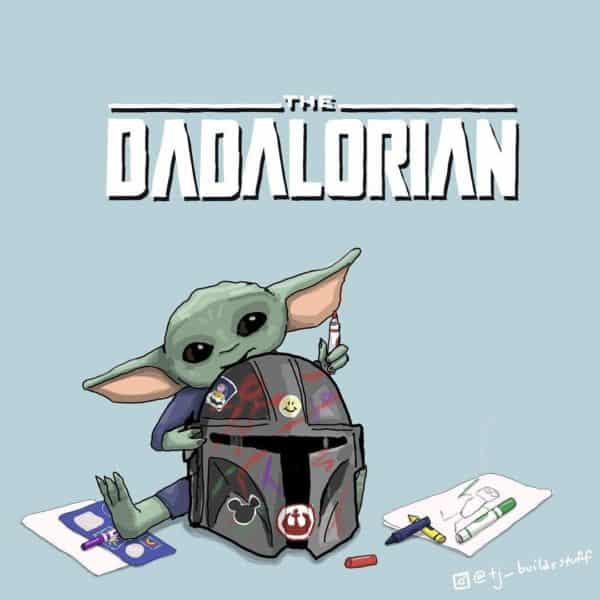 One thing is clear: Din's helmet would be plenty colorful if Grogu got a hold of the markers and crayons. A lesson as to why the visor would need to be off-limits might be needed, and maybe a helmet of his own to decorate would be a good idea since one can imagine that Bo-Katan and Koska Reeves would get a good chuckle from this, while the Armorer might actually scold Din for this kind of thing.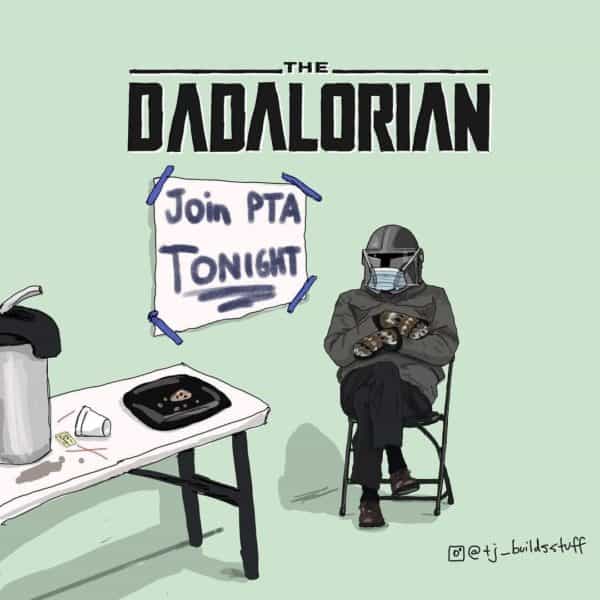 Just imagine Din at a PTA meeting. Seriously, just imagine it and then try not to roll your eyes.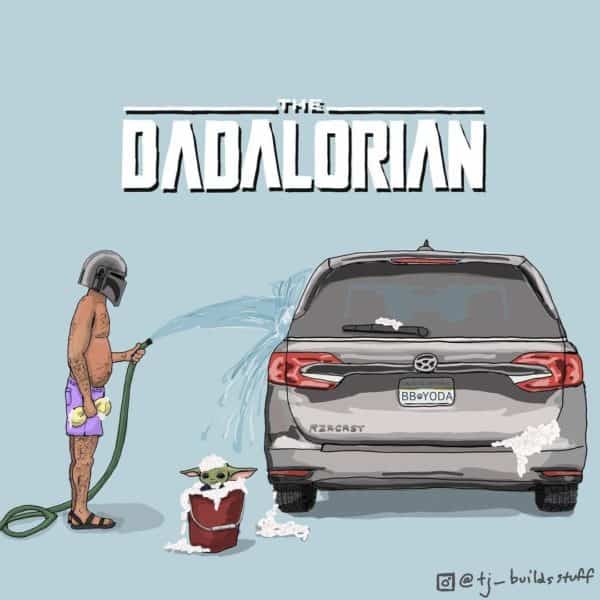 Well, it might be one of the only ways to really get Grogu to take a shower and clean up, and if it works, then so be it. Maybe the little guy could even help by using the Force to scrub the old war wagon so that Din would only have to rinse it off.
The Dadalorian, this is a new way.