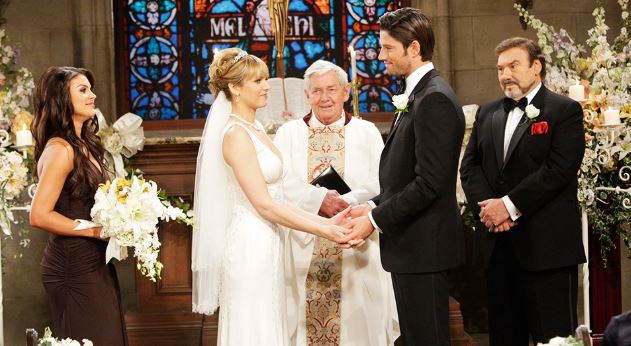 Have you ever wondered which of your favorite characters on Days of Our Lives has been around the longest? Well, the show has been around since 1965, so it's a little bit on the older side. There are currently not original cast members left on the show, but there are a few familiar faces that have been around longer than others. Do you think you can guess which characters have been around the longest? Probably; but can you guest which actors and actresses have been around the longest right now? We didn't think so. Here's who has been on the show the longest as of 2018.
She's the lovely Maggie Horton, and she is currently the cast member with the longest run on the show. She takes her time off every so often, but she's currently the longest-running member of the show who is still on the show. She was first seen on Days back in 1973 when she showed up as Maggie. She was not a Horton at that point, but she's here now. She is the one and only Maggie, too. She's been on the show now for exactly 45 years. She's only 8 years shy of being part of the entire 53-year history up to this point. She's a beloved character.
She might not always be around, but for now, she's the woman who is the longest-running cast member on the show. She's someone who always makes us happy. She always makes us smile, and she always makes us want a little more. She knows she has a good job, too, because she's stuck around longer than basically anyone in any job. Millennials might not know what to do with this information as they see it coming for them.
Deidre Hall
She's not that far behind her friend Maggie Horton in terms of being a character who originated a character and stuck with it over the years. She's been on the show since 1976, which means she's 42 years into this job. What's amazing about her job, however, is that she's been here for 42 years, and she's been more than one person while also maintain her role as the same person. She began her career as Marlena, and she stuck around for 11 years.
When her character's story line took her into a death situation, she was gone for a year, but also came back as another character during that time. She as Samantha Evans. Then she came back as herself and she was also back for a while as Samantha a few years later. Then she showed up as her own evil doppleganger, and she shows up ever so often. She's got a long history of being who she is on this show, and she's got an even longer history of not knowing who she is from one season to the next.
James Reynolds
Abe is a man who makes a lot of people made here and there. He's someone who doesn't always make the best decisions. He's not someone who makes the best choices. He's not someone who is always a fair man, but he's been around for a long time. He's the third and final main cast member — main, not recurring as some people who might have been around a little longer are — to have a long history of being on the show. He's been around for a long time taking over this little town and making it his own. He showed up in 1981, which means he's 37 years on the job.
In that 37 years, he's made friends. He's made enemies. He's made it his goal in life to make things right as they are fit. He's done things that he knows could end his career and forever change his life, yet he did them regardless. He's done a lot of things that don't make any sense, and he's still here. We know his character is a bit complicated, but he doesn't seem to care much about that. He's a man who doesn't really have much to offer anyone else, but he's also someone who has a lot to offer them when eh feels he can get something out of it in return. We like him.
Tell us what's wrong with this post? How could we improve it? :)
Let us improve this post!