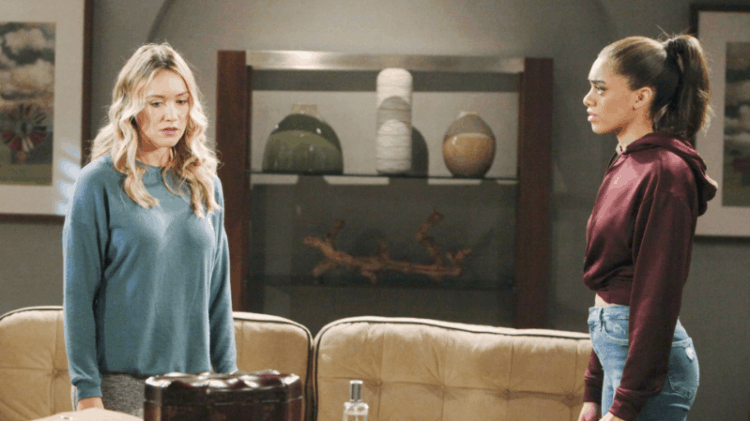 The Bold and the Beautiful fans are going to feel so close to Sally as she continues to notice more and more similarities between Hope and Flo. They were pregnant at the same time. They both have no baby to show for their long journey through pregnancy, and things don't seem to go well for Flo or Hope these days. They've certainly bonded over this, not that Zoe is allowing Flo to have this friendship with Hope because of what she knows — and not that Hope will ever speak to her again when she finds out that Flo was complicit in the baby swap she doesn't yet know much about. Things are taking uglier turns for Hope every single day with his, and Zoe is worried. Flo is stressed, and Sally keeps mentioning things that seem to make Flo even more uncomfortable. Such as the fact that it's unbelievable how much Steffy's baby looks just like the baby she just adopted.
We all know this secret is not going to stay a secret much longer, but we don't know how much of that might change as the days pass, either. There is so much for us to worry about that we just don't know, so much to figure out on our own, and so much to attribute to what is happening around here. The entire thing is a mess, and we cannot figure out what will work out in anyone's favor at this point. Zoe is not happy that Flo accepted the dinner invitation at all, but what about the fact that Flo also has a connection to Wyatt? Will that be a situation she cannot stay away from? She and Sally will have a lot of issues if Flo can't stay in her own lane and leave her relationship alone.
What's Happening on the Bold and the Beautiful
https://twitter.com/BandB_CBS/status/1105182037336514564?ref_src=twsrc%5Etfw
They really are such a cute bunch, aren't they?
What's Next on the Bold and the Beautiful
https://twitter.com/BandB_CBS/status/1104743712511320065?ref_src=twsrc%5Etfw
Reese is panicking. And he is rightfully panicking. Flo is ready to spill her secret about the baby switch to Hope so that she and her husband can have their baby back. She knows Hope is going to give up her marriage to her husband and let him go back to his ex so that he can be the father of his biological child and the baby that Steffy adopted, and Flo knows this baby is Hope's, and she likes Hope. She doesn't want to be a part of this lie anymore, but we are not sure that she can do anything else about it at this point. We are not sure she can get her life to work out for her, but Zoe and her father are trying so hard to get her to stop.
Zoe went from wanting to tell to not wanting to tell to not knowing what she wants from any of this, and we are with her. We don't know what she hopes to accomplish here, or what she plans on doing her, but we do know that she's going to work with her father. Reese doesn't want them to tell, so she is not going to tell. It's really that simple, but we don't think it will be that simple for Flo. She might end up hurt so that no one finds out about this big secret that's been kept for a few weeks now. Will she make it through this lie?
Stay tuned for more The Bold and the Beautiful and be sure to check out TVOvermind daily for the latest The Bold and the Beautiful spoilers, news, and updates.