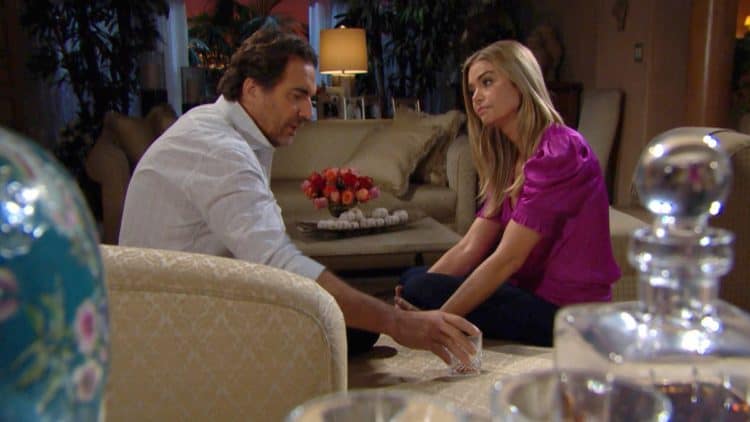 Bold and the Beautiful fans want to be mad at Hope for her actions as of late, but it's hard when there is a little boy who could not be happier to find out that she is his mother. He's clearly had such a rough life with parents who are just so scheming and underhanded, and we don't speak lightly of this because his mother is dead. But, Caroline was not always a nice woman. She was a manipulative woman at times. She did lie about being ill to get Thomas back in her life, if we are all being very honest. And he is a man who is not much different than she is, and that's not good, either. This little boy is still young and impressionable, which means we think that he has a chance at becoming a much better person if Hope is raising him. But, we still want to be mad at her for doing what she's been doing.
Shauna is making it very clear to everyone in her world that she is going to do all she can to keep Ridge to herself. She's there for him. She's loving him. She's supporting him. She's all to him right now that his own wife is not, and we cannot help but wonder if she will go out of her own way to learn what is going on with him and Brooke or if she will continue to rely on Quinn for that information. After all, her friend is good for it if we had to guess. She's someone who doesn't make many amends about how badly she wants to see things work out for Shauna and Ridge so that she can keep her friend, so we assume Quinn is making this information available to her left and right.
What's Happening on Bold and the Beautiful
Thomas does have a point. 🤔 #BoldandBeautiful pic.twitter.com/QWL8sTyE5u

— Bold & The Beautiful (@BandB_CBS) November 22, 2019
It's true.
What's Next on Bold and the Beautiful
Could this really be the end of #Bridge and the start of something new? 💔 Tune in to #BoldandBeautiful this week to find out! pic.twitter.com/ODK4SQdz8B

— Bold & The Beautiful (@BandB_CBS) November 17, 2019
Shauna is nothing if not a woman who knows what she wants, which means she's going to have some serious feelings about what Ridge has to share with her today. He has some big news for her, and we cannot help but think that his news has all the things to do with the fact that his wife is not going to stay with him and that he is going to be a man who is single from now on. It might even mean he wants to see where things go with her. Either way, it's big news and she won't know what to do with it. It's going to be a situation she has to deal with, and we get that. We love that. But, there is also more. WE are also going to see that Brooke is sharing with Hope and Liam what happened the night before, which is big news, too.
Liam is going to learn the truth about what happened with Thomas, and we can see him being more than a little confused. He is a man who is going to deal with things his own way, but he's not going to be very happy that Hope did what she did, and she lied to him, and that she didn't come to him or even go forward to try and get him some help. He will be relieved that Thomas is alive and well, but he will be horrified to see this side of this woman. She might not be who he thought she was anymore.
Stay tuned for more The Bold and the Beautiful and be sure to check out TVOvermind daily for the latest The Bold and the Beautiful spoilers, news, and updates.