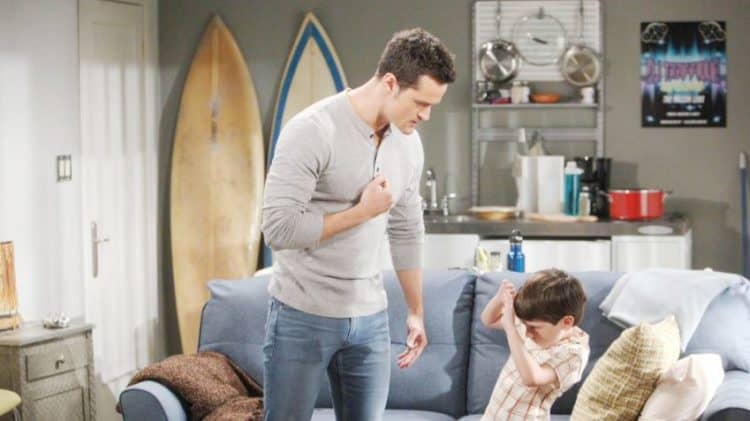 The Bold and the Beautiful fans struggled a lot last week, but it's for the best. We got to see a baby reunited with her parents who thought she was dead. We got to see people happy for the first time all year. We got to see a child get verbally abused and threated by his father, and our hearts broke. We aren't sure what kind of help Thomas needs, but it's clear to us he needs more help than anyone in his life is able to give him at this point. Is there any chance he can find things working in his favor when someone finds him with Hope at the cliff house, her in danger and things not working out well for her? He has terrified his son at this point. He's terrified his wife at this point, and everyone is worried about him and fearful of what he might do, how he might do it, and what might go down in his life.
There's so much we don't know about what might happen to him, and this is something that worries us. He needs help. This is something we know. We know he needs help. We know he needs more than he has been given at this point. We know he need someone to come in and make his life easier for him. We know he needs a friend to get him through this. But, will his family and his friends be able to do that? And will Hope be all right? Will Steffy ever get over this pain she is feeling right now? There are so many things we don't know that are making us worry so much for the health and safety of everyone, and we want to see people happy.
What's Happening on the Bold and the Beautiful
A #Bridge throwback for #TBT because we just ❤️ these two. #BoldandBeautiful pic.twitter.com/TqiHyXlEaP

— Bold & The Beautiful (@BandB_CBS) August 22, 2019
They do make the best worst couple on the show.
What's Next on the Bold and the Beautiful
No apologies and no second chances. No one will believe how this week ends on #BoldandBeautiful! pic.twitter.com/1COeUvtTDn

— Bold & The Beautiful (@BandB_CBS) August 18, 2019
We have a reason to believe that something awful and horrible is going to happen when Thomas has Hope and Ridge and Brooke try to help her get free. He has her at the cliff house, and we don't know what will happen in that moment. We don't think there is a chance that Hope will die or that she will be taken from the baby she was only recently able to meet and love as her own. We don't think Brooke will die, and we don't know what will happen, but we have to assume that the horrible situation that occurs has to do with Thomas and his life. Will he jump over the cliff and end his own life? Will he take his own life, or will he do something else that isn't good? And, if he dies, what will happen to Douglas? Will Hope keep this sweet boy as her own, or will Steffy offer to step in and raise her nephew as her own?
Additionally, Bill is in a tough place. He is furious. All these people kept his son from his granddaughter all these months, and he is going to make them pay. He knows what it is like to have a person kept from him without knowing that a child is alive, and he does not care for that for his son, at all. He's going to make them pay, and that will be that. We cannot wait to see this go down when it all does happen this week.
Stay tuned for more The Bold and the Beautiful and be sure to check out TVOvermind daily for the latest The Bold and the Beautiful spoilers, news, and updates.
Tell us what's wrong with this post? How could we improve it? :)
Let us improve this post!