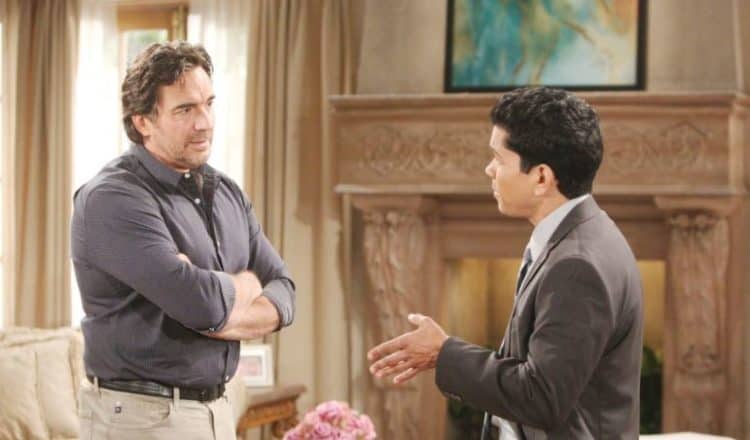 The Bold and the Beautiful fans know there is a lot going on when Thomas, and we don't think he can handle his emotions. We think, and we are not doctors, that he needs a doctor. Something is not right in his life, and he needs to find the kind of help that will allow him to get better and become a more positive person. There is nothing in his life that is bad, per say. He has a healthy little boy he needs to be there for after his own mother died, and he has to be there for his family in this horrible time, but his life is something that can move on and forward and be a happy one. He will not let it, though. He has all these life thoughts in his mind that are crippling him. Right now he's a murder suspect, and things are not looking good for him. He is obsessed with Hope, and he's going to do something stupid. We can feel it.
Brooke and Liam are right to be concerned. They are worried for Hope rather than worrying that they need to get help for Thomas. We get that, too. She's okay, but they should also focus on finding him the help he needs. There is nothing that will stop any of this until they do find him some help and something that will make his life a little easier on him. He's a man who needs someone to come in and make him find the help he needs, but they are not wrong to want to protect Hope and make sure that Thomas doesn't get to her and hurt her. He might, and they know this. And, they should probably worry about the baby, too. She's probably in danger, too.
What's Happening on the Bold and the Beautiful
We have so many emotions after the Baby Beth reveal, and we want to know how you feel too! Tell us by using one of our exclusive #BoldandBeautiful gifs here: https://t.co/GSX0W9UlIs pic.twitter.com/l57AvJUG9i

— Bold & The Beautiful (@BandB_CBS) August 20, 2019
We love her.
What's Next on the Bold and the Beautiful
No apologies and no second chances. No one will believe how this week ends on #BoldandBeautiful! pic.twitter.com/1COeUvtTDn

— Bold & The Beautiful (@BandB_CBS) August 18, 2019
Ridge and Brooke might not be in a super great place right now, but he is going to open up to her about a few things that have been on his mind. He's going to talk to her about how he feels, and one of the things he's feeling is the regret in his life. He's not made much sense of things as of right now, but we get that. We get that he is living this life that doesn't always make sense, and we get that he is a mess. He's not living his very best life right now, but that is a thing. We get it, and we respect that, and we want to see him open up about it. Does this have to do with Thomas and the way he was raised? Does this have to do with the many personal issues he and his son have with one another? We cannot decide. Will Brooke listen?
Meanwhile, we also know that Thomas summoned the nanny to bring him his son, and he's going to lose it on the young boy. He feels that all that is going on in his life right now is his son's fault for telling his wife that her baby is not dead and that she is alive and well and that she is being raised by Steffy, who had no idea her baby was Hope's baby. He's not happy with Douglas, and this is the day in which he will scare him and terrify the child.
Stay tuned for more The Bold and the Beautiful and be sure to check out TVOvermind daily for the latest The Bold and the Beautiful spoilers, news, and updates.