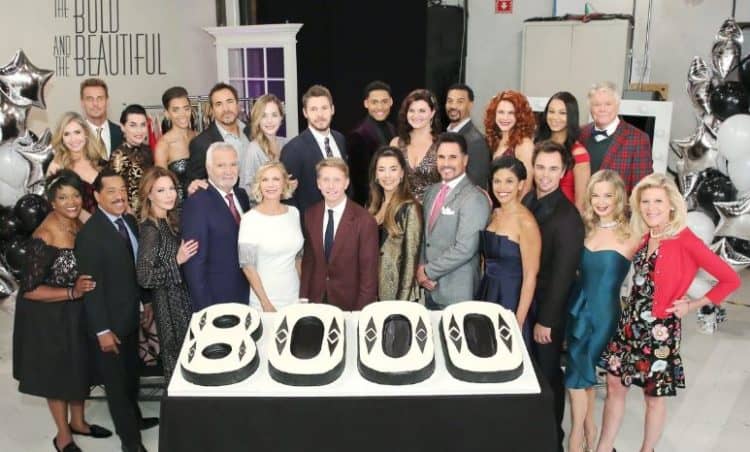 The Bold and the Beautiful fans celebrated a big and bold 8000th episode last week, and it was a good one. Hope was all by herself on Catalina Island while waiting on her husband to get there to be with her. She planned this luxury getaway to help them spend some time together before their daughter is born, but that did not go well as Steffy made a panicked call to Liam to tell him that their infant daughter was suffering from a high fever and that she didn't know what to do. He had to leave his pregnant wife at the airport and run to be with his new daughter, and then he missed his flight. Then his new flight was cancelled, and he had to get his father to allow him to use the chopper to get to the island and be with his wife, who went into labor.
All Hope could do at that point was pray that her husband would make it to the island in time for their daughter to be born, and Bill came to the rescue yet again by making sure that her family was able to get there to see her, too. They were able to put Ridge and Brooke on a plane to get there to see Hope, and to meet their new granddaughter. Things were working out for them in some way, but there was so much more happening that were just shocked to see happening. This is a situation that might never unfold fully and bring peace to the people who it happened to, and the show did a spectacular job with this when they made it all happen. We are not hating what they are doing lately.
What's Happening on the Bold and the Beautiful
During the commercial breaks we're talking about kissing scenes with @Don_Diamont & @KatherineKellyL tells us about her very "JOLLY" famous family! #BTS pic.twitter.com/t7kzvVehLO

— The Price Is Right (@PriceIsRight) January 4, 2019
We love this show, and we love all this, and we are just beyond horrified that all the sad things are happening this week.
What's Next on the Bold and the Beautiful
Liam and Hope say goodbye to the daughter they will love forever. 💙 Join them this week on #BoldandBeautiful. pic.twitter.com/J4hjePN9QS

— Bold & The Beautiful (@BandB_CBS) January 6, 2019
Things are always looking for a new way to work out for some people, but we don't know how to make that possible. But what we do know is that there is a new baby in the family, and that new baby is a girl by the name of Beth who is currently on an island waiting for her family to arrive to meet her. Things didn't go as planned with her birth and with the entire situation, and the baby is not fine. This happy moment is now the moment that this couple never thought they would have to go through as they say goodbye to the baby that they never got to bring home. She will come home with them in their hearts, but she will not come home in their arms. Our hearts are broken in every single manner. This is a situation that does not disappoint, and they will all make it to the island.
Reese, on the other hand, is on the mainland upset about what his happening in his life. Someone from his life is threatening his own daughter, and he's not having any of that. He is also working on finding out whether he and Taylor can find some time in their lives to explore what is going on with them, and we like that, too. They do seem to have some sort of love and respect for one another, and we appreciate all that means for them. They have so much more to look forward to than they both want to admit, and we think they should put their focus into their happiness rather than into their misery at this specific moment in time.
Stay tuned for more The Bold and the Beautiful and be sure to check out TVOvermind daily for the latest The Bold and the Beautiful spoilers, news, and updates.