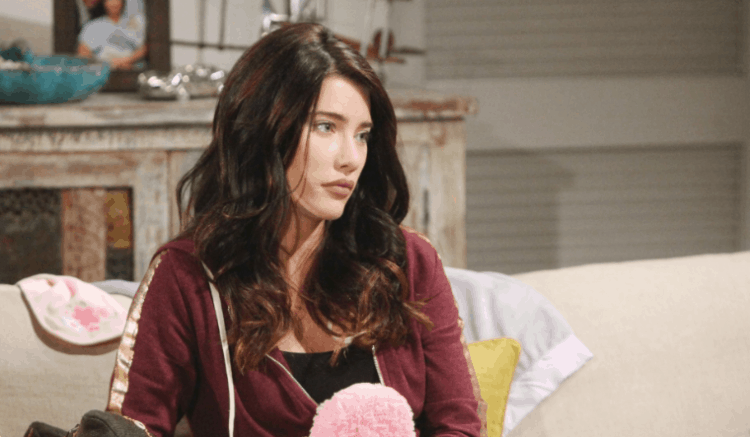 The Bold and the Beautiful fans are just as surprised as Hope and Liam now that Steffy told them that she has a new future ahead of her. She's taking her girls and she is leaving. She is not happy here in LA with all that is going on. She's got feelings that aren't good for Hope who will spend too much time with her daughter if she stays. It's not that she doesn't want her daughters to know their stepmom/aunt, but she doesn't feel that Hope is in an emotional place that is good for her right now. She's got too much going on in her life to make thing work out well, and Hope is trying to get her own husband to go back to Steffy, yet not one person asked Steffy what she wanted from all of this.
She is not the kind of girl who wants any of this to happen. She's not the kind of girl who wants to see her life thrown out like this, or her situation turned into what it has turned into. She's not someone who wants her life to become what everyone else thinks is all right for her. She's looking to find her own path, and this is not okay. Everyone is shocked, but we are not all that shocked to learn she wants to leave, though we do think there will be a moment when she cannot leave without everyone figuring out her little baby girl is not her own baby girl at all. This will crush her, but it will bring so much joy to Hope and to Liam, and she will really leave at this point in her life if she has no other option.
What's Happening on Bold and the Beautiful
Looking back on this Spectra Fashions design in Monte Carlo for #TravelTuesday as Sally's career moves forward at Spencer! RT if you're ready for her new designs. 👗 #BoldandBeautiful pic.twitter.com/JLo4k351HN

— Bold & The Beautiful (@BandB_CBS) March 12, 2019
We love this throwback so much!
What's Next on Bold and the Beautiful
True love can't be denied 💘, and true lies will be exposed 😱. Don't miss it this week on #BoldandBeautiful! pic.twitter.com/sMlrH6S7hd

— Bold & The Beautiful (@BandB_CBS) March 10, 2019
Taylor is back in her daughter's business. Steffy has announced that she plans on leaving LA with her girls to get away from the mess that is everything going on in her life, and we could not agree with her more. Everyone is making life decisions for her and not even asking her what she wants. Does she even want to be with Liam again? She's the one who walked away and made the choice to be with herself so that he wasn't able to string her along with Hope while he made a decision about which one he wanted to be married to the most. She is not someone who wants Hope deciding that she needs to be with Liam and not even asking her how she feels about it.
Her mother, though, thinks that Steffy needs to stick around and take back her husband. She's also making decisions for her daughter, and she's not listening to her. That's not what she wants, and it's not the life she wants to live. She is not allowing everyone else to make her love decisions for her, to make her feel as if she has something else to do or give, or to continue to make decisions for her. She's not all that invested in any of that, and it's not something she's willing to deal with. She's making this decision and her mother has to be all right with that. She won't be, but Taylor will continue to fight and argue her daughter about all of it if she has a chance to do that. She's a mess, and that's all right with us.
Stay tuned for more The Bold and the Beautiful and be sure to check out TVOvermind daily for the latest The Bold and the Beautiful spoilers, news, and updates.