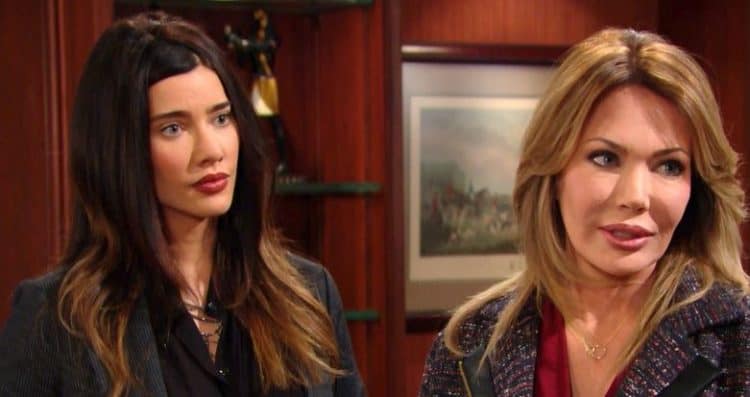 The Bold and the Beautiful fans know that no one can really keep a secret around here. That's why not one person was surprised when Hope decided to tell her mother that it was Taylor who shot Bill. Brooke is beside herself finding this out, and we suspect she will be even more beside herself when she realizes that Bill knew this the entire time. She's been gone since it happened, and she's not come back to make any threats toward him or anything, but they all seem to think that she is suddenly a threat to him even though she's been minding her own business and living her own life for months since it happened. They all need to let it go. Bill let it go, and they are not going to change his mind about making sure she pays. Why they are all so suddenly concerned for him when it comes to her is amazing to us, too. And we know that Brooke will not stay out of this.
Liam will not stay out of it, either. He's trying very hard, along with his wife, to convince his father that there is not much they can do, but he needs to turn her in. They want him to make sure that he goes to the police with this. They keep throwing it at him like it's all new information he didn't know for months already. It's all kinds of pointless to us, and we aren't sure why they are so upset about all of this. She was protecting her daughter, something that Brooke is very familiar with in every single capacity. There's not much that is going to work for her here, but she continues to go out of her way to make Bill's business her own personal business. She needs to quit.
What's Happening on the Bold and the Beautiful
Look who's helping spread holiday cheer! @aaronDspears of @BandB_CBS stopped by our #CHiPsForKids toy drive kickoff today with his family. See a list of toy dropoff locations at https://t.co/5WyxAqBZy0! pic.twitter.com/x5Vvnq4E8l

— CBS Los Angeles (@CBSLA) December 1, 2018
This is the kind of stuff we love all time, and this is nothing that we can get over. There is nothing that we don't love about this and about all the love that is going on around here. We love this.
What's Next on the Bold and the Beautiful
https://twitter.com/BandB_CBS/status/1069244802254888961?ref_src=twsrc%5Etfw
The new week is here, and that means there are a few new things that will happen and make us all question everything that's going on in life. And we cannot help but wonder if we will get to see much of anything else happen around here for now. We know that Brooke will continue to allow her shock to get the best of her, and we presume she will work on telling her husband all about this. Or, will she? Will she keep this to herself because she knows he will decide to stand with his ex on this one, or will she decide that the fact that she is still so worried about her own ex is not a good thing to share with him? We don't know for certain what might happen around here, but we do think that there is a good chance that everyone will have a moment to take their own lives into their own hands for the better. It's good news for everyone but Bill and Brooke and Ridge and Taylor, but this will continue to get bigger.
And Hope and Steffy and Liam will continue to argue, and Steffy will not like that Hope thinks she knows what is best for her daughter. She wants Hope to mind her own business, and she would like Liam to leave her mother alone. She is not a threat to their daughter, and he can keep his new daughter away from her all he wants — but Kelly is her baby, too, and she will not forgive him.
Stay tuned for more The Bold and the Beautiful and be sure to check out TVOvermind daily for the latest The Bold and the Beautiful spoilers, news, and updates.