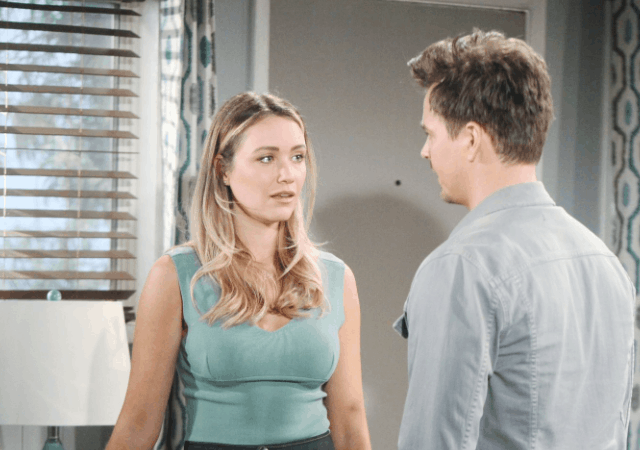 The Bold and the Beautiful fans were very surprised to learn that there was another connection to Quinn and Shauna, Flo's mom, this week. It was a banging start to the week as Quinn found out that Shauna very well knew Bill, who is the man Quinn had her son with. There is a lot that might be very wrong with this picture, if you ask us and if we think we know where this is going — and we think we know where this is going. And there is a lot that might be happening around town when Quinn continues to learn things about her 'friend' she didn't know. They were so close, best friends, and they had to go their separate ways when things happened, but what about their friendship so many years ago when they both knew the same man? This is not something that will probably end well for Bill — and nothing really ever does.
Meanwhile, Flo's words and actions are going to shock Wyatt, who is working so hard on being her friend. They have this long history and connection between them, and we know that she and her mother and even his own mother are interested in getting that connection back on track, but what about her actions and the way she's behaving? She's also a nervous wreck because she is looking at Hope, who wants to be her friend, and she is feeling all kinds of guilt and horrible upset. Her own mother doesn't know that she just had a baby, either, so she's working hard to keep that a secret. That will not, however, maintain a secret situation for much longer. There is not a thing we think will go well for her in this moment. We think it will end up being a mess, and that's not unusual.
What's Happening on The Bold and the Beautiful
Check out those pictures 😂 #BoldandBeautiful pic.twitter.com/yvfnbK00vm

— Bold & The Beautiful (@BandB_CBS) April 5, 2019
We love all things old-school.
What's Next on the Bold and the Beautiful
You never saw THIS coming. 💥 Brace for impact and don't miss an episode of #BoldandBeautiful this week! pic.twitter.com/RTC16Hc0e4

— Bold & The Beautiful (@BandB_CBS) April 7, 2019
Bill is going to have some serious questions to answer this day as Quinn approaches him with some serious accusations. She has learned that there is a connection between him and her very best friend for so long, and she's not all that happy about it. Learning that they were acquaintances at the same time that he and Quinn were together is a bad situation, and she's not a stupid woman. She is now questioning him and what he was doing with Shauna, and she is not happy about the way things look. She might not have the full story, but it seems to her that her good friend and her ex were together at some point, and she's going to want to know if this means he cheated on her or not. She's not a fan of the way things are going, and she's got a lot to answer to at the moment.
But Bill will be shocked, and he will not be very happy about it. He has some accusations of his own for Shauna, and he will confront her about her own choice of words, actions, and story telling. He's not a fan, and he's not going to stand for this at this moment in time. He is finally working on getting his own life together, and he is very much uninterested in what is happening with her and her own issues. He's not down for it, with it, or at all — and we get that from him. He's not a fan. And he will not have this.
Stay tuned for more The Bold and the Beautiful and be sure to check out TVOvermind daily for the latest The Bold and the Beautiful spoilers, news, and updates.