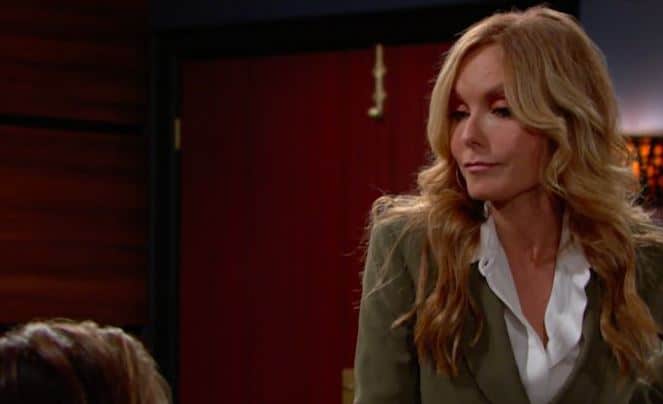 The Bold and the Beautiful fans know that Quinn is no longer enjoying her life the way she was in the past. She's been watching her husband and Donna sit back and reminisce over their past lives for a week or so now, and she's not a fan. She's watched them go to dinner with his family and hers, she's listened to them talk about their private good old days more than once, and she's had to watch them continue to bond while she's over here making a mess of things with her problems with Pam. She's not in a good place, and we aren't sure what that means for her situation with everyone else. She's not the type to let this go for long, but she's also the type to really get so worked up she makes it worse than it was in the past.
However, she's got to get it together. We also know that Justin uncovered the truth about what happened with Ridge and the judge, and he's now shared that information with Bill. Bill is beyond furious, but he's feeling he can use this to get what he wants from Ridge, and that might just be Brooke. The fact that both Brooke and Katie already knew about this and chose not to tell him will upset him significantly, and that might come out when he uses this information to shock and upset Brooke and he realizes she already knows this is the truth. We aren't sure this is something that will make anyone feel better, but we do know that it's going to happen. This can make a mess of everything, but that's what Bill likes, how he works, and what he wants from his life. He might not be able to change things, but he can make them work for him.
What's Happening on the Bold and the Beautiful
It may be #NationalLoveYourRedHairDay, but we love @TheCourtneyHope's hair every day! ❤️ #BoldandBeautiful pic.twitter.com/elugtXAmMb

— Bold & The Beautiful (@BandB_CBS) November 5, 2018
She is gorgeous, and her red hair is our favorite. Are you a redhead, because it's a day all about you, and you totally deserve that and all it means for you as a person. It's something we love to see, and we cannot wait to see how many of you also participate in this little celebratory day.
What's Next on the Bold and the Beautiful
Brace yourself for one showstopping week on #BoldandBeautiful! 👏 Tune in all week long to see what happens. pic.twitter.com/RqgWzQa8Qq

— Bold & The Beautiful (@BandB_CBS) November 4, 2018
Brooke is going to be very caught off guard when Bill asks her about what happened with Ridge and the judge. She wasn't looking for him to find this out, and he did. She's going to make it very clear to him that she knows based solely on her reaction to him and the way he asks about this, and that will not go well. There will be too many variables here for this to be a good thing, and we don't know that any of us can handle a little more than we are already dealing with. There is too much going on here that we have to question and wonder about, and we can't help but wonder if there is more here than we might suspect. She doesn't want him to know that she knows, and he's going to be more than a little furious that she did know and didn't say anything.
Donna is also going to stand her ground when Quinn asks her about Eric and what she intends by showing up and being where she is. Donna will tell Quinn that it's not her business — which is probably not true since she is, after all, married to Eric. That will make things a bit more awkward than they really are, and that means they have to get to the bottom of this. This will probably only work to set Eric off once again if Donna can play her cards right about the entire thing, but we aren't sure that'll be so easy for her.
Stay tuned for more The Bold and the Beautiful and be sure to check out TVOvermind daily for the latest The Bold and the Beautiful spoilers, news, and updates.
Tell us what's wrong with this post? How could we improve it? :)
Let us improve this post!