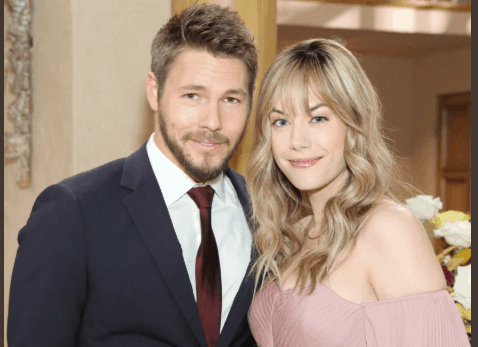 The Bold and the Beautiful fans are worried for Hope. She's so unable to recall anything that happened to her the night she went into labor with her daughter, and that's a problem. There are so many things about that night that might help her remember something that didn't exactly go the way she as told it went, and that might help her realize that there is something off here. We just don't know how long it will take Zoe to realize she cannot wait another day to share this truth with Hope and Liam and Steffy, but she's always at risk of not saying anything to her about it at all so that she can protect her father. Reese can probably convince her on the phone to say nothing, and that might be just what she does to protect her family. It's the wrong choice, and we all know it, but that might be where she goes with this. We just don't know what she might decide in the moment.
And then there is the fact that Katie got the worst news. Her husband is done with their brand-new marriage already, and she did not see that coming. Sally and Wyatt had a great day celebrating their love for one another, but we worry about how long that will last with news that Thomas is back in town. But, mostly, we just want to know if Zoe will say anything and fix this. She knows that what is going on is wrong and bad and awful in every way, but will she make the attempt to fix this or let her father tell her that it's for the best in some way? The problem is that we just don't know what she will decide to do. She's a mess, and that's all we have in the moment.
What's Happening on the Bold and the Beautiful
Celebrate Valentine's Day with @TheCourtneyHope and @THEEdarinbrooks LIVE on the #BoldandBeautiful Facebook page now! 💕 pic.twitter.com/Se4PEoubMi

— Bold & The Beautiful (@BandB_CBS) February 14, 2019
We love them. Everyone loves them. Actually, is there really anyone who does not love them?
What's Next on the Bold and the Beautiful
Get ready for a Valentine's Day you'll love on #BoldandBeautiful! ❤️ Passion will ignite, relationships could end, and a scam will unravel. 👏 pic.twitter.com/SWOoB9fE0c

— Bold & The Beautiful (@BandB_CBS) February 10, 2019
Things are growing unhappy for many people around here, but no more so than Katie and her current predicament. She's in the middle of a big time situation with her love, and he's not going to back down on the fact that he feels his marriage is over. She's going to share this information with Wyatt when she speaks with him, and it will stun him. He cannot believe this is happening to her or that he put her in this situation. Meanwhile, she might have someone in the wings waiting to take over for him. Bill is sharing with Justin that he plans on winning back his family, and we cannot help but wonder if that includes his marriage to Katie. Will they make that a thing in their lives, or will they decide it's not for the best?
Additionally, Steffy is still very worried about Hope and what is going on in her life. She's still working very hard to find out what is going on with the day she had the baby, but she's also encouraging Liam to spend as much time with Steffy and the girls as she can. We think her motive is to also get to go with him and spend time with the baby. Liam is not happy with what Steffy said to him, but we do think he's beginning to notice it all going down in a way that might mean she's not wrong at all about this. But, we don't know how this will end other than with Zoe.
Stay tuned for more The Bold and the Beautiful and be sure to check out TVOvermind daily for the latest The Bold and the Beautiful spoilers, news, and updates.
Tell us what's wrong with this post? How could we improve it? :)
Let us improve this post!