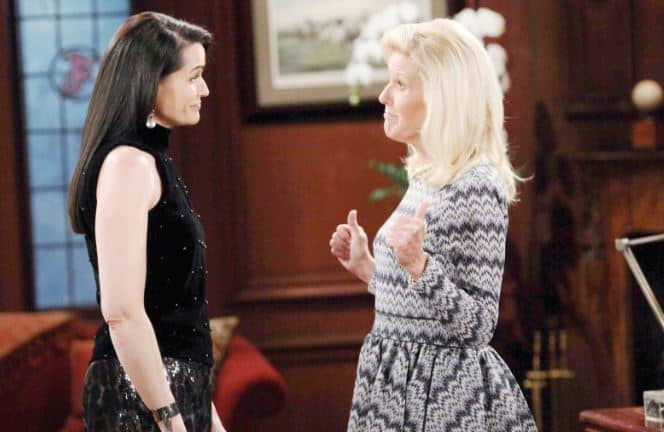 The Bold and the Beautiful fans know that Ridge is not happy. Bill has him in a place that leaves him very uncomfortable. He has all the power to send Ridge to prison for tampering with a legal matter in a court of law, but Bill is insistent that he will do nothing of the sort. Ridge knows better, but he is not happy that his wife is believing everything that he has to say. This is not something that he is happy with, and we get that. But for now, he's going to tell her this and she will never fall for it. She believes that he is doing this out of the kindness of his heart to be the bigger, better person and she will not want to hear Ridge bashing Bill for his. She doesn't believe that Bill is trying to steal her away from Ridge at all, which only goes to show us she is truly naïve and crazy.
Bill, on the other hand, spent some time with his older sons. He needed to have a discussion with them that he feels is very important to the future of his company and their lives. One day, he will not be around to take care of things any longer. Or maybe he will, but he will not want to retire and spend his time doing anything other than being an integral part of his own business. Either way, he needs his kids to understand what he wants and what they want. And he needs them to know where he stands, but that's not always going to work for him. And will they like it?
What's Happening on Bold and the Beautiful
"The best man that I can be is the man that you've been searching for your entire life. He's standing right here, before you. For the first time, I'm worthy of you." Bill to Brooke, #boldandbeautiful

— cbs soapsindepth (@soapsindepthcbs) November 16, 2018
Is there anyone who is really buying this stuff at all? He is always all talk and no action, and that's all we can handle with it. It's the best thing we've ever seen, and it's going to make some very bad marital situations for one couple — and we all know it's coming.
What's Next on the Bold and the Beautiful
Nothing says Thanksgiving like family, fights, and fun times! Join our holiday celebration this week on #BoldandBeautiful. ✨ pic.twitter.com/XpnSq0R9Vw

— Bold & The Beautiful (@BandB_CBS) November 18, 2018
Steffy has a confession to make, and she wants to share it with Liam and Hope. She needs them to know how she feels about the upcoming holidays. While we don't know what she will say to them, we can only imagine she's worried. She has a brand-new baby with her, and she has to share her baby on her first set of holidays with her ex-husband and his new wife, and that might make her very unhappy. She's fair, however, so we wonder what she will say to them when she makes her confession. Does she want to keep her daughter to herself and let them have some time with her and the baby, or what? We can only imagine whatever she says will have Hope feeling like a third wheel yet again. Maybe she wants to have Liam come to her home and spend the holiday with her and her baby himself and give her a wonderful first Christmas, and she doesn't want Hope there? It could be.
Katie is going to meet with Bill when she's not with her husband. She wants to discuss their son, and she doesn't want Thorne to know what she has to say or do. She's currently unhappy with the way things are going, but she wants him to know that she has a very important statement to make and things to say. She's going to make sure she's able to get her situation figured out, though, and it might be beyond interesting and upsetting for all involved. She's got to protect her son, but she knows her husband doesn't want to her have anything to do with Bill and his life.
Stay tuned for more The Bold and the Beautiful and be sure to check out TVOvermind daily for the latest The Bold and the Beautiful spoilers, news, and updates.