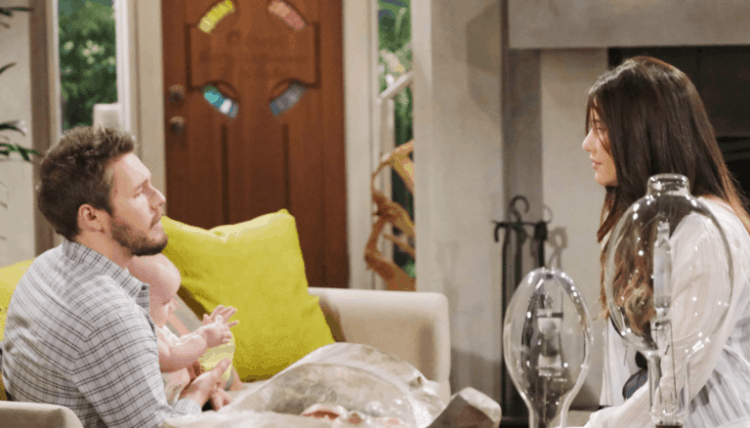 The Bold and the Beautiful fans are not all that surprised that Steffy is back, because we knew she would be back. But we are surprised that she left because she wanted to avoid the drama that was going on around LA, but she's back while it's all big and bad and worse than ever. Of course, she's not all that surprised that there is drama, because there is always drama, but she was genuinely shocked to learn all that was going on. Here is this woman who gave her the baby of her dreams who is still in town and biologically related to the entire Logan family. Here is Wyatt and Sally, who were so happy and in love when she left, broken up and alone while Wyatt is off rekindling his feelings for Flo. Here is Katie in love with Bill, who is not someone Steffy has very fond feelings for. There is her brother, back from New York and trying to break up Hope and Liam's marriage.
And it worked, because they are no longer together. Steffy is shocked, to say the least, and that is not a good thing. Everyone wants to see her and the girls now that she is back, too, which means she has no peace, no time alone, and she's not able to process her feelings. Liam has filled her in as he helps her and the girls get settled. He missed his daughter and the baby that he agreed to become a father-figure to, and he wanted to be there for them now that they are home. But what will he do now that things are not working out for him? Will he have a moment in which he can make this right with Steffy and rekindle his own feelings? Because we feel that this might be where he is.
What's Happening on Bold and the Beautiful
If the Spencer men had a yearbook, what would their superlatives be? Find out from @don_diamont, @CliftonsNotes, and @THEEdarinbrooks. 🙌 To play along, tag someone who is most likely to ❤️ a Spencer! #BoldandBeautiful pic.twitter.com/UXQVM0Dg5P

— Bold & The Beautiful (@BandB_CBS) May 22, 2019
We actually love this one!
What's Next on Bold and the Beautiful
https://twitter.com/BandB_CBS/status/1130118959892533249?ref_src=twsrc%5Etfw
Brooke and Ridge are going to sit down and have a real conversation about their children, and she's about to be shocked how he feels about them. We have to say that there is a very good chance that he had no idea how she felt about their kids and their life situations, but she will not like what he has to say. He might have something to say about the way Hope is basically a child who pouts and cries when she doesn't get her way, and that is not something he is all about. He might tell his wife that he feels that Hope doesn't belong with Liam to begin with, and that she doesn't belong with his son, either. Either way, we have no idea what he will really say. But, we do know that he will say something that will shock Brooke.
Meanwhile, Hope is going to visit Steffy to welcome her back to LA, and she is going to hold baby Phoebe again. This is going to be a shocking moment for her as she continues to feel this pull to this baby. She will not want to let her go, let her out of her sight, and she will not want to change her mind about this. We think this is going to be the kind of thing that puts Flo over the edge — seeing Hope with her own daughter knowing the truth and watching the pain the she feels when she has to give her back. We are certain this is going to happen, but when?
Stay tuned for more The Bold and the Beautiful and be sure to check out TVOvermind daily for the latest The Bold and the Beautiful spoilers, news, and updates.