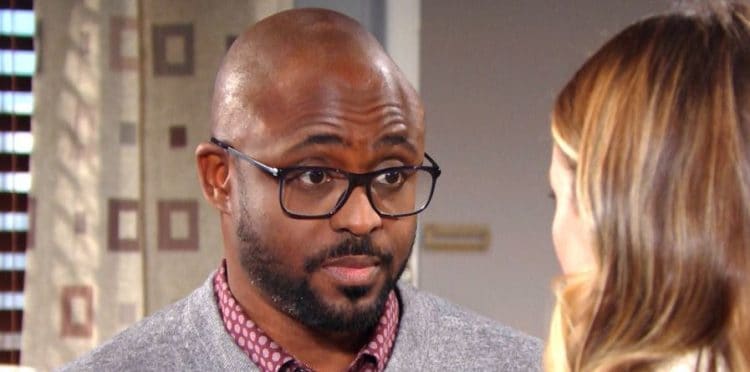 The Bold and the Beautiful fans are looking to see what might happen with the new baby adoption that Steffy is going through. Last week was nothing short of an emotional roller coaster watching as Liam was enamored with the new baby, and he felt that what Steffy was looking to do is the right thing. He's looking forward to bringing this new baby into the life of his daughter with Steffy, but his wife feels like it's a horrible thing. She feels that the loss of the baby she looked forward to meeting for nine months is too much for her to handle a new baby in the family with someone else. Her baby was meant to be the sister of her husband's daughter, not this new baby that Steffy is bringing home. But, that also means that there is a lot more for her to handle. And we think that she will feel just as much of a bond with this baby as her husband did.
Reese is clearly in a lot of trouble, and it will not end well for him when someone finds out. His daughter is worried, his friends are worried, and he's making this baby switch a big deal. When everyone finds out that the baby that Steffy is adopting is the baby that Hope gave birth to and told did not make it, the entire family will experience a range of emotions that don't always feel good. There will be so much happiness and heartbreak and upset. This is going to be a long road for all of them, but we think it will end up bringing some together while tearing others apart.
What's Happening on Bold and the Beautiful
Something special is coming this Monday for all of the #BoldandBeautiful fans. ✨ What do you think it could be? Find out this Monday…and while you wait, tweet us your guesses! pic.twitter.com/mP6rivPjbi

— Bold & The Beautiful (@BandB_CBS) February 1, 2019
We don't know what it might be, but we love to guess, and we definitely want to hear what you think it might be?
What's Next on the Bold and the Beautiful
He stole from one woman and conned another, but the biggest threat to him is his own daughter. It's all coming up this week on #BoldandBeautiful! pic.twitter.com/Xb3ry5IWn6

— Bold & The Beautiful (@BandB_CBS) February 3, 2019
Steffy is a new mom, and Hope is holding the baby she's had for the first time. She's crushed, but she is trying to be reasonable and not be a monster in the wake of all that has happened to her in her life. She's a mess, and it's not a secret that she is struggling more than anyone we've seen in a long time. Her life has turned into too much for her in the moment, and we are sad for her. She's lost a lot, and this is not something that she wants to be doing. She will, however, support her stepsister. She will hold this new baby for the very first time and want to love her so much. She will not be able to deny her immediate connection to this baby, either.
And there is more. Zoe is going to hear her father tell her that they have a new life plan. It's not what Zoe wants for her life, so this will not come as a nice situation for her. She will not take this well, and she will not want to spend any more time than she has to bothering with this. She's upset, and it's going to make her wonder what else is going on in her life that her father feels the need to do this and treat her this way. She knows he is up to something.
Stay tuned for more The Bold and the Beautiful and be sure to check out TVOvermind daily for the latest The Bold and the Beautiful spoilers, news, and updates.