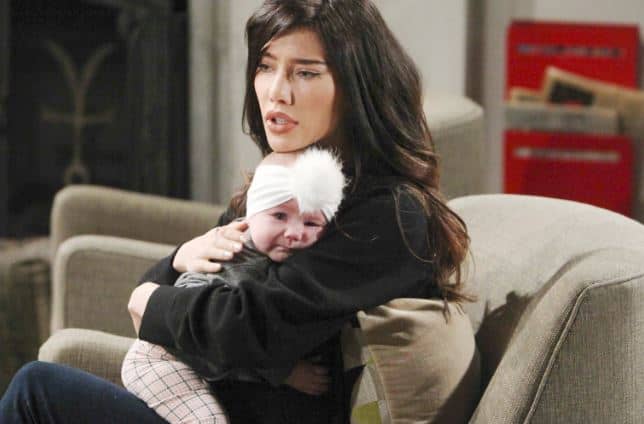 The Bold and the Beautiful fans are all wondering what will happen with Hope and Liam. He had to run out on her to check on his daughter, and things are not working out for her. On one hand, we know that she was just trying to plan a weekend away from their everyday lives to be together before their own daughter is born, and she's a little bit upset that he had to run out and check on his other daughter. On the other hand, she forgets that he has another daughter and that he is unable to simply get up and go and change his life in any way other than the way it is because of that. He can't just make decisions and do what he wants and/or needs to do with a baby at home. He cannot just leave Steffy there to single parent all the time simply because he doesn't live with her or the baby.
But then there is the fact that there is something going on with Reese. There's a stranger in town who seems to know him and his family, and we cannot figure it out in any way. They seem to have some sort of bond or something going on in their lives, but what will happen when they realize that things are not working out for them as well as they should? What will happen when Zoe's life is really in danger because of someone or something that her father knows or did or didn't do? What will happen when we find out about all this? Will Taylor change her mind about him as they navigate their new relationship with one another? Will this work out for them at all, or will there be a chance she will lose out on love yet again?
What's Happening on the Bold and the Beautiful
Check out those moves! Our #BoldandBeautiful stars had a dance off during the holiday episode, and @JohnMcCook44 definitely takes home the prize for best dancer. 😉 pic.twitter.com/K9KQY3TQ8Z

— Bold & The Beautiful (@BandB_CBS) December 26, 2018
Don't you love this? It makes us wonder what else they do to have fun behind the scenes around here, and this is something we just adore. They have so much more fun than we imagined.
What's Next on the Bold and the Beautiful
'Tis the season for holiday magic, surprises, and wishes. ✨ It's all coming up on #BoldandBeautiful this week! pic.twitter.com/89nPTrgiRX

— Bold & The Beautiful (@BandB_CBS) December 23, 2018
Ridge is making new year resolutions, and they are not all that surprising to any of us. He's looking to make his marriage a priority in the new year, which is probably something he should have been doing in the past, too. He's been in a place where he cannot make things work, where he cannot figure things out, and where he cannot get his wife to support him nearly as much as she supports the man she was married to prior to being married to him. But now he is making things working for himself, and he is taking charge. He's looking to put his marriage first, and he will do it. But will she get on board with this one, or does she have her own ideas about what she wants in the new year, and will those things mean anything to her in terms of her marriage?
Hope arrives on Catalina without her husband, who is still with his ex and his daughter. She's not entirely thrilled to be there on her own since she is pregnant and looking to spend the weekend with her husband more so than with the people that she doesn't know who are also on the island. She's there, and we have a feeling that something is going to happen that will not work out well for her at all. Will she go into labor? Will she have a health complication, or will someone kidnap her or something else just as crazy? We don't know, but we suspect we know that this might happen.
Stay tuned for more The Bold and the Beautiful and be sure to check out TVOvermind daily for the latest The Bold and the Beautiful spoilers, news, and updates.
Tell us what's wrong with this post? How could we improve it? :)
Let us improve this post!