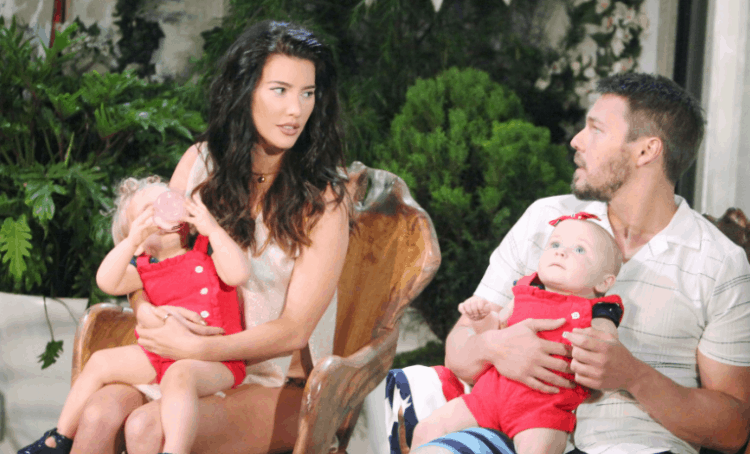 The Bold and the Beautiful fans watched as Thomas tried to get his son to do things his way. He spent the Fourth of July coaching his toddler son to ask a woman to be his wife, which might be sweet if it was something that was beautiful and innocent and if she was in love with the man asking. But, it wasn't. It was kind of hard to watch knowing that Thomas is going out of his way to keep secrets from Hope and ruin her life so that she has no choice but to marry him. It's not sweet when it comes to that, and we find ourselves relatively disgusted by this actions and what he is up to and doing. It's not something we want to see happen, but we get that he feels he needs to be in the market for this in some way. He feels tha the has no choice, but we are not fans — at all — of this action and what he is up to.
Then there is Liam. He's sad. He's upset and unhappy and miserable about the way his life is going. A year ago, he was with Hope. They were happy together, expecting a new baby, and spending their lives together in a way that made him a happy man. This year, he's spending it with Steffy and their baby, and the baby she adopted. His own baby died, his wife left him, and she asked to make sure their marriage was not only ended, but that it looked as if it never even existed on paper. It's been a year for him, and he's not happy about much of it. He has a long road ahead of him, too, and we just aren't sure he can get it together enough to focus.
What's Happening on the Bold and the Beautiful
https://twitter.com/BandB_CBS/status/1146780706930122752?ref_src=twsrc%5Etfw
That's a good-looking group.
What's Next on the Bold and the Beautiful
https://twitter.com/BandB_CBS/status/1145331154452545536?ref_src=twsrc%5Etfw
Douglas is about to do something that will change some lives forever. He is going to ask Hope to marry his father, and he learned how to do this because his dad asked him to do it. He's trying to pretend he did not, and he is hoping that this will be something she's willing to do after she learned that Liam spent the night with and was intimate with Steffy following the night that Douglas drugged him. There is a lot there that might not work for Hope, but it might just work for Thomas. And it's so hard for her to resist this little boy, and Thomas knows everything about it. We also know that Brooke is going to flip. She's not happy about this, and she wants nothing to do with it.
But, Ridge will not allow her to get in the way of what might happen for these two. Xander is going to find some reason to ask Charlie to help him. He feels that Thomas is not up to anything good, and he wants Charlie to find out what it is. He's worried for Hope — though he is not worried enough to share with her what he has learned about her baby being alive and well and that her husband is raising their daughter with another woman — unbeknownst to all of them, of course. But, he's pretending in his own mind that the real problem is Thomas. Sure, he's not being a nice guy right now, but he's not the only one.
Stay tuned for more The Bold and the Beautiful and be sure to check out TVOvermind daily for the latest The Bold and the Beautiful spoilers, news, and updates.