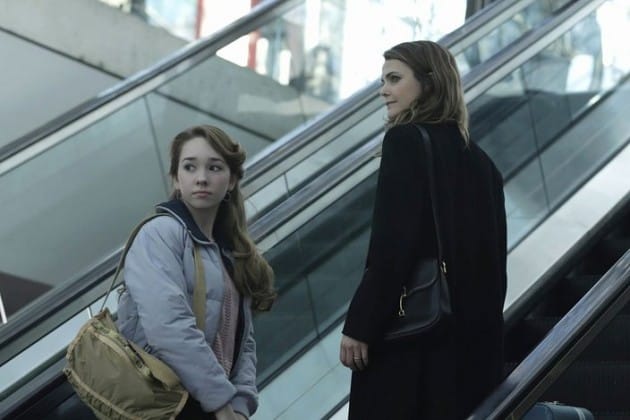 On first consideration, "March 8, 1983" can feel like an underwhelming season finale for The Americans. Here is a series that has made a living off high-adrenaline climaxes following carefully-plotted stories. The slow grind and build-up across a dozen weeks made "The Colonel" and "Echo," the previous two season finales, incredible forces of reckoning. What "March 8, 1983" lacks in the same brutal force, however, it makes up for in confidence and reflection.
That confidence is a by-product of the critical response The Americans has received, rightly being hailed as FX's premier drama (a distinction much easier to make with the conclusion of Justified). Viewers have taken to the series' methodical approach, which doesn't use the flashing lights of thriller tropes. Instead, the central characters are people worth getting to know and spending time with over years. Those close relationships between the viewers and characters (and between the characters themselves) give this finale that reflective quality; it is more concerned with looking at how these people are functioning–or not–under the duress of their lives. There may not be a wholly satisfying, conclusive feel to "March 8, 1983," as several season-long concerns don't quite get addressed, but had the opposite been true, I might have just as easily been saying that the episode is overstuffed. In reality, the work in this finale, even though it doesn't exactly feel like a proper finale, is still up to the high standards of The Americans, which is never content to let its characters take on too much stress without massive repercussions.
The two most prominent examples of this are, of course, Philip and Paige, whose peaks and breakdowns close out the episode and season. Philip's is a long time coming. Since day one, he has felt slightly uncomfortable in the role he's meant to carry out. Sometimes more American than Soviet, Philip's personal struggles are projected onto his loved ones. All of the conflict with Paige and Mischa are certainly evidence of how Philip cares about his family, but I'm beginning to wonder if those concerns better represent Philip's own reservations. Being forced to use Paige as a future agent could just as easily challenge Philip's own sense of control in his life. Not being able to make his own decisions, which has been a point of contention between him and Gabriel this season, bothers him like nothing else. That's not to say that he doesn't genuinely care for Paige's safety and that he really wants Elizabeth to have the chance to see her mother–he is undoubtedly a caring person. But often, altruism easily masks more selfish desires, like wanting to be appreciated. In this case, it's reasonable that Philip is using his own problems to help him deal with other people's problems.
Paige's breakdown is much less predictable, since these last few episodes have been intent on not delving too deep into her psyche. We get a sense of it–that the trauma is almost incomprehensible to her, and that she can hardly physically move at points–but her conversation with Pastor Tim at the end of this episode shows to what extent she's been hurt. Even after really seeing her mother and being a part of a tri-generational scene that is unlikely to happen in this series again, she's not able to process the circumstances in a way that makes her feel like she can live with them. She has to say something to someone, and–unfortunately for her–she doesn't know what that means for that person if Philip or Elizabeth ever find out. What might have been better for Paige is if she asked more questions about the nature of her parents' work, using the emotional defenses she's built up since suspecting something was up with them to try to hide any disgust at the ways they do things. At least then, she would know exactly what position she's in and what kind of danger she would be putting Pastor Tim in by giving away her parents' secret. Something like this needed to happen, but only in the sense that Paige needed to reach the next stage of her development. That path might have been an openness to understand more about her Philip and Elizabeth, but the path she takes instead is much more difficult to deal with emotionally for everyone involved, including the viewer. There's the bonus of it just being good TV, since the prospect of other people knowing Elizabeth and Philip's secret makes matters more conflict, but going with that option is a success more so because of how it falls in line with all of the changes Paige has undergone since the beginning of the series. Once again, like last week, we can only wait and see what that means. This time, though, the wait will be painfully long.
Covert Observations:
– Yusef's story, though touched on and wrapped up to some degree in this finale, is one of those sub-plots that hasn't felt like it has really taken flight. At the very least, it is used to show how Philip feels awful all the time–one of the few moments in which he can say something undercover and mean it on the larger scale.
– Gabriel tells Philip to stop being a baby and grow up. Frank Langella has fit into this cast so well, that it's hard to believe he hasn't been here from the beginning. A great season all-around for his character, who has given Philip and Elizabeth different things to bounce off.
– This finale is also a huge one for Stan, who manages to not get fired for conducting his own operations behind Gaad's back. It makes for some delicious prospects next season, when he can basically be working at a higher authority level than his superior. But Stan is a great agent, so it is deserved…kind of? Unfortunately, he doesn't get the leverage to bring Nina back, so he'll need something else to convince Oleg to stick around. Luckily, that means The Americans didn't jump the gun and bring back Nina earlier than she needed to be.
– And that's it for The Americans this season. Overall, I don't think this season has maintained the level of consistency that last season did, but most people would say that's not a surprise, given how loved the second season was. Still, it has been a blast watching, thinking and writing, because even at its most formulaic, The Americans is still a few cuts above the average TV series. Thank you for reading along!
[Photo via FX]