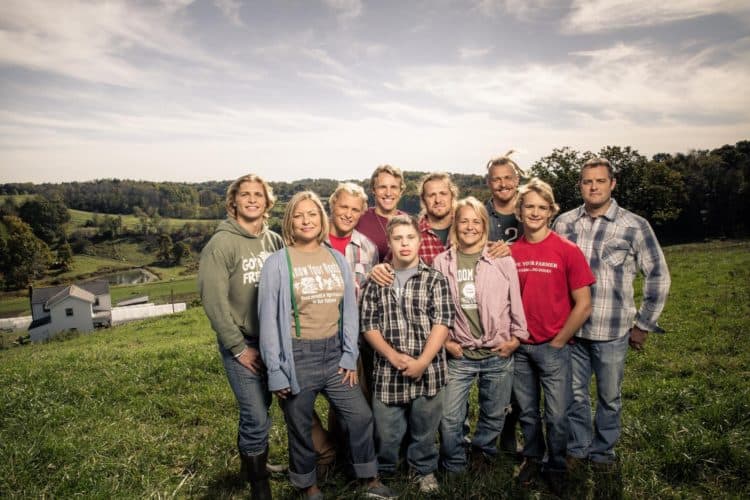 The American Farm is a History docu-series about American farmers in modern times. As such, it might interest people who are curious about how modern American farmers live. However, it should be mentioned that the docu-series is very much centered on its cast members' experiences over the course of a single year, meaning that it could appeal to fans of everyday struggles as well. Here are 10 things that you may or may not have known about The American Farm:
1. Made By BoBCat Studios
It is interesting to note that The American Farm is made by the people at BoBCat Studios, which is a production company founded by Thom Beers, Jeff Conroy, and Sarah Bernard. These three individuals possess a huge amount of expertise and experience when it comes to making a very wide range of shows. Moreover, it should be mentioned that they have made similar shows to The American Farm in the past.
2. Not BoBCat Studios's First Show of This Kind
For example, both Thom Beers and Jeff Conroy have been involved in a number of similar shows such as Deadliest Catch and Storage Wars, which isn't counting the other shows that they have worked on their own rather than in collaboration with one another. For that matter, while Sarah Bernard can't claim a similar list of shows that she has worked on, she has overseen Mark Hamill's Pop Culture Quest at the very least.
3. Supposed to Be an Intimate Look at Modern American Farmers
The American Farm is supposed to provide interested individuals with what Realscreen calls an "intimate portrait" of farming families in the United States. As such, interested individuals shouldn't expect a top-down look at how U.S. agriculture is conducted. Instead, The American Farm is interested in the life stories of farmers with family-owned farms, which makes for a much more personal presentation.
4. Follows Five Farming Families
Still, The American Farm isn't supposed to be focused on the experiences of a single American farming family. As a result, it follows the experiences of five farming families situated throughout the United States, thus offering interested individuals a wider range of perspectives that are nonetheless united by their shared circumstances. On a more practical note, this is beneficial in that if viewers aren't particularly interested in one of the five farming families, there are still the four others.
5. Details Various Challenges
Of course, The American Farm will seek to offer interested individuals a look at the various challenges that are faced by small farming families in the United States. In some cases, these challenges are very personal in nature, which should be more than familiar for a lot of the viewers out there regardless of their occupation. In other cases, these challenges are much more farming-related. Together, this combination should make the lives of these people both strange and familiar for the viewers, most of whom will presumably live in urban areas rather than out in rural farmland.
6. Shows How the Farming Families Feed Themselves
Considering what it is that farmers do, it is perhaps unsurprising to learn that a fair amount of The American Farm isn't just focused on how the farming families are feeding others but also how they are keeping themselves fed. After all, food is one of the basic necessities, meaning that it is one of the pillars that humans could't live without. As a result, while we live in a world that has seen enormous changes from that of our predecessors, how we get our food remains as important as it has ever been.
7. Shows the Farming Families Running Businesses
Fundamentally, farms are businesses. Due to this, one of the biggest issues that will come up over the course of The American Farm is how the farming families are keeping their farms running by making enough revenue to cover their costs as well as pay for other things. Even for people who have a general understanding of how food is grown, there is a good chance that this will cover new ground for them because that kind of knowledge isn't guaranteed to come hand in hand with an understanding of the business side of things.
8. Shows the Farming Families Juggling the Risks of Running Businesses
Since the business side comes up to an extent on The American Farm, it should come as no surprise to learn that some of the risks receive mention as well. Suffice to say that even the best-prepared farmers can't perfectly insulate their operations from risks, seeing as how so many of the inputs that go into their operations can see so much fluctuation because of factors that are beyond their control. Certainly, there are various ways to cover for these factors, but that kind of coverage can't be had for free under most circumstances.
9. Supposed to Be Without Agenda
The showrunner Jeff Brick has stated that The American Farm is supposed to have no agenda. Essentially, this means that the docu-series doesn't have any message that it wants to convey to its viewers. Instead, it wants to do nothing more than to provide them with a look at what being involved in family farming is like in the modern United States. Of course, this kind of thing is much easier said than done, not least because the topic of the show is so complicated and multi-faceted in nature.
10. Might Contain Some Surprises
With that said, what might be particularly interesting about The American Farm is that it is bound to contain some surprises for people who don't pay much attention to how American farming is continuing to develop over time. One of the interesting parts pointed out by Bricks in his interview is the use of drones to monitor growing conditions, which is a very neat example of how technology is continuing to change the practice of agriculture.
Tell us what's wrong with this post? How could we improve it? :)
Let us improve this post!