Justin McSwain spent most of his life struggling with his weight. His unhealthy relationship with food began when he was just a child and his step-mother would padlock the refridgerator.When he eventually decided that he was ready to make some long lasting changes, he agreed to have his journey documented on the popular TLC series My 600-Lb Life. Each episode of the show documents a person who is hoping to get approved for weight loss surgery. While the concept of the series is fairly straight forward, the reality of each episode is often a complicated web that includes food addiction, enabling, and, in my cases, trauma. Justin's story was no exception.
At the beginning of his episode, Justin weighed in at nearly 690 pounds. At the time, the then 27-year-old was on a fast track to an early death. Since being on the show, however, Justin has made some serious changes and he's managed to shed hundreds of pounds. Not only has his journey saved his life, but it has also inspired countless other people to take control of their situations. Keep reading to learn more about Justin McSwain's amazing transformation.
Justin's Road To Weight Loss
Like the other people who have been featured on My 600-Lb Life, Justin's goal of getting weight loss surgery was met with some serious obstacles. Just getting to Dr. Nowzaradan's office proved to be a challenge because Justin was too big to fit in the rental car. Once he arrived at the office, he learned that getting weight loss surgery wasn't going to be an easy rode either. In order to even qualify for the surgery, he had to lose a significant amount of weight. In addition to his physical struggles, Justin was also dealing with some issues regarding his mental health as well. He struggled with anxiety.
Despite all of the obstacles that stood in his way, Justin refused to give up. Unlike many of the other people who have been on the show, Justin followed Dr. Now's advice and began to make healthy changes to his diet. Eventually, he was cleared for surgery and after the procedure the pounds came flying off.
Justin's Transformation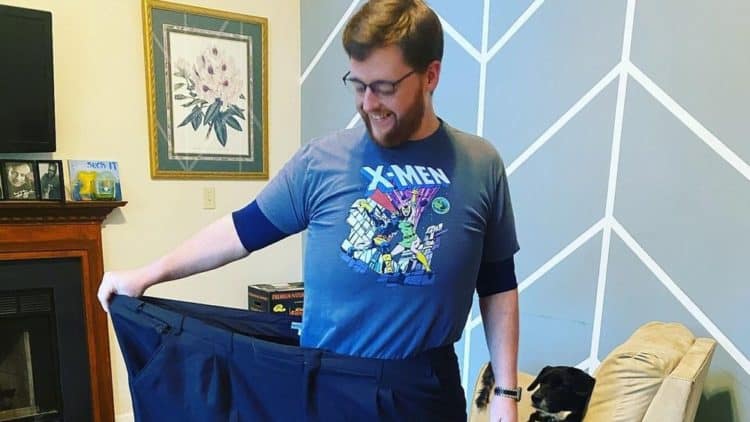 Since being on the show, Justin has lost more than 350 pounds. Even Dr. Now was impressed by Justin's dedication to losing weight and commended him for being one of the biggest success stories he's ever seen. Justin also attended regular therapy sessions to help address his anxiety and the mental aspect of his relationship with food. Since getting down to a healthier weight, Justin has been given a new lease on life. Now that he's feeling better, he can enjoy all of the things that once seemed impossible for him to do. For example, even something as simple as walking his dog used to be a struggle, but now it's something he really enjoys.
When talking about his journey Justin said, "Weight loss surgery has made an incredible difference on my life, but one of the most important lessons I've gotten out of it is that it is really just a tool, and it takes so much more than that to get to where you want to be." He also added, "It's given me the opportunity to define new interests and new passions, and I've realized that I may be somebody who deserves a chance at life." With his new found confidence, Justin is no longer letter things hold him back from doing the things he wants to do in life.
What Is Justin Up To Now?
For now, Justin is enjoying every moment life has to offer. He currently works as a digital media specialist for a credit union in South Carolina. Prior to that he ran his own marketing/media company. In his free time, he volunteers at the Shriners Hospital for Children.
Outside of his professional life, Justin has found a new personal journey since his amazing weight loss. Justin has gained a large following on Instagram since being on My 600-Lb Life and he hopes to use his platform to inspire and empower others. He often posts updates about his progress and shares photos of himself doing various activities such as rock climbing and hiking.
The outpouring of support he's received has been nothing short of incredible and he's thankful for all of the people who have shown him love. While all of the stories on My 600-Lb Life aren't quite this successful, Justin is a prime example of what can be done when all of the steps in the program are executed properly.