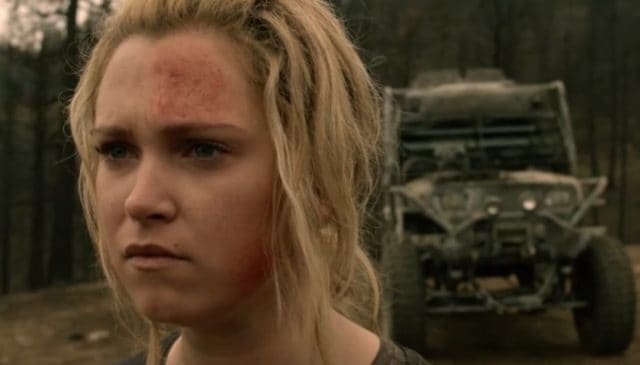 I can't express how excited I am to finally be writing about The 100 again. It feels like ages ago that we wrapped up Season 4 and wondered exactly how this was going to play out. The Season 5 premiere answered many of the questions I had, but raised many more, but that bodes well for the future of the series. The premiere episode, "Eden," was just how I knew the rest of the show to be: bold, emotional, and exciting.
At this point, The 100 clearly recognizes that the strength of the show often stems from the performance given by Eliza Taylor. For a good chunk of this episode, Taylor's Clarke only spoke in voiceover, walkie-talkie monologues and very little dialogue, as she was alone on Earth. It's easy to wonder why there wasn't a more immediate transition to the group of people in space or underground, but my concerns were quickly quelled watching Taylor, who has only gotten better at playing Clarke over the last 5 years. Watching Clarke move about the Earth, shouting at birds and eventually befriending Madi, was some of the most compelling TV so far in 2018. If I had to pick one actor on this show to be on their own, I'd pick Eliza Taylor every time.
Clarke is always a highlight of the show, but luckily the show also checked in on some of our other favorites. We soon get to see Bellamy, Raven, Echo, Murphy, Monty, Emori, and Harper upon the ark. The group dynamic has fleshed out quite a bit, and some things have changed from when we saw them last. Some relationships are new, some old relationships are blossoming, and others still are in tatters after the six years this group has spent in space. I appreciated the changes for the most part, but I felt like they were beating me over the head with the fact that Murphy and Emori had a less than amicable split. There were several pointed jokes about it, so it was either relatively recent in the shows' timeline, or they were working too hard to draw attention to the fact. I'm a huge John Murphy fan, so I'm rooting for them to get back together. The dialogue seemed to hint that maybe those two still had feelings and there could be a reconciliation.
The prisoners who have landed intrigue me for several reasons. Aside from the fact that they parallel the 100 juvenile offenders that were sent to Earth in the first season of The 100, they present a compelling story and raise a ton of questions about who they are and where they come from. The show's exploration of moral grey areas will only get greyer with a bunch of former (and perhaps current) criminals running around.
Here are a few other thoughts/tidbits:
Several moments that called back to previous seasons tugged at my heartstrings. For one, I had completely forgotten that Clarke was an artist, but remembered when she drew that picture of Madi so easily. The other, of course, was the discovery of the box belonging to Jasper. Jasper was one of my favorite characters, so the use of his goggles and Maya's music may have gotten me a bit teary-eyed.
Much to the chagrin of many Bellarke fans who will read this post, Bellamy is now together with Echo. Of course, Bellamy has no idea that Clarke is alive, so perhaps there's still hope.
I'm excited to see more in the coming episodes, but that shot of Octavia at the end was epic!
I can't tell you how excited I am to be back and reviewing The 100 again for TVOvermind. It's one of my favorite shows (and frankly, one of the best on TV) and I can't wait to explore Season 5 alongside all of you!
This episode had its flaws, but it is SO good to be back on this particular post-apocalyptic Earth. The flaws were barely noticeable, and it was far more intriguing and exciting than anything.
What did you guys think? Did you enjoy the premiere? Let us know!
The 100 airs Tuesdays at 9/8c on The CW
Tell us what's wrong with this post? How could we improve it? :)
Let us improve this post!