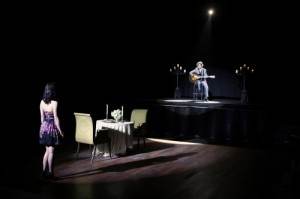 So we are on the way to what looks to be an explosive finale next week for the denizens of 90210. I know I have used the word "explosive" in just about all my recaps when it comes to finales, but… it's a signature of mine of sorts. I guess. Anyway! Last night's penultimate episode prepared us to what's to come and possibly set some seeds that might blossom into full storylines next season… that is if they aren't wrapped up next week, but I highly doubt they will be.
"Javianna" = Navid's Bad Luck
Navid whines about pop star Javier to the guys, who think that he should have told Adrianna about his break up with Lila, as well as his feelings for her. So Navid purchases yet another bouquet of flowers to show his love to Adrianna, but is literally blocked by a limo carrying Javier, who brings Adrianna flowers, a new dress, AND a pair of shoes to match. If that doesn't scream "Step Your Game Up, Bruh!", I don't know what will!
Adrianna is treated to a dinner date like no other where Javier has rented out a theatre and serenades Adrianna with a song from his heart. The girl is in awe. She tells Silver about this dinner, but is perturbed to find out that Navid has broken up with Lila. But said perturbed moment is only a blip in Adrianna's Javier Fever. Navid later makes a fool out of himself when he reads the gossip rags that detail the Javianna theatre date and continues to be a fool when Adrianna stops by the Blaze office to talk to him. Dixon hears my pleas and tells Navid that he needs to step his game up and to utilize the history he has with Adrianna as a guide.
At Adrianna's solo concert, Javier mentions that he is leaving to go to a NYC event and can't stay for her performance. Adrianna is a little crushed, but highly understandable. She asks Naomi if Navid has showed up yet, which makes Naomi think that Adrianna still might have feelings for their old friend, but Ade denies this. Navid does show up and displays the gifts he bought for Adrianna to Dixon, who approves. Navid then mentions that he will leave a note for Adrianna to meet him on the roof of the club, where he will give her a snow globe of the Empire State Building, ala An Affair To Remember. Wait. Didn't Gossip Girl do that already? As in the DAY BEFORE?!!??!
Adrianna rocks the house and finishes stronger than she started, but just when you think she is about to find Navid's note, Javier shows up. He explains that he stayed for one song, but was quickly drawn into Adrianna's spell through her performance. Thankfully, he has his own plane, which he offers Adrianna a ride in to go perform their duet together in New York. Adrianna agrees, never getting the chance to see the goodies Navid left her. Speaking of Navid, the poor guy waits on the roof only to see and hear Javier and Adrianna leaving for New York. Better luck next time, dude.
Australia or Bust!/For The Love of the Game
Dixon and Ivy chill on the beach after surfing when Ivy asks Dixon if he wants to go with her and Laurel to Australia for the summer. Dixon is most definitely game for that little adventure, but hits a roadblock when he gets home. When Dixon asks his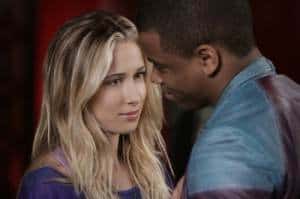 folks for permission, Harry quickly interjects a 'Hell no!' type response, which puzzles and pisses off Debbie, who thinks Dixon should go. Dixon tries to diffuse the impending argument, but the fuse has been lit and the only thing left to do is run for cover.
Later, Debbie gives Dixon the thumbs up on the trip, but only if Dixon can foot his own ticket. This green light sends Dixon on a selling spree of his own stuff, which Ivy catches on to and starts to question her offer. Later at Adrianna's event, Ivy questions Dixon's motives and picks a fight that ends in a break up. Noooo!!!! But things get even wilder later. Read on…
Meanwhile, Teddy and Silver are getting hot and heavy, making Silver wonder if she is ready to take the relationship an extra step. While at tennis practice, Teddy's phone receives a text from Silver that Spence sees. He is not happy and calls Teddy a failure for not ending the relationship with Silver. After that horrendous spirit blower, Teddy makes his way to Silver's, but he doesn't reveal his issues with Spence. Instead, the two get hot and heavy and, presumably, in the bed with each other.
Silver later gets a surprising visit from Spence, who tries to pay Silver off with $150,000 to leave Teddy alone to focus on his tennis career. Silver promptly ask this mofo to leave her premises. But when Teddy fumbles his tennis match, which effectively screws his chances of going pro, Silver comes up with some lies to break up with Teddy, who is confused as hell about the outcome.
Now we are back to the night of Adrianna's event, where Silver and Dixon drink their sorrows away and eventually end up foolishly kissing each other. Luckily, they regain their common sense and stop in time before something stupid goes down. After Ivy has a talk with Laurel, who rightfully tells her daughter that picking a fight with Dixon was ill-advised, Ivy finds Dixon post-kiss and says she's sorry and wants to start over. Dixon agrees, but feels guilty as sin.
Some time later, Dixon gets home to only be accosted by Harry for being bold enough to ask to go on a trip for the summer after the crap Dixon pulled with the gambling. Dixon confusedly comments that he thought Debbie and Harry discussed the situation for Debbie to say yes, but Harry says that Debbie still doesn't know squat about the trouble Dixon caused. Now guess who's standing in the doorway behind them pissed to high heaven? Debbie.
Naomi's Got Issues Out The Wazoo!
Naomi treats the girls to dinner, but is horrified when ALL of her cards are declined! She takes them to Jen to ask what is going, but her sister only cuts the cards up, simply saying that she cancelled all of Naomi's cards. Hell naw!!!! Jen walks away to take care of some business, but gets a phone call, which Naomi answers, from a mysterious person name J. Boyd (?). Jen quickly swipes the phone away, giving Naomi a bone to chew on for revenge. The next thing Jen takes from Naomi is her car, which she replaces with a junk bucket. Naomi is embarrassed and turns to Liam, who tries to be supportive, but not enough for Naomi's liking. She calls him out on it and Liam lets Naomi have it, announcing that he has more serious crap to deal with and she hasn't done her part either in being there for him. Nice job, Naomi.
A little bit later, Naomi visits Liam in his shack and he finally clues her in on what happened with his father. Naomi is crushed and vows to be there for him when he needs it later, which is super soon as Liam learns from his mother that his stepdad Jeffery fired their housekeeper because they think she stole the coins Liam gave to his dad,. Liam starts to feel guilty and calls Naomi, who is driving and comes cross Jen with a mysterious dude. Liam asks Naomi for some of her time, but she lies that she is in bed, but Liam can hear her driving on the street. Not good. So who does Liam call up? Good ole Annie. So not good…
Naomi catches up with Jen and automatically assumes that the mysterious guy with her sister is a man Jen is sleeping with, but the dude is actually Jen's assistant (and gay). Jen decides to come clean so Naomi can rest her curly head with coming up with a scheme. Jay Boyd happens to be Jen's OB-GYN and Jen is expecting!!!! Is it Ryan Matthews?!!?? I smell a 90210 version of a Maury episode coming up soon…
He's Baaaaack!
After discussing a school project with Liam, Annie stops by her locker to retrieve her stuff. When she closes it, Annie nearly jumps out her seat when she sees that Jasper is standing right behind her!!! AAAAAAAAAAAAAAAAAAAAAAAAAAGGGGGGGGGGHHHHHHHH!!!!!!!!!!!!!!! That was me. Sorry.
The two ex lovers catch up, but Jasper only wants to apologize and explain his actions to Annie and how he was wrong. He asks fro her friendship and her forgiveness, but Annie can only give him the latter because a friendship would not look well with her friends and family. Jasper actually accepts this! Wow….
A couple of days later, Mark and his goons tease Jasper about his suicide attempt and even accuses Jasper of killing his own uncle. Annie steps in and serves Mark a tongue lashing for being a crude dude. Jasper thanks Annie, but says she didn't have to do it. Annie claims that she did, but Jasper pretty much says that they are even as she has forgiven him and he has forgiven her. Annie sheds a tear. I roll my eyes, while Liam stands and takes in the scene with a disapproving frown.
While he and Annie go over their work, Liam can't help but to bring up the Jasper scene. Annie brushes it off and has Liam do a task on her laptop. But Liam accidently pulls up the confession letter that Annie wrote earlier this season and she freaks! Luckily, Liam didn't get a chance to read it, but Annie doesn't feel like studying anymore and she sends Liam packing. Wow…
West Beverly Blaze
– The Empire State Building/"An Affair To Remember" bit was too Gossip Girl-ish. Wonder if there are spies in each writer's room?
– Jasper coming back nearly gave me a heart attack. I can now officially declare him a mutated, humanoid version of the cockroach.
– Why in God's name was Annie wearing a sweater this late in the spring? In California weather?
– And the jacket Dixon wore at Adrianna's concert looked like a lost Starfleet costume prop from one of the Star Trek spinoff shows. I so was expecting someone to beam him out of there.
– Is it just me or does Rob Estes (no relation, ;p) look as if he is really pissed off in his scenes lately?
– Tilver/Seddy needs to return and down with Spence Montgomery!!
– Finally, I swear to God they need to give Trevor Donovan his series regular promotion. I can't see him not being there next season…
The finale is next week. The stage is set. Be there or be square! Lame, I know…