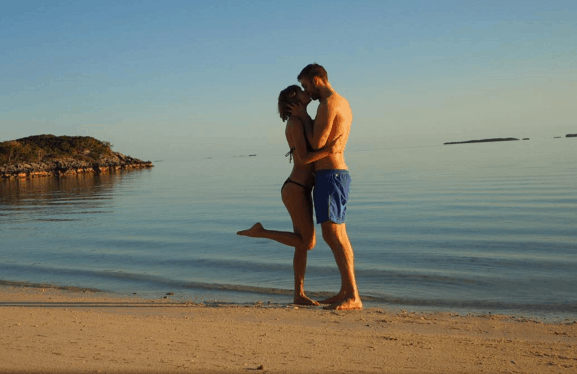 When I saw that Taylor Swift and Calvin Harris were in the news I only assumed one thing. I assumed that the two had split up. But that's far from the truth. In fact the two are celebrating their one year anniversary and are doing it in style. What better way to take a vacation than to share your holiday pictures in paradise with the entire world on your Instagram page? Is there a way for me to convey sarcasm here? Yes, I'm jealous.
It's been an interesting year for the couple. Swift is coming off another epic Grammy Awards where she finally hit back at Kanye West for all of the nasty comments he's made about her. Why he continues to bash Swift is a complete mystery to me. But the Bad Blood singer just keeps racking up awards. She's also been extremely busy promoting and performing for her 1989 album. The 26 year old is taking in 85 dates in four continents over the course of 7 weeks. Wow. That's no joke.
As far Harris he's been busy with some of his own releases as well as his residency in Las Vegas. The two finally had a little time to reflect on their time away. 'That time when we finally took a vacation,' Swift wrote on her Twitter — sharing a collage of snaps of herself with the I Need Your Love hitmaker.
Harris also shared images showing the pair posing in swimwear, kissing on the shore, and writing their initials in the sand (AW being Calvin's real name, Adam Wiles). And yes, of course we have all of the images for you. I'm particularly jealous of the one where these two are posing in front of a pair of waverunners. Clearly of the highest quality and clearly wherever they are it would appear that they rented the entire island. I guess you can do that when your combined net worth is north of $150 million.
Can't wait to spend the rest of my day writing about people who are having more fun than me! Enjoy the pictures and get out there and be a music star!
That time when we finally took a vacation.@CalvinHarris pic.twitter.com/ruk29DwHnN

— Taylor Swift (@taylorswift13) March 16, 2016