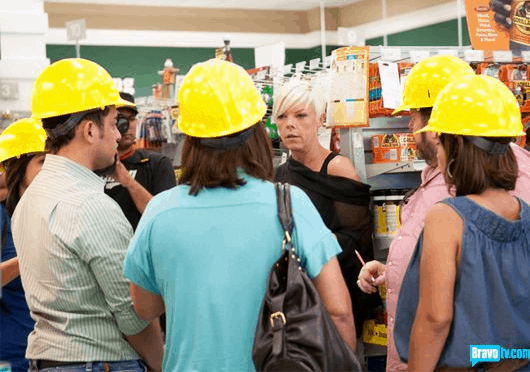 As anyone who knows me or has read my reviews can tell you, I don't watch a lot of reality television. I especially avoid what I call "Realitrash TV" which seems to be aggressively taking over television at a rapid pace. (Seriously, how many more Real Housewives of Who The Heck Cares clones do we need?) It may, then, come as a surprise that I do enjoy a certain little reality nugget on the Bravo network: Tabatha's Salon Takeover.
As a guy who is typically drawn to sharp comedies and science-fiction/superhero drama, Takeover is a show I really shouldn't like.
But gosh darn it, I do.
Currently in its third season, Takeover features Tabatha Coffey, successful business-woman and stylist extraordinare, coming to the aid of hair salons in need, bringing with her tips and tricks of the trade, and often a rather harsh look in the mirror for her target salon owners and their staff.
At first glance, Tabatha can appear to some to be bossy and perfection-demanding, swooping in to lay down the law and thin out the dead ends that are bringing potentially successful salons to their knees.
But the best episodes are when Tabatha really reaches the heart of often emotional owners and helps them to pick themselves up and learn how to succeed in their businesses and in their lives. Fortunately for us, that is more often than not the case.
I wasn't sure anything could top last week's jaw dropping Christopher Hill episode with the henpecked husband and his control-freak wife Alexis who was more interested in her sorority accolades and choking off her husband's manly parts than developing a thriving business.
Houston's Salon Vendome came awfully close, with a jacked up combination of five owner-stylists each taking turns playing hot potato with the reins of the business.
The salon was in shambles, torn chairs, filthy stations, mismatched light fixtures and even an out-of-service phone number on the salon window. And this is supposed to be in "the Beverly Hills of Houston," as Jack put it? Tabatha was spot on in calling it the very "definition of low rent."
The owners each knew that changes were necessary, but could never agree on what or how to go about making changes, because each was too focused on their own opinions and interests to think about the business first. Two of five owners were even holding the rest hostage by refusing to pay their weekly rent in protest of the lack of changes, including hiring a sorely needed receptionist. They might as well have been children holding their breath until they get their way. Um – you're only hurting yourselves kids!
Fortunately for them, they had Tabatha to set them straight.
Fed up with their "me me ME" mentality, Tabatha brought in breast cancer survivors and top of the line wigs during the stylist evaluation forcing the owners and stylists to think about someone else for a change, which added a level of emotion that I don't think the stylists expected. Kudos to Tabatha for that move, because it had the intended impact.
I've often thought to myself "why does Tabatha bother to give the salon a makeover, when it seems that's all the salon owners are interested in?" (See Christopher Hill Salon). I applauded Tabatha for making these folks get their hands dirty and do their own renovation, a first for the series, I believe. You appreciate something so much more when you've had to work for it, and the exercise in the hardware store, along with Tabatha's subsequent role dole-out, I think really penetrated the owner's collective brains and proved that they have to work together to make the salon a success ("Teamwork makes the dream work!") – particularly given their unique situation.
I laughed at Tabatha likening Lacy to a yapping chihuahua and taking her hardhat away from her saying she couldn't speak again until the hat was returned to her. If you act like a child, you're gonna get treated like a child. Boom.
Once convinced they got the message, Tabatha let them off the hook and handled the rest of the renovation with a construction team – though I'd like to think Tabatha let them labor along a bit longer than necessary, just because she could.
I don't ever like to see anyone lose their job, unless they really have a bad attitude, are hurting the business and, ya know, just really deserve it. And Janiece deserved it. Her lazy, gossipy ways really stood out from the rest of her counterparts who made efforts to become more professional. Her negativity and resistance to change was like a poison in the water.
Janiece's confessional moment where she said Tabatha takes hair dressing too seriously and just needs to relax made me wish Tabatha had delivered on her earlier promise to wipe that "sour look" off of Janiece's face. Even though I tune in each week knowing Tabatha is a consummate professional and would never stoop to that sort of tactic, a little part of me is just dying to see her slap the ever-lovin' life out of someone. Someone who deserves it, of course.
When Janiece showed up to the reopening with only the current week's rent check after Tabatha explicitly stated that debts were to be resolved by reopening, I was flabbergasted by her shoulder shrug of an excuse. I mean, I get that six grand is a lot to come by, but she couldn't have even brought in two or three week's worth of rent as a gesture of good faith? Good riddance.
Tabatha is one tough cookie and always provides honest critique, exceptional advice and brings a unique approach specific to each salon to teach these stylists how to not only improve their businesses but improve their lives, and that is what keeps me coming back week after week – even if on occasion there's a bitter Christopher Hill worm in the apple we sometimes have to eat around.