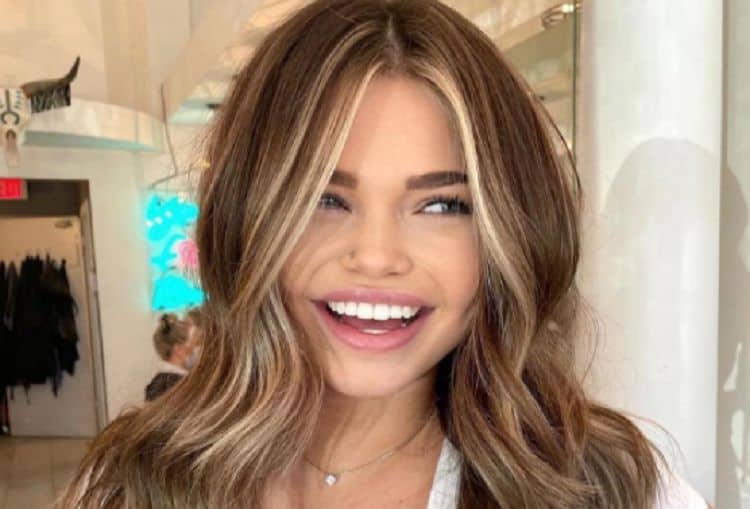 Dave Portnoy has been the subject of several headlines in April 2021. He's been spending his time in Miami hanging out in the sun, having fun with a bevy of models and Instagram influencers at nightclubs on the regular, and he recently made headlines when former NFL cheerleader Shannon St. Clair posted a video of the two of them on a boat on her Instagram stories. Right now, however, he's making headlines alongside a very young woman with whom he was involved with in a leaked sex tape. Her name is Sydney Raines, and people are seeking every bit of information about her they can find.
1. She is Very Young
When the world began speculating that he was getting serious with ex-cheerleader Shannon St. Clair, everyone was talking about the age difference. She is 24, he is 43, and it was a big thing. However, it turns out that Sydney Raines, the woman in the leaked sex tape alongside Portnoy, is even younger. She's only 22.
2. She is From Atlanta
Raines is a born and raised Atlanta girl. She works as an Instagram influencer and model, and her account boasts more than 10k followers. We have little doubt she will see that number grow substantially in the coming days now that she's the star of a leaked sex tape and her name is trending all over the internet.
3. She Confirmed She's the Woman in the Video
When the video was leaked in April 2021, she confirmed it was her. She could have said nothing, but she chose to tell the world she is the one in the video, and that she has no idea how it was leaked. She called it a "video from the past," and she assured her fans and followers that everything was consensual and that she doesn't consider it a mistake.
4. She's Not Apologetic
When she made her Instagram announcement that it's her in the video, she also signed it "No apologies, Syd," and that was that. She's not ashamed of her personal life. She's not upset that this happened. She's not going to apologize for doing what she wants to do, and she's not going to take responsibility for this. Someone else leaked it, and she's not going to let this bother her more than it already is.
5. She is Still Friends with Portnoy
She did not say how old this video is other than the fact that it was made a long time ago, but she did confirm that the video was made with a friend. They have a good relationship with one another, and there are no hard feelings or any type of animosity between the two. They don't consider this a big deal, so they want the world to also stop considering this a big deal.
6. She is Exceptionally Confident
If you gain anything from checking out the Instagram page of Sydney Raines, it's that her confidence level is through the roof. She has no problem sharing barely clothed photos of herself with the world. This tells us she is exceptionally happy in her own skin, and her confidence level is not lacking in any capacity.
7. She's Got a Great Motto
She borrowed it from Tina Fey, who is fabulous. "Do your thing and don't care if they like it," and there is nothing more amazing than this quote. It's so honest and so true in every single capacity. Who cares if people don't like it? Who cares as long as you do?
8. She is a Bulldog Fan
You don't grow up in Atlanta, Georgia, and not spend some time in Athens. She's a University of Georgia Bulldog fan, and she supports her football team just like everyone else in the SEC. It is, after all, the best conference in the nation.
9. She's Close With Her Friends
Most of her photos are all about her and her friends. It appears she spends a great deal of time with the people she loves the most, and she's happy to have them in her life. She seems like a great friend, and she seems to have a close-knit group of people she spends her time with. Friends are the best, and we get it.
10. She Does Value Her Privacy
While it might not seem like it from the outside looking in, this is a young woman who knows that you don't share too much with the world. Sharing virtually nude photos is one thing, but she's not sharing the personal details of her life. She keeps her family and her love life very private, and that is her right.