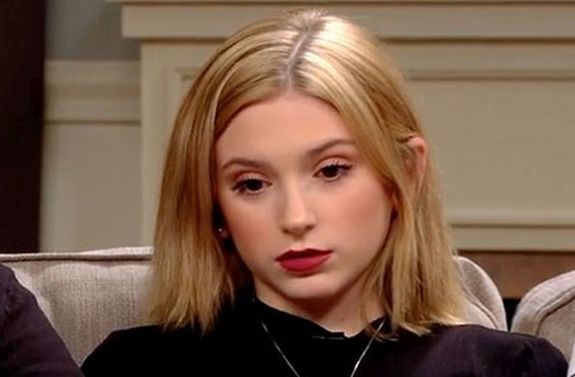 Children are bundles of joy, but unless you are prepared for them, they are a burden. McKayla Adkins knows too well, what it means to have unwanted pregnancies, but she still tries to be the best mother any teenager can be. It has not been an easy journey, as you can see from these ten facts about her.
1. Her grandfather was diagnosed with cirrhosis
McKayla's grandfather, Tim, loved the bottle too much. However, were it not for a lawnmower accident, Tim would never have known that he had cirrhosis. That was in October 2018, and since the doctor told him to stop drinking; otherwise he dies, Tim heeded the advice. It was quite a blow for McKayla since she is close to her grandparents.
2. She was pregnant at the same time as her mother
Sometimes we watch shows on television and feel like the cast is living in another planet. We, therefore, think that whatever they are going through can never happen to us, but life has its surprises, and we end up experiencing the exact situations. In 2012, "My Teen is pregnant and so Am I" aired on TLC, and five years later, McKayla and her mother, Shannon were in the same predicament. McKayla then only 16 was expecting her first child while her mother was pregnant with her second baby.
3. Her grandmother raised her
Most parents raise their children. Grandparents are only an escape plan when the situation at home is difficult. Unfortunately for McKayla, she never had the luxury of choosing between homes. Her mother got addicted to drugs after her father died, resulting in her grandparents getting custody when she was only four.
4. She cannot use birth control
Family planning has been a life-changing decision for most homes since couples want to have a good bedroom experience without worrying about unwanted pregnancies. McKayla, however, has to risk falling pregnant every time she gets intimate. According to Romper, McKayla feared she was pregnant with her second baby because she and her boyfriend Caelan were having unprotected sex. McKayla farther explained that although they never had sex most of the time, when they did, using condoms was not an option because it hurt. The other alternative of birth control was also out of the question because it hurt badly, and she could not take it anymore.
5. She is so broke that she might drop out of college
McKayla is determined not to have anything holding her back from all that she hopes to achieve. Too bad for her because raising children is not a walk in the park. McKayla hopes to become a nurse and even enrolled for college last month. Now coping with the stress of studying and taking care of two children under five makes her feel like she is losing her mind. As if that is not enough, she does not even have the money to continue with school. She made money from YouTubing, but now there is no time to make videos. McKayla is so broke she is looking for any job that will help her be a responsible mum. According to The Ashley's Reality Roundup, she has begun applying at various places.
6. Having two kids is sucking the life out of her
As much as she hates birth control, McKayla should have explored other options, such as abstinence. Like that expression on social media always asks, if you have sex, what do you expect; a flat-screen television? Well, there is always a consequence for every action, and now McKayla is learning the hard way. Besides having a child at 16, she added another one while still a teenager. Now taking care of them and herself is too much for her to bear. We can only hope that she gets the help she needs because, as a teenager, she is not mentally equipped to handle adult responsibilities.
7. She does not allow her baby daddy to see his children
Regardless of how bad things get between parents, children should never have to bear the brunt of the disagreements. McKayla does not seem to pay attention to this timeless advice because she no longer allows Caelan to see his son and daughter. Caelan told his fans that the reason he no longer posts pictures of his children is that McKayla will not let him see them. Shannon's boyfriend supported McKayla's decision saying it is Caelan and his family that was on the wrong. McKayla defended her actions saying that Caelan was irresponsible. He wanted to see his children outside of her house, yet he did not have baby car seats.
8. She is afraid of losing a connection with her kids
Once bitten twice shy. McKayla has already seen how an estranged relationship with her mother has had such an adverse effect on her. Shannon had McKayla when she was a teenager, too, and after McKayla's grandparents obtained custody of McKayla, the relationship between mother and daughter was on the rocks. Although they now have a better relationship, they still are not close. Having seen that, McKayla is afraid that if she allows other people to raise her children, she will have lost that connection. She wants to be with them now when they cannot understand when she is not around and later go back to school when they are grown up. By then, she reasons that they will appreciate adults have sometimes to be away from their children to give them a better life.
9. She has been in "Unexpected" since it premiered
TLC released a trailer of the three teenage moms who would be part of "Unexpected," among whom was McKayla Adkins. In the clip were details of each teenager, and it is there that we learned that McKayla had been cast. Fans of her YouTube channel were anticipating her to be in "Teen Mom" or "16 & Pregnant." McKayla continued to be a returning cast for both seasons two and three, where she documents her juggling between parenthood and life in general.
10. She is single
After trying to make it work with Caelan and even going ahead to have another child with him, the couple called it quits. McKayla then started dating Josh Steers, and the relationship was evident from the social media platforms. She must move on quickly because two months ago, she was with Caelan. However, a few days ago, she revealed she had ended her relationship with Josh. With her mental health at stake, McKayla might be taking a break from the dating world for some time.
Tell us what's wrong with this post? How could we improve it? :)
Let us improve this post!