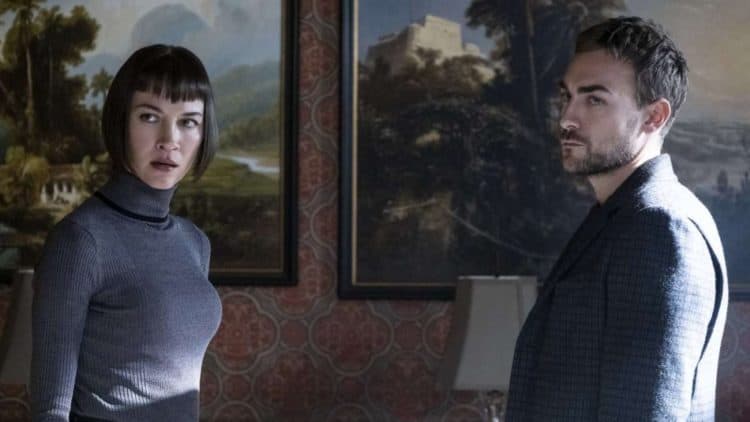 In just six years of on screen work, Sydney Lemmon has managed to cover a lot of ground. Even with less than a dozen acting credits, she is already making a name for herself – and it's a good one. She has made appearances in shows like Fear the Walking Dead and Law & Order: Special Victims Unit. Now, her official time to shine is almost here. Sydney will have a main role in the upcoming Hulu series, Helstrom. The show marks the first time she's had a starring role in a TV series. Many are sure that this opportunity will serve to be her break out role. Although a specific debut date hasn't been announced, Sydney's work is highly anticipated. Keep reading for 10 things you didn't know about Sydney Lemmon.
1. She's Been On Broadway
Getting the chance to act on Broadway is a serious accomplishment and it's something that many actors can only dream of. However, it's something Sydney Lemmon can say she's already done. She made her Broadway debut in 2018 as a cast member in the play The Parisian Woman. Uma Thurman was also a member of the cast.
2. She Studied At Yale
There are some actors who prefer to start auditioning for roles as soon as they can do they can gain experience. However, there are others who prefer to have as much formal training as possible before looking for opportunities. Sydney chose to take the latter route. She earned an MFA in acting from Boston University. She then went on to get an MFA in acting from Yale University.
3. She Isn't Afraid To Speak Her Mind
Speaking out isn't always an easy thing to do, and this is especially true for people who feel like sharing their opinions could cost them their livelihood. However, Sydney has made it a point to use her platform to highlight the things that are important to her. She is a strong supporter of the Black Lives Matter movement.
4. She Is A Musician
Being creative is something that simply runs through Sydney's veins. Sydney loves to create things and express herself through the arts. She is also a talented musician who enjoys singing and writing songs. She also plays the guitar. However, it doesn't look like she's released any music yet.
5. Her Brother Is Also An Actor
Creativity is something that runs in the Lemmon family. Like Sydney, her brother, Jon, is also a singer and a musician. However, he seems to be more focused on his music career. He only has two acting credits at the moment, but he has uploaded several videos of his music on YouTube.
6. She Was In A Bud Light Commercial
Even if you've never seen Fear the Walking Dead, you may recognize Sydney Lemmon for her affiliation with another very popular TV show. She was in a series of Game of Thrones themed Bud Light commercial that quickly popularized the phrase "Dilly Dilly".
7. She Was Born In Los Angeles
Most actors start their career with a goal of eventually ending up in Los Angeles. Luckily for Sydney, she came into this world with connections to the famous city. Sydney Lemmon was born in Los Angeles. However, she was raised in Glastonbury, CT. It's unclear where she currently lives.
8. She's A Private Person
Being an actress often comes with a lot of attention, and that's not something that every actor wants to be a part of. Between gossip sites and paparazzi, it can be hard to maintain semblance of a 'normal' life. But, Sydney Lemmon has worked hard to make sure that her personal life isn't always at the forefront. She is a very private person who likes to keep her interviews and social media presence focused on what she's doing professionally.
9. She Loves To Relax By The Water
Even if you absolutely love your job, rest and relaxation are still necessary. Everybody needs time to get away from work and recharge so they can come back feeling fresh. One of Sydney's favorite ways so spend her time off is to hang out by the water and go swimming.
10. She Was Nominated For A Saturn Award
Even though her time on Fear the Walking Dead was relatively short, Sydney made a lasting impression on fans and critics. her work on the show earned her a Saturn Award nomination for Best Guest Starring Performance in a TV Show. Saturn Awards are given out every year by the Academy of Science Fiction, Fantasy and Horror Films. The award ultimately went to Jeffrey Dean Morgan for his role as Negan in The Walking Dead.
Tell us what's wrong with this post? How could we improve it? :)
Let us improve this post!