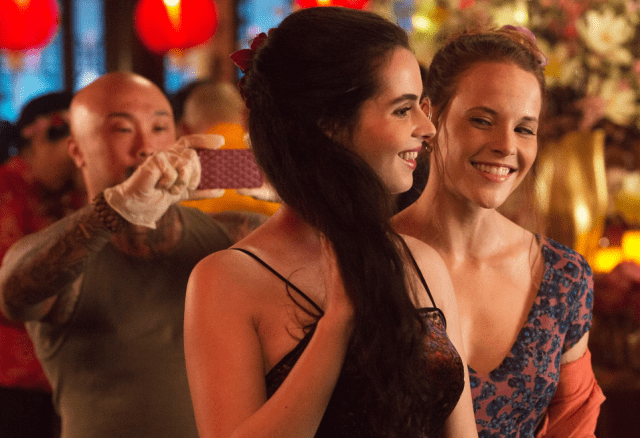 It's hard to believe it's been a year and a half since we last saw sisters Bay and Daphne sail off to China on Freeform's hit drama Switched at Birth. The series will come to a close with this final fifth season. The large time jump was startling when the idea was initially put forth during the Season 4 finale, but as real time has surpassed the fictional timeline we're going to be moving fairly quickly through Bay and Daphne's final journey. Before the end these two unlikely sisters are going to face a few more emotional challenges as they search for the direction they should be going with their lives.
If you're wondering how Bay and Daphne's few weeks in China turned into 10 months, the opening minutes answer that pretty quickly. Early on in the trip Bay was stricken with Japanese Encephalitis, so she and Daphne spent the majority of their trip in a hut in the mountains while Bay recovered. There they met a local doctor who inspires them both to extend their trip for a year. Daphne was able to study Eastern medicine methods and volunteer at the doctor's clinic, and the local artistry called to Bay. Also answered fairly quickly is Bay's romantic choice. After spending hours and hours on five different modes of transportation, Travis arrived to spend a week with Bay in China. That week was also extended into quite a few months.
Back home, Kathryn is now the Director of the Athletic Department at UMKC and John has been serving as a coach. Meanwhile Regina decided to go back to school to get her degree, and has taken up with a younger man named Luca. Her best friend Melody is struggling a bit since the adoption she and Gabe were expecting fell through, but that might have been fate intervening on Emmett's behalf. Emmett tries to downplay his life, but he is the reason Bay, Daphne, and Travis come home. Emmett has been hiding a lot, and it takes an overdose to alert his family and friends that something is wrong.
Now that Emmett's situation has brought them back, Daphne and Bay try to dive back into their lives. Upon her return to school Daphne meets Regina's new boyfriend, gets caught up with Mingo (now a campus RA), and realizes that her plans aren't as on track as she thought they would be. Bay and Travis are excited about building a life together in their new apartment above Regina's coffee shop. Unfortunately, Daphne isn't able to find campus housing to compound her year behind in her studies, so Bay invites her to move into the apartment. Daphne and Bay think this is the perfect solution to get them back on track, but their transition is about to get a lot rougher.
Emmett's symptoms are consistent with depression, which explains all of the lies he's been telling Melody. He wasn't happy at school, he broke up with Skye months ago, and the film he made about Bay's experience with Tank didn't get picked up by any film festivals. Bay and Daphne find Emmett back at Carlton, worried and regretful over the mistakes he has made. This is doubly sure when it comes to Bay. Bay forced herself to let go of Emmett, and now he finally knows it was a mistake to break up with her. Emmett is clinically depressed, Melody has proof that it runs in his family. That doesn't make up for how unfair Emmett is being to Bay and Travis now that they have solidified their relationship. Which is why Travis is so upset that all the plans he and Bay made are suddenly changing. Because everything already has changed. Their world isn't so forgiving anymore. Which is why when Daphne joins Mingo at a party where he is dressed as Lil' Wayne, the entire world attacks the outfit as racially offensive. It's going to be a difficult welcome home.
Will Bay and Daphne regret coming home?
Tell us what's wrong with this post? How could we improve it? :)
Let us improve this post!