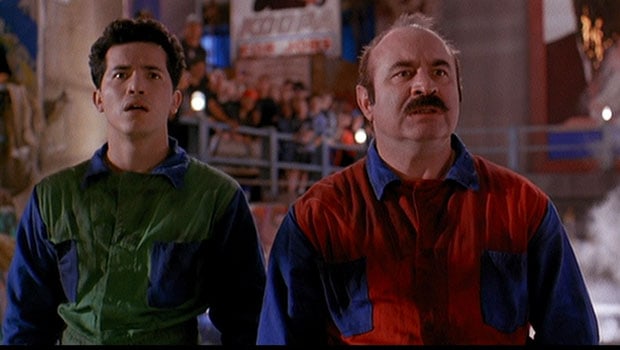 It's a big hope that the lesson has been learned as far as it goes when making a Super Mario movie since the last one with Bob Hoskins and John Leguizamo was a huge bust as fans might recall. But despite that it would appear that people are ready to see another Mario movie more than anything else given a recent survey that Joe Pring of We Got This Covered decided to share. It might be indicative of people knowing what they want if so many folks didn't root for some of the dumbest reboots and remakes in the history of cinema, since too often people are willing to champion ideas that make absolutely no sense and are terrible beyond words. That's why the Mario movie that's coming up and being handled by Illumination, the same studio that handled Despicable Me, isn't exactly being prepared for well in advance. It could also be because the movie isn't slated to come out until 2022, but when we're only months out it will be kind of interesting to see whether or not people are willing to get pumped for the famed plumber's return. The idea that people want to see this instead of Final Fantasy, Red Dead Redemption, or even Call of Duty is kind of a head-scratcher, but at the same time it's not too hard to believe since Mario has been a fan favorite for a long time.
I've said more than once that the fans have a lot more power when it comes to which movies will be remembered and which will be left on the cutting room floor, but there are times when the fans are perhaps one of the most irritating parts of the business. This is largely because nostalgia plays a huge part in movie-making quite often, and fans want to see aspects of a story that were great for their time, but are either too hard to adapt to a more contemporary movie or are simply too cheesy now that we're adults and can look at things from a different perspective. The last Mario Bros. movie was a flop, that's hard to speak out against so I won't try. But even with a faithful adaptation one can easily guess that there will be plenty of people that will say that there's something wrong, that something doesn't look right, and that the adaptation isn't as faithful as it could be. Some of these might be legit gripes if the filmmaker in charge doesn't go by the source material and attempts to do their own thing. But far too often fans will want one thing and then attempt to tear it apart to clear up any and all 'inaccuracies' without realizing that they may very well be tearing apart the image they wanted to see in the first place. Dan Casey of Nerdist has more to say on this subject.
Wanting another Super Mario movie isn't a bad thing, one is on the way after all, but hopefully it will be more along the lines of the game and feature a more cartoonish feel than the last one did. People were excited to see one of the most popular games come to the big time but the moment they saw it a lot of them were wondering what all the hype had been about since none of it was really true to the game unless you're counting the Italian stereotypes that were viewed by so many. Video game movies can be great if they're done in a manner that allows people to easily recognize various aspects that come from the game and how they've been applied in different ways that still make sense and bolster the movie. Thus far in a lot of video game movies the end result has been that the story isn't absolutely horrible all the time, but it's definitely not what people were expecting. The fact that people still have enough faith in the Super Mario franchise to want another movie from it is kind of interesting really, but it's also a big hope that people will accept what they get since quite honestly they are asking for it, and if they get something they don't think is up to snuff, oh well. One of the biggest issues with turning a video game into a movie comes from the incredible and often impossible nature of the game since human beings can't do the things that Mario does, such as super jumps and various other abilities. But when left in a cartoon state a lot of video game movies, like the recently released Sonic the Hedgehog, or turned into an amazing hybrid version it can work so much better since the blending of cartoon and live action leaves a lot of leeway for amazing and impossible things to happen. Here's hoping that the next Mario movie is going to be something we can get behind. Ryan Craddock of Nintendo Life has more to say regarding this idea.