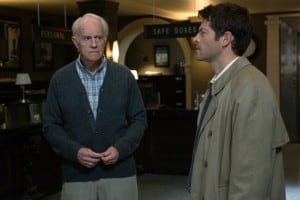 Staying out of Heaven
Aside from the cartoon hilarity, two other substories dominated this week's Supernatural. One involved Sam, which we'll address soon, and the other involved Castiel. The angel was incredibly eager to stay out of Heaven, despite Dean's prodding that he should return there in order to poke around for answers as to how he got out of Purgatory. Since Castiel doesn't remember his meeting with Naomi, he is still in the dark about his escape. But he does remember every moment of when he turned "evil" in season 7 and he sadly told Dean about the havoc he wrought on Heaven while he was possessed by the Leviathans.
He's far too ashamed of his actions to return to Heaven and, after a nice heart-to-heart with Dean, the matter seemed resolved. But after "fixing" Fred, Castiel seemed eager to return to Heaven. Of course, that's the very moment that Naomi pulled him back into her Heavenly office to let him know that he needs to stay out of Heaven unless she specifically calls on him. To keep him on Earth, she gave his mind a little push and he decided to remain behind with Fred for a few days while the Winchesters took off. Is this the end of Castiel's short-lived hunting career? Because I need to see him interrogating cats at least once every two weeks.
Back from the Dead
This week's Supernatural was also sprinkled with Sam flashbacks and the writers made Amelia a bit less mean and a bit more likeable, which was a long time coming. We've progressed further into their relationship, with the pair now shacking up together. Then Amelia's father drops by with obvious hostility towards Sam. He thinks that Amelia is moving on too fast and finds fault in everything about Sam, from his father's old marine position to his motel job. Sam takes the criticism, although you can see that he's clearly struggling. He does deflect when Mr. Thompson says that he has the look of a solider, or a man who has seen too much. But Amelia sets her father straight, telling him that she and Sam might both be damaged individually, but they're working hard on getting better together, so he should back off.
To his credit, Mr. Thompson does ease off and he and Sam sit around enjoying some beers. Sam has another moment that resonated with me when he mentions his brother's method of opening beer bottles to Mr. Thompson and then tells him that he recently lost him. He quietly admits "I ran" after he lost Dean, which, frankly, leads me to believe that this whole "not looking for Dean business" was more a result of Sam's grief and desire to run away from his current problems (an understandable reaction given his life circumstances) than a rejection of his brother.
But then came the twist ending. Seriously, I didn't see this one coming in any previous flashback. As Sam bonded with Amelia's father, she took a call from…Don! The dead husband! Holy crap! As it turns out, her dead husband wasn't so dead after all.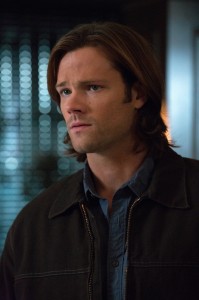 So….who saw that coming? This leads me to so many questions. Did Sam leave Amelia in the premiere because Don had returned and they weren't going to remain together now that her husband was back in the picture? Was it Don watching the house that night instead of someone supernatural? After the episode I was chatting with Kate (a.k.a. Ardeospina) who recently co-wrote an article with me about theories and speculation for this season of Supernatural and she asked whether I now believed that Sam's flashbacks were entirely without influence given the reappearance of Don. In other words, is his whole "normal life" history over the past year simply that? Well, we discussed the possibility that the angels brought back Don in an attempt to separate Amelia and Sam. My theory regarding Sam involved the angels either simply keeping tabs on him or interfering directly in his life. The idea that they brought Don back could fit in with that. Maybe they were tired of Sam playing house and needed to get him back in the game (to find the prophet or the tablets or what have you). I'm not entirely certain how many people are mistakenly declared dead for months and months while serving in the army, but you have to admit that's a pretty serious mistake for the military to make. Was Don really just MIA all this time or did something supernatural intervene in the situation? Sam's flashbacks haven't really fit into my idea of Supernatural this season, not because I dislike them but because seeing either of the brothers live a normal life isn't really what the show is about for me. But I have to admit, this whole Amelia business just got really interesting.
The other thing that struck me about Sam's storyline was his speech to Fred. He talked about understanding what it was like to live in a dream world and how you pretend all the crap "out there" doesn't exist, but you can't do that forever. He went on to say that trying to keep that dream alive will destroy you. He clearly wasn't talking about his Hellucinations, because those "dreams" were not pleasant. Was he talking about his relationship with Amelia then? Was that an admittance that he was trying to either hide in actual delusions, as Kate had suggested in our article, or trying to hide in a normal life while attempting to ignore his hunting duties? Was it an admittance that he's destined for this hunting life no matter what he claims to the contrary because anything else wold simply be a delusion? It was an interesting speech from Sam that deserves further explanation. And I really hope we get it.
On the other hand, you've got Kate's theory that everything about Amelia (or, at the very least, the part where they got into an actual relationship) is all just in Sam's head, which is what a lot of people seem to suspect after this episode. I'm a little disinclined to believe that theory though, for two reasons. First, what is the point of the flashbacks if they're completely fake memories? The Lucifer flashbacks served a purpose in the overall storyline. Second, if Sam is aware that his memories of Amelia are false (and that might seem the case if you take his speech to Fred at face value), then why hasn't he told Dean? He was rather forthcoming about the Hellucinations with Dean and admitting that he had a complete mental breakdown might have alleviated Dean's anger about Sam not looking for him. Why keep up the charade? This is driving me completely crazy. I need to know!
Overall, this week's Supernatural was a terrific penultimate episode for 2012. Next week the heavy duty angst returns, as does the brothers' argument over Benny (watch a preview). So it was nice that we got a very well-done and amusing episode this week. When Supernatural is firing on all cylinders, it reminds me of why I love this show so much. So far, season 8 is one that is pleasing me on many levels.