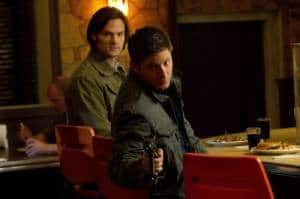 What a super, awesome, fun, amusing, gross and sad episode of Supernatural this week. After Don Stark managed to subdue the leviathan last week, the boys took him back to the cabin so Bobby could figure out how to hurt and/or kill these suckers. The poor man wasn't having any luck with all of the usual tools, although decapitation seemed to do the trick for a while.
Meanwhile, two other leviathans had cloned themselves into the Winchester brothers (using hair from a motel bathroom) and decided to take their shiny new bodies on a killing spree. They robbed banks and left a trail of dead people in their wake. When Sam and Dean finally got wind of what their dopplegangers were up to, Bobby sent them to an old acquaintance by the name of Frank Devereaux. Devereaux wasn't a hunter, but he was a conspiracy nut and very helpful in teaching the Winchesters tricks to lay low. These included sticking with more mundane aliases (no more odes to rock stars), switching up their phones and ditching the Impala.
"Nobody Puts Baby in a Corner"
You can imagine how devastated Dean was to put his baby up on blocks in a garage somewhere. Add to that the indignity of driving around in a car with a My Little Pony hanging from the rearview mirror and I suspect this is Dean's version of Hell. Fortunately, he had Air Supply to keep him company. Sam quickly realized that the leviathans were hitting up towns that the Winchesters had previously worked cases in. Right from the pilot episode, in fact, when they investigated their first case involving a woman in white in Jericho, California. Once the boys figured out the pattern, they could predict where the leviathans would hit next.
Back at the cabin, Sheriff Mills stopped by to say hello to Bobby, drink some beer with him and give the cabin a woman's touch. Jim Beaver got to display his awesome acting chops when the leviathan took Bobby's form and started taunting him. Fortunately, a mistake with some spilled Borax cleaning solution revealed the one way to kill a leviathan (or, least, incapacitate them on a fairly permanent basis): burn them with the solution then cut off their head and make sure it never meets their bodies again. Yes, I know, it's a bit ridiculous that soap can kill a monster from Purgatory, but there you have it. But on the upside: Bobby was so happy that Jodi accidentally figured out this trick that he kissed her!
This information was deduced just in the nick of time, because when Sam and Dean arrived in Iowa, they spotted their clones on the street and they themselves were arrested. The leviathans were now thrilled that the brothers were locked in the police station and decided to take out a few cops on their way to killing the Winchesters. Fortunately, Dean was able to get the Borax tip from Bobby and managed to convince one of the cops to help them, which led to him putting down both clones. Unfortunately, Leviathan!Dean spilled the beans about Amy to Sam just before he was incapacitated, and Sammy is not pleased about what his brother did and lied to him about.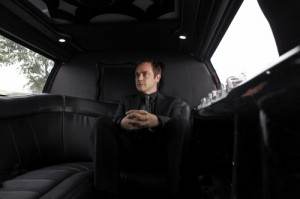 Crowley 2.0
A few reveals late in the episode showed how much the leviathans had penetrated the roles on this show. They were even disguised as the FBI agents who were hunting Sam and Dean. But after six episodes, we finally got our first peek at the leviathan boss and he is pretty awesome. So awesome, in fact, that Crowley felt the need to introduce himself.
Dick Roman (a.k.a. Levithan Boss) is a smarmy politician type who happily eats muffins made out of babies and was seemed to enjoy chatting with Crowley, at least until he put Crowley in his place (come to think of it, he seemed to enjoy that as well). You see, Crowley – and demons like him – are but the scum of the earth for leviathans, who have no use for them. Well, let's just say that Crowley's plan to forge a partnership between Hell and Dick Roman didn't come to fruition.
Concluded on next page…