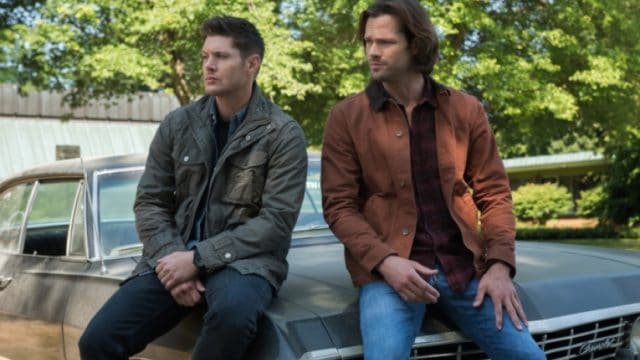 A great way to really make a Supernatural episode feel like the days of old is putting Sam and Dean alone together on a case, hunting a good old fashioned ghost. Dean has been dealing with a lot of emotional stress, so Sam tries to help him by bringing him a case that they can work just the two of them, like the Supernatural heyday. It had all the makings of a classic episode, with a regular hunt and a story that played into the larger mythology. We even got a visit from an old friend.
As a regular, hunt focused episode, "Advanced Thanatology" was about as good as you can hope for in Season 13. It wasn't perfect, but the hunt for the ghosts was creepy and exciting. The kids who were victims of the ghosts were pretty compelling actors and the monster of the week format, which sometimes works and sometimes doesn't, worked very well for this episode. It's hard to describe but the deranged "doctor" theme gave the episode a really classic horror story/early seasons of Supernatural feel.
Of course, the best part of the episode was really Dean's brash brush with "Death", both literally and figuratively. When he put himself in the veil he rattled the alarm bells for the Reapers, but instead of just the next reaper coming after Dean as they are wont to do, viewers were met with a twist. Billie, the reaper killed by Castiel, became THE "Death". Apparently, a previously unknown facet of the Supernatural mythology is that when a reaper is killed and Death is gone, said reaper becomes the new death. So Billie/Death needed some help from our boy Dean, so they helped each other and she let him live. I know that's surprising given how often Billie wanted Dean/Sam/Mary dead last season, but as Death she can see much more of the world, and she knows that the world needs Sam and Dean. It was great having Lisa Berry back on the show, and the use of Billie here made for a fantastic tie-in to the ghosts of the week, while simultaneously revamping "Death" as a relevant character. They're going to need a new Death as they revisit the stories of angels and demons and God and Lucifer.
Here are a few other thoughts:
I appreciated the new dynamic between Billie and Dean. It reminded me of Dean's weird bond with the previous iteration of Death, which was a classic bromance.
I don't know why I was so invested in this week's ghost hunt, but especially those kids dying just broke my heart. It was well crafted and the kids were strong actors.
I LOVED the list of ways that Sam was trying to butter Dean up: giving him a beer for breakfast, letting him pick the music, etc. Such a realistic brotherly moment.
"Everybody loves chili fries. That's not the point."
Castiel's back, y'all. What a beautiful moment.
Ultimately, "Advanced Thanatology" worked because the smaller monster of the week story worked extremely well in conjunction with the larger play, which clearly involves more impending evil, and only the Winchesters can stop it. We all know that they will.
What did you guys think? Did you enjoy the episode? Let us know!
Supernatural airs Thursdays at 8/7c on the CW
Supernatural Season 13 Episode 5 Review: "Advanced Thantology"
Summary
Sam and Dean go on a good old fashioned hunt, and of course find more than they bargained for on this week's strong episode of Supernatural