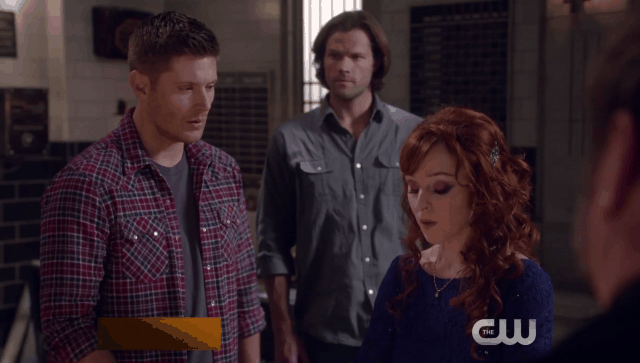 It's here guys! Tonight's the night for the Supernatural Season Finale. Last we saw, God wasn't looking to be in great shape. In fact, He was dying and it looks like there's nothing the Winchesters can do about it except kill his dear sister. But with Chuck incapacitated, how do the Winchesters go about killing someone more powerful than God? The answer is certainly one you wouldn't expect in a show like Supernatural. Well, to kill a bomb like Amara, you need…a bomb. So the Winchesters need to build one. That's all what this episode is about.
I don't know, sounds like an underwhelming finale to me. Instead of going full-blown amarapocalypse, the show's wasting time with building some sort of bomb. I don't know how that will work out. Plus, there's the questionable character choices. The reaper who hates Sam and Dean(Billie) is in this episode and so is Rowena. Casifer is nowhere to be seen but you can expect Cas to be revived by the end of the this season on Supernatural. Not sure about Lucifer though, since Chuck practically said that rebuilding Archangels is impossible.
https://www.youtube.com/watch?v=gRR1FyQWNQc
The synopsis for the finale episode of Supernatural titled "Alpha and Omega" reads:
GOD VS. AMARA — God (guest star Rob Benedict) comes to a decision about Amara (guest star Emily Swallow) that has direct repercussions for Sam (Jared Padalecki) and Dean (Jensen Ackles).
God vs Amara? Huh. How can God fight Amara in the state He's in? It's more like Winchesters vs Amara like it's always been. But the decision that Chuck comes to is pretty obvious. Remember how He wanted to cage Amara rather than kill her? Well, he wants to kill her now. And he wants to take her out with a bomb. The repercussions for Sam and Dean are that the bomb carrier will have to die, which will be Dean.
So, how do you go about making a God's sister-killing-bomb? You gather the souls of Vengeful Spirits apparently. I think Billie's the one who gathers the souls and infuses their power into Dean as she's the only one capable of doing that.
After that's done though, it's revealed that Dean must die in order to explode the bomb. Now, here's what I think: Dean won't explode the bomb, thus he won't die. Instead he will kill Amara the old fashioned way. I think that Dean is the only one capable of killing her. Sort of like an Achilles Heel. What will really happen is that in one moment he'll want to kill her and in that moment he will succeed in doing so.
Still, if a Winchester dies this time, remember that he's a Winchester. He'll die in a see-you-next-season-manner. After all this is Supernatural we're talking about.
The Supernatural Season Finale airs tonight on The CW at 9/8c.