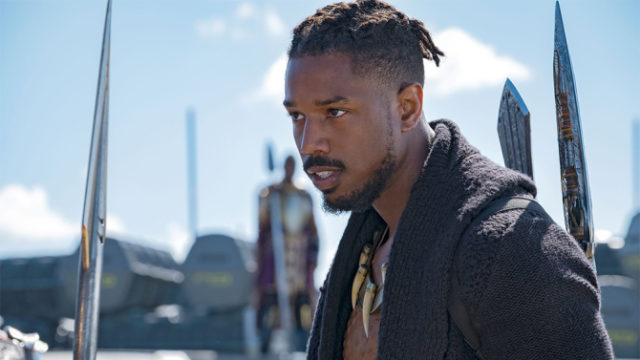 Since it first hit the big screens, the Marvel Cinematic Universe has expanded dramatically, and this expansion is something that is set to continue. The main characters will unite in 'Avengers: Infinity War' to battle against Thanos and his forces. Prior to this, fans of Marvel Cinematic Universe will see the introduction of 'Black Panther' which will take fans to a new fictional place, the country called Wakanda. Not only is this the setting for the upcoming blockbuster, it is also the world's source of Vibranium.
In the film, Michael B. Jordan is taking on the role of the villainous Killmonger. He has used inspiration for this character from a variety of sources and he recently revealed which two supervillain performances were his biggest inspirations when trying to make Black Panther an original character.
One inspiration was Heath Ledger in 'The Dark Knight' and he wanted to deliver a performance of a similar standard. In this movie, Ledger played the Joker opposite Christian Bale as Batman. The movie was co-written, co-produced, and directed by Christopher Nolan. Ledger posthumously won the Academy Award for Best Supporting Actor for playing The Joker in 'The Dark Knight'. He also won many other posthumous awards for this role.
His second inspiration was Michael Fassbender playing Magneto in the 'X-Men' series of films. Fassbender first played Erik Lehnsherr/ Magneto in the 2011 film 'X-Men: First Class, which was directed by Matthew Vaughn'. He reprised the role for 'X-Men: Days of Future Past' in 2014 and then again in 2016 for 'X-Men: Apocalypse'. Both these films were directed by Bryan Singer. Fassbender will next play the role in 'X-Men: Dark Phoenix', which is set for release in 2018. This film will be directed by Simon Kinberg.
It was in an interview with Empire that Michael B. Jordan revealed his two inspirations. It may surprise some people that he choose these two characters as they are so different from each other. However, it was quite possible the combination of these differences that would help Jordan to create a unique character.
On the one hand, Heath Ledger's Joker was an anarchist who neither fans of the 'Batman' films or Batman himself knew how to handle. He was a famously unpredictable villain, and this made him stand apart from other Marvel villains. Ledger delivered a performance that was both method and self-destructive.
Fassbender's interpretation of Magneto was entirely different. His villain was emotionally driven, and his main aim is to get revenge for his childhood experiences. Magneto's story has many layers, and this is something Jordan may have attempted to emulate while playing Black Panther.
Despite their differences, Jordan's choice of comic book villains to use as inspiration is excellent. By taking different aspects of these villains' characters and adding elements of the performances by both Ledger and Fassbender, Jordan should be able to deliver a stunning performance and introduce a unique character to Marvel fans.
Moviegoers do not have long to wait until they can see how Jordan has used his influences for themselves. 'Black Panther' is in movie theaters from February 16, 2018.