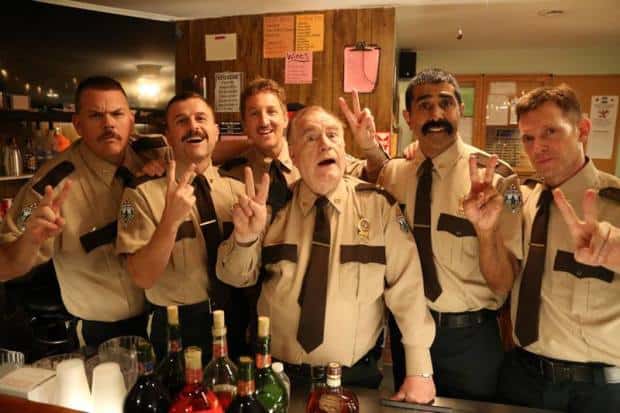 I think I can speak with and for a lot of people when I say how awesome it is that this group is coming back for a sequel. Ever since the first Super Troopers people have been wanting more and watching the original film over and over and over and, well, you get it. As of now all we have to go on is the teaser, but the full trailer should be coming eventually, and it's bound to show as much hilarity as the first one knowing the guys from Broken Lizard. They're so wonderfully over the top that laughter is about the only reaction a person should have when watching unless sick humor isn't your thing, then you might want to just take a pass.
But remember, the schnozzberries will still taste like schnozzberries.
It's going to be interesting to see who gets brought back into the mix for this next film, if Ursula and Foster are still together, if Thorny and his girlfriend are still together, and of course if Rabbit ever decides to finally grow a mustache. Farva will still be Farva and Mack will still be Mack, thankfully on the latter. But that's a big part of what makes the team such a winning group. They don't always get along but they know how to go along in order to get the job done. Since the Spurbury police department is now their playhouse though you have to wonder who they're going to clash with. The highway patrol was done away with in the first movie, which automatically left them as the only police force around.
I'd be the guy on the front porch laughing while these guys were going around town busting whoever needed to be busted and messing around with the rest of them. Just the opening scene in the first film was enough to make a lot of people cry from laughing so hard.
You boys like Mexico?!! Yeehaaw!
Yeah, that scene. I can't imagine how Super Troopers 2 is going to start but if it's anything at all like the first movie it's going to rock and it's going to be funny enough to make your jaw hurt after a few minutes. Some people might wonder why others find this so funny but I'd pose the same question of a lot of other movies. This is the kind of film you just go with and embrace the lunacy until the end. There's breaks in between that you won't laugh as hard.
But you'll still be laughing.
Save